Singer Bobby Rush is not just a world-class entertainer, but also one of the last masters of traditional blues.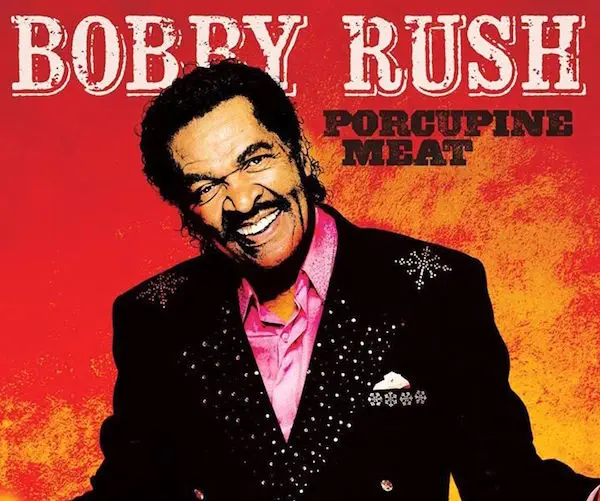 By Noah Schaffer
No figure in the blues world has enjoyed more lives than Bobby Rush. The 82-year-old Louisiana native started his career as a straight ahead blues man, first in Arkansas and then in Chicago, where he became a popular club act during the 1950's and '60s heyday of electric blues.
But by the '70s Rush had embraced a mix of blues, funk and soul. After an early '80s relocation to Mississippi he assumed the mantle of the "King of the Chitlin' Circuit" through his double entendre-loaded jukebox hits like "Night Fishing" and live shows that featured booty-shaking female dancers.
While he's still in huge demand in the Southern soul scene, Rush has in recent years broadened his audience both through festival appearances and a series of back-to-roots LPs that prove he is not just a world-class entertainer but also one of the last masters of traditional blues.
Now Rush has another trick up his sleeve: Porcupine Meat, a new Rounder release produced by Bostonian Scott Billington. The all-original disc combines rich New Orleans grooves with Rush's funny and knowing storytelling.
The indefatigable Rush chatted with The Arts Fuse while in the midst of yet another tour which brings him to Chan's Egg Rolls and Jazz in Woonsocket, RI on Wednesday (October 12) and the Bull Run in Shirley, MA on Thursday (October 13).
---
The Arts Fuse: It's been a long time since you've played Boston. Many years ago you played following a film screening at the Museum of Fine Arts. The audience mostly consisted of older white patrons and I wasn't sure how they'd respond to your full revue. But by the end they were all on their feet dancing. How do you win over an audience that might not have seen a Southern soul revue before?
Bobby Rush: I think the key to be is being good at what you do. People are smart — they know if something is good. I don't claim to satisfy everyone but if it's good you'll ay 'I don't like him but damn it's good.' Now with this record I'm doing a new kind of crossover: being a black man who worked the chitlin' circuit but has my feet in two differences places. I am what I am, and I do what I do.
AF: What's Porcupine Meat about?
Rush: Let me tell you, I'm not talking about meat. I'm using it as an example: Someone you're in love with, but they don't want you anymore. You want to leave. 'Porcupine meat' is too fat to eat, to lean to throw away. I'm talking about life. Things that are good to you aren't good for you. It's funny but it makes sense. I'm not talking about meat. I'm talking about life.
AF: For years Southern soul records have been dominated by drum machines and synthesizers. What's it like going back to a live band sound?
Rush: There's not one synthesizer on this new album — it's like we went back to the '50s when I was at Chess Records. If you make a mistake you start over. The musicians he had for the session were in love with Bobby Rush. So they made it special for me to come off and deliver Bobby Rush. You have to have one kind of sound for black DJs to play a Southern soul record. Then I came up with [the rootsy 2004] Folk Funk and came into the Americana direction. I'm not really Southern soul, I'm just Bobby Rush, and I think now for the first time in my life I can be me. People can accept it. If I tell a good story people accept it for what it is. [At 82] I'm like a new kid on the block.
AF: When did you add the dancers to your revue?
Rush: Back in the early '60s I had them for a few years because James Brown was hot with it, but then it got to a place where I wasn't making enough enough money to pay them, so I had a snake dancer. But they weren't paying much attention to the snake because the lady looked so good they were watching her. I got the idea for having dancers because I'd seen the Las Vegas roadshows and Cab Calloway and I saw all these girls dancing the whole bit. It had always stayed with me. But when you're making $15 a week for the entire band you can't afford that. Now that I can [afford an entire revue] I try to be good at what I do and help out everybody else. God gave me what he didn't give to someone else. I'm like Moses — Abraham was the better speaker but Moses got the vision. I have to keep my vision out there.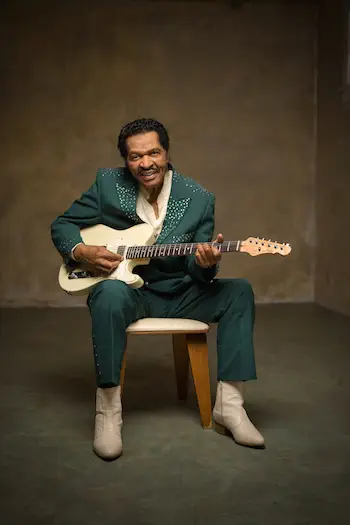 AF: You're often called the "King of the Chitlin' Circuit." When you were performing in the '50s and '60s did anyone use that term?
Rush: No! That came about because someone named it that and I guarantee it wasn't a black man! It was a white writer! The term chitlin' circuit — it ain't just a juke joint, it's where you got a chitlin' dinner for pay. All you got was a place to stay and something to eat. I had two plates and two hamburgers. I'd eat one and sell the other for $2. I was only paid $1.50 so I made more money selling my food than I did from the payroll!! It was like sharecropping. Most of the people my daddy came up with picked cotton all day just for a place to stay and something to eat. That's how they fed their family. I didn't come too far from slavery times. You could have a juke joint on rainy days, and if it wasn't raining they'd make so much noise they'd move it into the backwoods. If you played well enough you could come into the big house [where the white man was]. Not everybody could come into the big house but the musicians could. Then the next week they'd back to the juke joint to play for themselves in the middle of the floor. And that's the chitlin' circuit. I still respect the chitlin' circuit and I don't want anyone coming to me talking down on small towns. That's where we all come from — the little bitty town.
AF: And you still play a lot of those small Southern towns even though you also play international festivals to tens of thousands of people.
Rush: They don't get too small for me. I never put myself above people no matter how small the town is.
AF: On stage you sing these raunchy cheating songs, but in real life you're a humanitarian who has been involved in all kinds of charitable efforts and led a prison ministry. You haven't had a drink since 1957. Is Bobby Rush a character that you play?
Rush: I'm kind of a character, but I'm not raunchy. Anytime you hear me called raunchy it comes from a reporter, it never comes from audience members. The pencil will kill you! What I sing is a show. It's entertainment, man. Most of what I say is true, though. When I talk about how the garbage man stole my woman, well anybody could steal your woman. It's what people talk and think about.
---
Over the past 15 years Noah Schaffer has written about otherwise unheralded musicians from the worlds of gospel, jazz, blues, Latin, African, reggae, Middle Eastern music, klezmer, polka and far beyond. He has won over ten awards from the New England Newspaper and Press Association.