From Significant Other's opening moments, it is clear that this smart and heartfelt script is in very capable hands.
Significant Other by Joshua Harmon. Directed by Paul Daigneault. Staged by SpeakEasy Stage Company at the Boston Center for the Arts, Boston, MA, through October 8.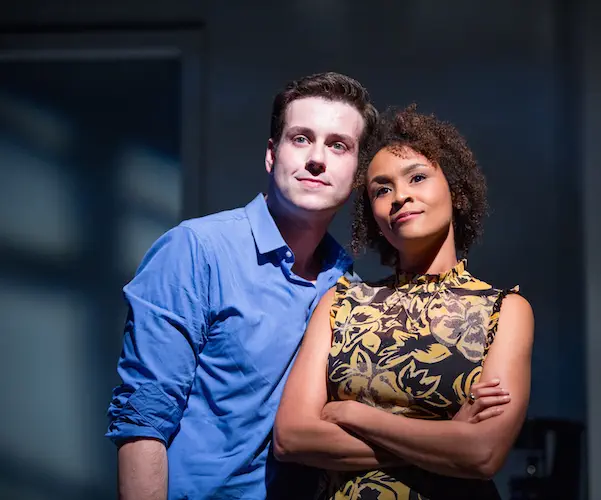 By Kamela Dolinova
While Stephen Sondheim's great 1970 meditation on marriage, Company, is being performed up the street by the Lyric Stage Company of Boston, the SpeakEasy Stage Company is presenting the New England premiere of a new play on the subject of romance, set to hit Broadway in February, 2017. Joshua Harmon's Significant Other offers a modern take on the twenty-something road to commitment – and, as in Sondheim's masterwork, the sad, hilarious, and lonely places it leads.
From the show's opening moments, it is clear that this smart and heartfelt script is in very capable hands. Director Paul Daigneault has assembled an excellent cast and design team: the production bubbles along like a bottomless glass of champagne. Greg Maraio shines with hilarious vulnerability as Jordan Berman, the gay 29-year-old who fears he will never find love. He watches enviously as his three best friends, Kiki, Vanessa, and Laura (Sarah Elizabeth Bedard, Kris Sidberry, and Jordan Clark, respectively) each find a boyfriend, become engaged, and march down the aisle, escaping singledom – and Jordan — before they hit 30. During the course of the play the friends spend the last gasps of their 20s attending a series of bachelorette parties, bridal showers, and weddings. Along the way, Jordan obsesses over his hunky co-worker and goes on a series of unsuccessful dates. The guy's trials and tribulations, including Facebook-stalking old flames, clandestine sniffs of a love-interest's t-shirt, and visiting his Jewish grandmother for companionship and advice in a lonely city, strike all the right ironic/farcical notes for a successful contemporary romantic comedy.
Even with the updated gloss, though, this formulaic 'search for love' might come off as worn were it not for the depth of Harmon's characters, which the SpeakEasy Stage ensemble portrays ably. Jordan's three friends could easily have been homogenous or crudely-drawn caricatures intended to provide easy laughs or 'life lessons." Instead, each woman is an individual with specific and believable relationships. In the first scene – Kiki's bachelorette party in a loud club – each of the characters initially strikes a singular attitude that grows into a fuller characterization as the play develops.
Kiki, the group's "basic white girl," enters whooping and carrying a scorpion bowl. She then launches into a stunning monologue about how she finally found "the one" once she stopped looking and cultivated a love affair with herself — mostly by buying things. Kiki could be summed up by the  Twitter hashtag #blessed — typed beneath a drunk, duck face selfie. Yet, beneath the seeming shallowness, is a woman who cares deeply for her friends, gives good advice much of the time, and maintains a touching, if strange, relationship with her stoic yet doting husband. Bedard's performance is pedal-to-the-metal, and the energy makes Kiki unstoppably likeable. Though she is the least serious of Jordan's friends, she serves as the major player in Jordan's court of aging singles. Her trip down the aisle marks the beginning of the end of singleness in all of their lives.
Vanessa enters calmly, holding a martini glass in one elegant hand (no crazy straws for this one). Her intellectual reserve slightly separates her from the others — she's a sadder, more cynical, more New York figure. Vanessa's story — she finds a love she never thought possible — culminates with a sublime image of happiness. In her wedding scene she hugs Jordan and weeps in his arms. ("She's happy!" Jordan mouths to the concerned friends.) Sidberry brings considerable grace and quiet depth to the role and connects powerfully with Maraio's Jordan. The latter's sense of "losing" her is palpable and heartbreaking.
Finally, Laura, the closest of Jordan's close friends, enters that opening scene giggly and on the heels of Kiki. Her solidity, as well as her insecurity, are obvious immediately. A schoolteacher, she is the most sensitive and perhaps conservative of the group; still, she tries hard to prove herself to be an able "party girl." It is Laura's wedding, ultimately, that brings Jordan to the brink: the two of them customarily have fun dancing together (overblown musical-theatre style) at weddings. The idea of his standing alone on the dance floor during Laura's first dance as a wife sends Jordan into a fit of selfish hysterics. Laura takes on that self-absorption, and stands up for her own happiness, with killer aplomb; one can almost see Clark's spine growing three sizes while she tells Maraio's Jordan off.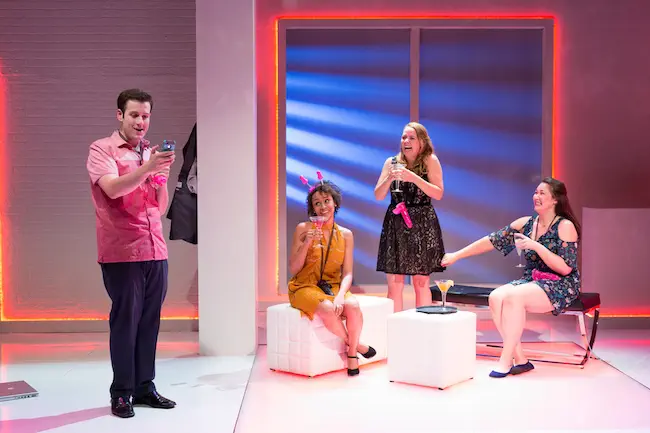 And then there is Maraio himself; paradoxically, the actor's spiraling anxiety anchors the piece, like the hub of a tilt-a-whirl. It helps that Harmon's writing is so splendidly concrete. When Jordan first describes his co-worker Will's body, he focuses on odd details, like chest hair that "if you blew on it, like a dandelion, it would fly off, kind of dance in the air for a second and then get carried away in the wind." In another scene, Jordan laments, with intimations of Sondheim, that "being alive is so weird." The protagonist's obsessive behaviors – buying the same shoes Will has and cradling them, watching his college crush's father's funeral video online – are not examples of the 'embarrassment humor'  common in romcoms. These are touching, even tragic, revelations that are also hilarious. Maraio seems to dance through the role: funny and loveable and crazy and immature and infuriating. By the end Significant Other, his happiness, though far from assured, is on your wish list.
Three supporting actors also serve admirably, including the luminous Kathy St. George as Helene, Jordan's aging and cheerfully suicidal grandmother. Her expressions of wisdom don't come off as contrived; the loneliness of age has not inhibited her human ability to connect. Eddie Shields and Jared Troilo perform shapeshifting miracles, playing all of the husbands and love interests in the play. Shields ranges from Vanessa's sexy but taciturn hipster partner Roger to Jordan's screaming-mimi queen of a coworker Evan. He also drops in briefly as Gideon, the beautiful and sensitive guy who shows boyfriendly promise late in Jordan's story. Troilo is equally winning as workplace-Adonis Will, Kiki's slouching hick of a husband Conrad, and Laura's bright and deserving partner, Tony.
The design team must be given kudos for helping to make this such a delightful production. Their consistent vision and lightness of execution keep this fast-paced script moving. Costume designer Tyler Kinney gets a chance to show off by providing perfect bridal wear for three very different women. Other wardrobe choices tellingly highlight the characters' personalities. Christopher and Justin Swader's scenic design is plain, even stark: two smooth, white, modern rooms represent Jordan's apartment and workplace as well as various other venues. Helene's apartment appears in sharp contrast upstage left, filled with old photographs, warm light, and soft seating. The versatile set assists rapid scene changes, as the characters tell stories, fantasize, and weave their narratives together. The grandmother's apartment – the very picture of an old but well-loved Brooklyn walk-up – provides a safe space, frozen in time, where Jordan can rehash sweet memories while circling the question of whether he'll ever make such memories for himself. Daniel H. Jentzen's lighting design makes effortlessly quicksilver transitions between apartment and club, workplace and wedding, reality and imagination. Lee Schuna's spot-on sound design generates some very funny moments. The soundscape  is stuffed with pop music nostalgia, a playful (and unrelenting) atmosphere of love, marriage, heartbreak, and Celine Dion. The message is clear: there is no escape from the often banal and demoralizing quest for companionship and intimacy. Yet, as the poignant ending demonstrates, the quest for commitment, and self-development, has its indispensible rewards.
---
Kamela Dolinova is a writer, actor, director, healer, and person with too many jobs. She loves the community and little theatre scenes in Boston, and has recently enjoyed working with Flat Earth Theatre, Theatre@First, and Maiden Phoenix Theatre Company. She also blogs at Power In Your Hands.