There's a lot of love in the Lyric Stage Company's production of Stephen Sondheim's 1970 Tony Award winning show, Company.
Company, music and lyrics by Stephen Sondheim, book by George Furth. Directed by Spiro Veloudos. Staged by Lyric Stage Company of Boston, 149 Clarendon St., Boston, MA, through October 9.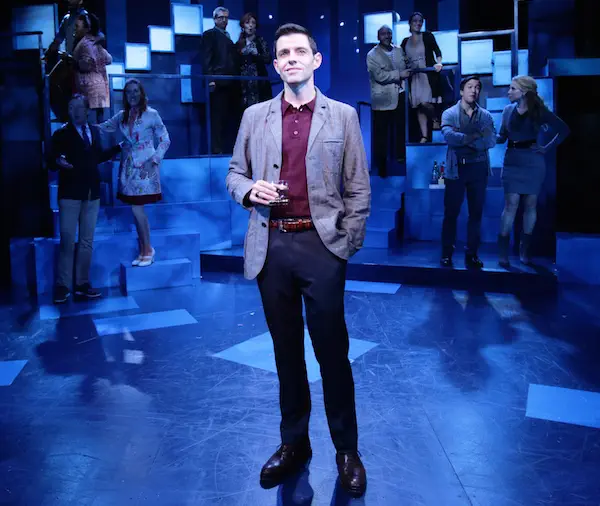 By Robert Israel
At age 86, composer/lyricist Stephen Sondheim is not content to sit on the mountaintop of awards he has received. Nor does he have any interest in conquering other worlds of music, such as writing concertos for the concert hall. His passion continues to be to write for the theater. And he's at work on a new musical. "Theater is as big an interest in my life – interest meaning something I love," he told the New York Times last month.
There's a lot of love in the Lyric Stage Company's production of Sondheim's 1970 Tony Award winning show, Company. It is even a matter of devotion for its director, Spiro Veloudos, who has been at the helm of numerous Sondheim productions over the years. (Veloudos is not alone in his adoration of the composer/lyricist: Company is running concurrently with the Huntington Theatre Company's production of Sunday in the Park with George). If the latter show is about the price of creating art, Company is about love, the search for love, the fleetingness of love, specifically the love that sometimes flourishes in marriage, and sometimes doesn't.
Long before Sondheim, it was Chaucer who penned, "to speke of wo that is marriage."
The challenge before the cast at Lyric Stage is to articulate that woe, the gnawing emptiness that, despite ripe fantasies, is never quelled by alcohol, marijuana, sexual dalliances, social hobnobbing, or even divorce and remarriage. Sondheim pledged when he embarked on writing the musical that Company was going to be groundbreaking, a departure from the razzle dazzle Broadway theatergoers had come to expect. The piece was going to confront the problems of marriage, to make the audience look at it warts and all, "to bring it back in their faces."
There are times when the cast succeeds admirably in conveying the woe (and the fleeting joys) of marriage, and sometimes it fails.
The book revolves around the character of Robert (John Ambrosino), who is celebrating his 35th birthday. He is surrounded by a cadre of well-wishers — those long married, newly married, or soon about to become unmarried. They see, in him, the chance to live life as free agents, liberated from their wedding vows. Yet, while Ambrosino possesses a wonderful voice, as a stage performer he is often wooden, bereft of empathetic reaction. Yes, he is the screen on which others project their images and definitions of marriage, but we have to feel he emits some sort of sympathetic magnetism to begin with — otherwise, why would they seek him out?
It is the haphazard generation of dramatic chemistry among the performers, a lack of compelling connection, that wreaks havoc with Act I, when we meet the characters who have invited Robert into their New York City apartments and where they reveal the joys and woes of their unions. There are hilarious moments and awkward moments; some of the players succeed at putting these across, others flounder. The challenge for cast members is to create convincing characters, doing justice to their eccentricities, while also mastering Sondheim's demanding score. Unfortunately, not all of the cast members are effective actors, though they are all adept singers.
What rescues the Lyric Stage production is the fine score. Sondheim has a wondrous command of a wide range of musical styles, from comic opera numbers to tawdry music hall ditties. In "You Could Drive a Person Crazy," a trio of women camp it up and bring the house down. If only there were more instances of this kind of zany vamping — then the Lyric Stage production might have supplied more light-heartedness to compensate for its wobbly attempts at evoking the show's darkness.
Still, there is much to crow about in terms of the Lyric Stage's staging of the music. Rachel Bertone has the players moving fluidly throughout the production. Kudos should also go out to musical director Catherine Stornetta as well as Jonathan Tunick's spot-on orchestrations. Those who want splendid earfuls and eyefuls of Sondheim's score should most assuredly attend the Lyric's production.
In the second act, Robert, a bit wiser from all of his encounters, sings an anthem to life that strikes the bittersweet note that, for Sondheim, suggests emotional maturity (or at least its glimmering). He wants us to experience life 'warts and all' and to leave the theater humming a tune that inspires — and here the Lyric Stage production, no longer having to deal with woe, delivers the Sondheim-ian goods.
---
Robert Israel writes about theater, travel, and the arts, and is a member of Independent Reviewers of New England (IRNE). He can be reached at risrael_97@yahoo.com.