Roberto Minervini manages to make The Other Side come off as a reserved, rather poignant glimpse into the lives of people who have very little to hope for.
The Other Side, directed by Roberto Minervini. At the Museum of Fine Arts Boston through September 7.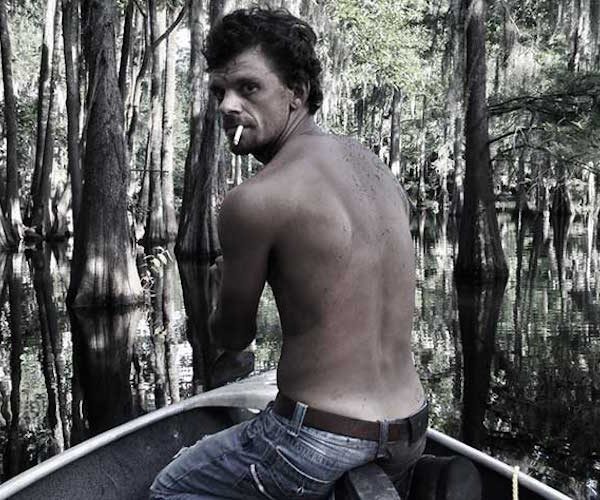 By Peg Aloi
This provocative film by Roberto Minervini continues the writer-director's work in an unusual hybrid form of documentary and drama, begun with his Texas-set trilogy, which included The Passage, Low Tide, and Stop the Pounding Heart. Shot on location in Louisiana and beautifully photographed by Diego Romero Suarez-Llanos (whose work nabbed the film a Best Cinematography award at the Montreal World Film Festival), this is a gruelling, intimate, and demanding look at what many viewers would consider the seedy underbelly of American society.
The narrative begins with what looks like a handful of camouflaged hunters in the forest; we'll run into these characters again at the end. The bulk of the film follows a young man named Mark (who seems to be about thirty) and his girlfriend Lisa (apparently playing themselves) as they make their own crystal meth, smoke crack, and get through their day fueled by a desire for their next fix. Despite their addiction, Mark and Lisa have a loving and supportive relationship; there are some very graphic sex scenes; they are so authentic that, despite the tasteful photography, it is easy to believe we are watching actual lovemaking take place. Add to this the graphic sex acts performed by other characters later on (which are not as tasteful as Mark and Lisa's), and it is hard to see how the film managed to earn its PG rating.
Mark mentions that he is a wanted felon who will soon have to serve several months in prison. He suggests that Lisa should do the same. They have a conversation where they discuss the possibility of their prison time helping them kick their drug habits. Mark survives by working various odd jobs; he seems to find peace spending time alone in the forest and on the bayou. He helps out friends and family, giving them hints for dealing with utility companies who shut off their power. Talking with his friends, the usually-sanguine Mark  at times becomes annoyed and outspoken when the subject turns to politics. Anti-Obama rhetoric, including virulent proclamations of hatred, inspire some of the story's action. (The film's wide release is timed perfectly to showcase the political beliefs in rural Southern communities dominated by poverty and lack of employment opportunities.) Interestingly, one elderly gentleman praises Hillary Clinton . We need a strong, smart woman in the White House he says; others agree when he explains that women run the world anyway, so we may as well have one for president. This opinion provides an ironic counterpoint to images of women in the film, particularly one grueling segment involving a pregnant heroin addict.
The film's final episodes follow a group of young mercenaries who are being "trained" by former military servicemen. The men gather to shoot semi-automatic weapons at targets and practice strategic combat movements. These proceedings are followed by a meeting where the guys discuss the imminent coming of the "revolution," including the need to be prepared for the inevitable declaration of martial law. The wanna-be soldiers seem to be convinced that they will soon be under attack by government operatives and are preparing themselves by amassing sophisticated firepower and piles of ammunition.
The rather obvious question: How do unemployed people afford the extremely expensive weapons and the ammunition needed for target practice, not to mention the boxes of bullets they're hoarding for the zombie apocalypse? The session dedicated to planning for the  (alt-right?) rebellion is followed by a more informal gathering, involving drinking beer, using women to perform explicit sex acts on men wearing Obama masks, and setting fire to an old car after anti-Obama sentiments have been sprayed on it. Granted, these economically devastated communities have been ignored by national and state governments, but the virulently racist tone of this group can't be ignored.
Despite the inflammatory sentiments, Minervini manages to make The Other Side come off as a reserved, rather poignant glimpse into the lives of people who have very little to hope for. Although some scenes do feel somewhat staged and manipulated for the camera (a necessity given the film's unusual hybrid docudrama format), the occasionally awkward dialogue does not detract from a sense of lower depths authenticity. I very much appreciated the lack of editorializing, which is not easily maintained in non-fictional looks at the life and views of marginal Americana. No doubt many viewers may be made uncomfortable by the sense of strangeness (otherness, some might say) this film conjures, but The Other Side is never more shocking than when it speaks truth in quiet, calm, measured tones.
---
Peg Aloi is a former film critic for The Boston Phoenix. She has taught film studies for a number of years at Emerson College and is currently teaching media studies at SUNY New Paltz. Her reviews have appeared in Art New England and Cinefantastique Online, and she writes a media blog for Patheos.com called The Witching Hour.