Not only has Natalie Portman turned Israeli author Amos Oz's extraordinary memoir of 1940s Jerusalem into a superb film, but she had the clout and tenacity to get it made on her own terms.
A Tale of Love and Darkness, directed by and starring Natalie Portman, in Hebrew, with English subtitles. Screening at the Kendall Square Cinema, Cambridge, MA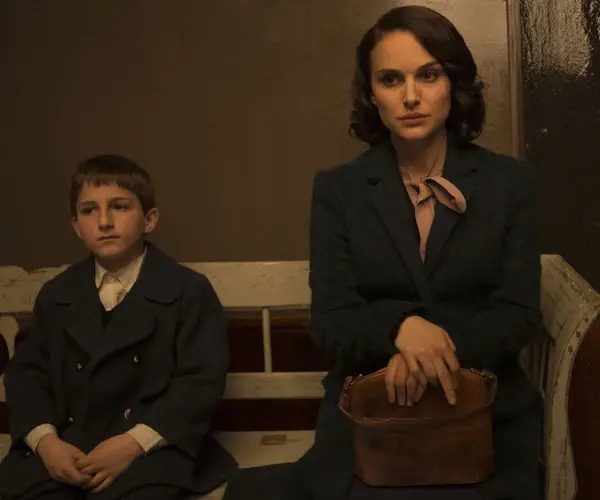 By Helen Epstein
First of all, hats off to Natalie Portman, the gifted actor and – it turns out – sensitive director and screenwriter, responsible for this brilliant and haunting film. Not only was Portman able to make Israeli author Amos Oz's extraordinary memoir of 1940s Jerusalem into a film, but she had the clout and tenacity to get it made on her own terms.
Published in 2002 and widely translated, A Tale of Love and Darkness is Oz's wrenching 538-page memoir of his childhood during the colonial British Mandate of Palestine of the 1940s. Born in Jerusalem in 1939, Amos was the only child of cultivated Russian Jews Arieh and Fania Klausner, who fled Europe during the rise of Nazism. His memoir recalls his first 12 years of living in a dank basement apartment in a marginal neighborhood of Jerusalem, remote from both kibbutz pioneers and the bourgeois culture of Tel Aviv. The writing is thick with cultural, geographical, and sociological detail about Jerusalem's British, Jews, and Arabs and offers in-depth portraits of his family, especially his mismatched parents: his literary, fanciful, depressed mother Fania, who killed herself when Amos was 12; and his often helpless, prosaic librarian father, Arieh.
Two years after Fania's suicide, Amos adopted the Hebrew name Oz (might) and left Jerusalem to become a kibbutznik. He performed agricultural work, served in the army, and wrote for the kibbutz newsletter before the kibbutz recognized his talents and agreed to send him to study literature at Hebrew University. In 1965, he published the first of what would eventually become 40 books. His novel My Michael, a thinly-disguised portrait of his melancholy mother and pedantic father, became an international bestseller.
In addition to becoming a beloved Israeli writer, Oz became a leading Israeli public intellectual and early advocate for a two-state solution to the Israeli–Palestinian conflict. In an article published after the Six-Day war he wrote, "Even unavoidable occupation is a corrupting occupation," a position he has maintained as a leading spokesman for the Israeli peace movement and the Zionist Left.
Natalie Portman, who was born in 1981 in a Jerusalem far more light-filled and secure than the one Oz remembers, has distilled the essence of A Tale of Love and Darkness, making smart choices about what to include and exclude, which characters to highlight, which to pare down or eliminate. This is a complicated film that considers many themes: the age-old conflicts between father and son, but also the bond between mother and son; the complex role of parental storytelling and language in the making of a writer; the way family life is shaped by political and cultural context; how fortunate refugees from Nazi Germany struggled to make a new life in a seemingly more primitive and equally unstable new country; the establishment of the Zionist state; and how how one woman lost her battle against depression.
This film addresses its themes with subtlety and moves slowly — too slowly from some contemporary American moviegoers and critics, but it was at just the right pace for me. The language is Hebrew, with English subtitles, which allows Portman to make direct use of Oz's own linguistic preoccupations – which is important both thematically and stylistically. The Hebrew also introduces American audiences to an excellent cast of Israeli actors.
Foremost among them is the extraordinary child actor Amir Tessler as young Amos, through whose eyes we see the small, circumscribed world of his childhood. His expressive face is an endless source of pleasure even as retrospective reflections on the wide range of things he sees come from Moni Moshonov, as the narrator and memoirist. Although she initially wished to cast an Israeli actress as Fania, Portman discovered that financing was more forthcoming if she herself starred as the cultivated refugee mother. Portman's Hebrew is lyrical, her understanding of Fania profound, and she fits in seamlessly with the cast of Israeli actors. Gilad Kahana plays the persuasively nerdy, somewhat priggish father Arieh Klausner.
An international set of collaborators, including cinematographer Slawomir Idziak, editor Andrew Mondshein, composer Nicholas Britell and production designer Arad Sawat, have combined to successfully evoke the memory of Amos Oz's 1940s Jerusalem, with its uneasy demographic mix; the fairy-tale European past and Jewish future of Fania's fantasies; the tensions within the Jewish community in the early years of the Zionist state; and the way the celebrated author views it all 60 years later. This film is a major accomplishment for Portman; I look forward to seeing more of her directorial work.
---
Helen Epstein is author of Children of the Holocaust and seven other books, Her work can be found at Plunkett Lake Press.