New CDs from three outstanding musicians: pianist Kristian Bezuidenhout, violinist Arabella Steinbacher, and cellistMaya Beiser.
By Jonathan Blumhofer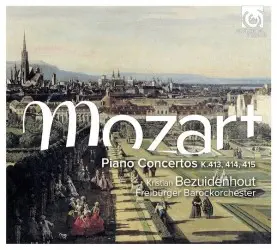 If you want some great Mozart – muscular, no-nonsense, tough, and beautiful – you can't do much better than Kristian Bezuidenhout's new recording (for Harmonia Mundi) of the three piano concertos K. 413-15. That Bezuidenhout "gets" Mozart so well should come as no surprise: his recently-completed recording of the complete music for solo piano offered revelation upon revelation. Still, it's hard to overstate just how exceptional this recording of these concertos is. Suffice it to say, here are performances of a caliber that don't come along often enough.
Take the C-major Concerto, K. 415. The Freiburger Barockorchester and conductor Gottfried von der Goltz launch into its taut, martial opening theme with the propulsive energy and inexorable momentum of a 747 tearing down a runway. When, at the first tutti statement, the timpani and brass join in with their tattoos, you can actually feel the jolt of the music: here's Mozart as he ought to be played, sturdy and full of life.
When Bezuidenhout enters after this orchestral exposition, his playing is necessarily a bit more restrained and lyrical, offering an inviting release and striking contrast to the orchestral introduction. Yet it lacks none of the previously-heard energy, tonal luster, or thrill of simply being.
So goes the rest of the concerto: filled with thoughtful dialogues, scamping jocularity, and touching poignancy. Bezuidenhout mines the energy and pathos of the first movement with such abandon that its ten minutes pass by in a flash. He navigates the slow movement about as sincerely yet unsentimentally as possible and, in his hands, the finale comes over in a blaze of light and stark shifts of mood.
These same qualities mark Bezuidenhout & Co.'s readings of the F-major (K. 413) A-major (K. 414) concerti. They're fluid and sparkling with life, rhythmically vigorous yet attuned to the music's often-quick turns from light to shade and back again.
The overriding result is a disc of such bracing inevitability that it calls to mind Mozart's contemporary most closely associated with the adjective: Beethoven. And, indeed, if the genteel, Faberge Egg, hands-off Mozart interpretations that are too often in vogue leave you grasping for the connection between the two (whose lives, after all, overlapped for more than two decades), you will likely find this album as I did: one of the most refreshing documents of Classical-era music to come along in some time. Like Nikolaus Harnoncourt's valedictory survey of two Beethoven symphonies, it offers Historically-Informed Performance Practice at its finest, hard to put down, and impossible to forget.
---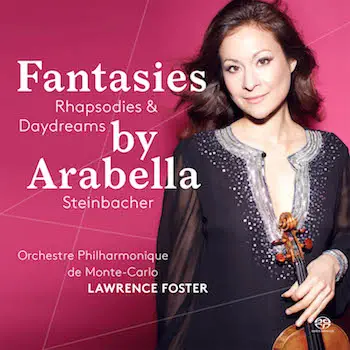 There's much to admire, generally, about violinist Arabella Steinbacher's playing. Her technique is impressive, articulations precise, and tone nicely varied. She clearly understands what she performs and the supple lyricism of her interpretations generally suits the canon well.
That said, there also can be a certain facelessness to her performances. Itzhak Perlman, in his prime, was famous for the honeyed lyricism of his playing. Anne-Sophie Mutter brings intense focus and tightly-coiled vibrato to hers. Hilary Hahn plays with singing tone and dazzling execution. What's more, each of them clearly has something to say about what they're playing.
That's not always the case with Steinbacher. Technically, she's is more than competent. But, as an interpreter, she doesn't always dig too deeply: unlike, say, Isabelle Faust, I've rarely found her performances or recordings to illuminate much about the standard canon I hadn't heard more compellingly argued by other violinists before her. Sadly, such is the case with her new album for Pentatone, Fantasies, Rhapsodies, and Daydreams. Steinbacher has standout moments, to be sure, but comparing most of this disc to ten-, twenty-, and even thirty-year old accounts of these pieces by Perlman, Mutter, Hahn, Gil Shaham and others doesn't end up reflecting too positively on her.
First, the good. I'll never mind hearing Franz Waxman's underrated Carmen Fantasie and, even if this take on it gets a bit skittish towards the end and the intonation goes slightly sour, Steinbacher's is an exciting reading. She also brings out lots of the hairy details in Ravel's Tzigane, throwing down muscular fistfuls of notes in the opening cadenza and making reams of hay out of the several passages of double-stop artificial harmonics that pop up throughout the score.
Yet Tzigane suffers from a certain lack of gypsy passion: it's too detached and a mite clinical. Ditto Steinbacher's account of Sarasate's Zigeunerweisen. Fire and fervor lack, as easily as Steinbacher seems to toss off the music's technical demands.
It's good to get new recordings of her two Saint-Saens selections, the Havanaise and Introduction et Rondo Capriccioso, and they're performed nicely here (the Havanaise lends itself particularly well to Steinbacher's charm-filled approach). But Perlman's accounts of both have more personality and – what's more – are still in print. The same is true of Mutter's "Meditation" from Thais (with Herbert von Karajan and the Berlin Philharmonic) and Hahn's The Lark Ascending (with Colin Davis and the London Symphony).
Lawrence Foster leads the Orchestre Philharmonique de Monte Carlo in a thoroughly respectable accompaniment, though at times I found myself missing the easy virtuosity of Zubin Mehta's New York Philharmonic (especially in Tzigane) and the dash of Daniel Barenboim's Orchestre de Paris on those old Perlman albums. Ironically, Foster led the London Symphony in Gil Shaham's recording of Zigeunerweisen back in the early '90s (paired with the Wieniawski concertos), which I'd strongly encourage seeking for that work out before this one.
---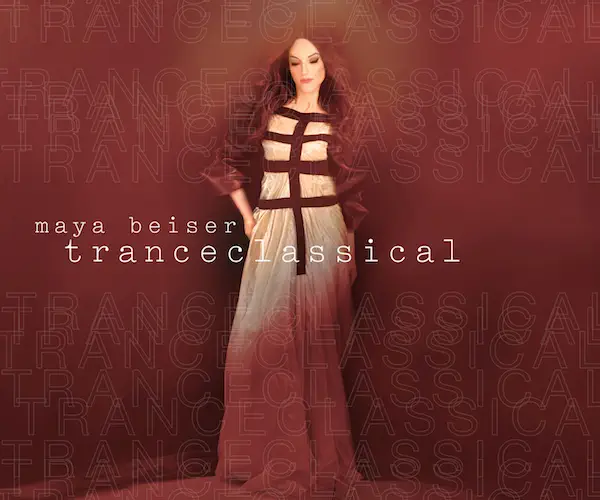 If you've followed the career of cellist Maya Beiser for any length of time, you know she's one of the smartest, most daring, and capable musicians on the avant-garde scene. Her new album from Innova, TranceClassical, showcases many of her familiar strengths – impeccable playing, an embrace of technology, and contrasts of style – even if the cumulative experience of listening to it proves the concept to be maybe too much of a good thing.
The opening and closing tracks, the Air from Bach's G-major Orchestral Suite and Hildegard von Bingen's "O Virtus Sapientae," respectively, anchor the disc's trance concept firmly enough. The former, in a Beiser arrangement, explores one aspect of meditation (recalling the past) drawing on Beiser's memories of hearing her father's phonograph of the Air, replete with the crackle of an old LP. The Bingen, on the other hand, utilizing electronic delays and taking advantage of the natural reverberation of a church sanctuary in upstate New York, carves out a deeply meditative space that, perhaps owing to is unfamiliarity, is more overtly mystical in quality.
Michael Gordon's All Vows, the album's second track, attempts to craft a similar emotional zone, though its second half meanders too much for it to get there. Glenn Kotche's Three Parts Wisdom, though, for solo cello with seven layers of computer-generated delays, is one of the disc's highlights, its architectural design smartly crafted, and its expressive impact potently touched by references to earlier cello music by Bach and Prokofiev. Mohammed Fairouz's Kol Nidrei sings with mournfully bewitching Middle Eastern soul and Julia Wolfe's Emunah weaves an ethereal tapestry for cello and voice.
Only David T. Little's blues- and rock-inflected Hellhound, though, provides a real break in the rhythmically-amorphous proceedings. Its chiseled riffs and crunching distortions are interspersed by short breaks of lyricism that would, no doubt, have impressed Robert Johnson (as would have Andrew McKenna Lee's scorching electric guitar solos).
The album's other arrangements – Beiser's take on Imogen Heap's Hide and Seek and David Lang's adaptation of Lou Reed's Heroin – allow Beiser to sing and play (as she did on all but the Kotche and Little scores) and largely continue the breathy, soft-edged quality of the disc's other tracks.
And if there's a problem with this recording, I'd argue it's that: there's not enough variety, particularly of the rhythmic kind, on it. Yes, the theme is trance and, to that end, this is a disc with a decidedly New Age-ish, trance-y quality. But, as Beiser demonstrates with several pieces on it, there're more ways to approach this theme than solely via lots of soft, reverb-heavy, emotionally-subdued music. Those pieces (plus the quiet ones that pack the biggest punches) – the Bach, Hildegard, Kotche, and Little selections – are TranceClassical's zeniths. Would that there had just been one or two more like the latter pair to provide a bit more balance.
---
Jonathan Blumhofer is a composer and violist who has been active in the greater Boston area since 2004. His music has received numerous awards and been performed by various ensembles, including the American Composers Orchestra, Kiev Philharmonic, Camerata Chicago, Xanthos Ensemble, and Juventas New Music Group. Since receiving his doctorate from Boston University in 2010, Jon has taught at Clark University, Worcester Polytechnic Institute, and online for the University of Phoenix, in addition to writing music criticism for the Worcester Telegram & Gazette