Summer theater musicals often accentuate the frivolous, but the GSC production of Songs for a New World demands more.
Songs for a New World, music and lyrics by Jason Robert Brown. Directed by Robert Walsh. Staged by Gloucester Stage Company, Gorton Theatre, 267 E. Main St., Gloucester, MA, through August 27.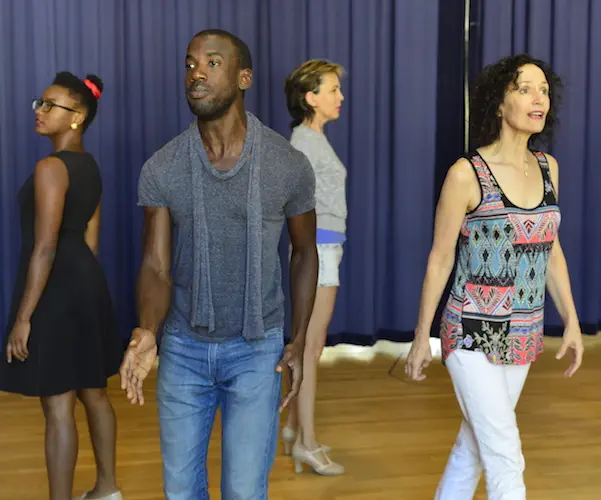 By Robert Israel
The "new world" in Jason Robert Brown's musical is that place we long to find within us, a safe harbor of refuge, a place we turn to within ourselves when we are drained (but not quite defeated) by the tumultuous times we live in. Originally performed in New York in 1995 by the WPA Theatre, it launched Brown's theatrical career (he later went on to win a Tony Award for Parade). The production proves to be invigorating and, at times, rapturous, yet overall the Gloucester Stage Company staging is uneven.
The reason for this unevenness is due partly to the production's lack of a book to tie each song together thematically. There are no characters per se (a cast of five are simply identified as Man 1, Woman 1, Man 2, etc). The set is bare bones, with no props or adornments. The costumes do not accentuate characterizations. What holds the show together are its songs, which articulate love longed for, dreams glimpsed yet remain elusive, and a passion for life that never fades, despite turnarounds and upheavals. To say that the songs burst with longing would be an understatement: it is because of this courageous emotionality alone that this production is worth seeking out.
The Gloucester Stage cast – and especially newcomer Nyah Macklin (more about her in a moment) – infuse the play with the called-for waves of desire and deepen it into expressions of spirituality. Still, director Robert Walsh's awkward staging often hampers the performers. Gloucester Stage has a vast playing area and, in all the years I have attended shows there, I have always felt that the closer the audience comes to the action the better. The choice here to to have the orchestra, under Bethany Aiken's direction, sit between two playing areas. This configuration proves to be clumsy. Sometimes the instruments drown out the performers. (During several numbers, the lyrics are downright inaudible, despite the fact that all the performers are miked.) The unfortunate impact is to distance us from the singers, and that is counterproductive in a show that relies heavily on intimacy.
Director Robert Walsh succeeds in shaping powerful individual performances. The songs nestle close to the gospel side of faith, particularly in an early number sung by the multi-talented Chris Pittman (Man 1), who slays us with his deeply felt longing for "the promised land," a place that promises milk and honey but serves it with liberal doses of heartache. A Jesuit priest I once met told me that faith in God is easy — it's believing in oneself that is difficult. This bit of wisdom (and insight into our human condition) drives many of the show's tunes. In one number, delivered by Wendy Waring (Woman 1), she describes her journey as a struggle to stay buoyant and stare down life's challenges; she declares that she is "not afraid" of all that she encounters. Another song that references the gospel message describes a river that flows despite our travails and is actually indifferent to our sorrows. Jump into the river, flow with it, the playwright declares, or you will be left dry and alone on the riverbank.
The aforementioned Nyah Macklin, a newcomer to Boston-area stages, provides a powerful compendium of talent, poise, and spirit. Watch her sway to the music off to stage left as she raises her arms and is seemingly carried aloft by the notes. Listen to her as she croons, eyes closed. She is remarkable, and the cast seems to rise to her presence each time she appears beside them. They seem to bask in the glow of her extraordinary abilities. I hope to see more of her soon.
Summer theater musicals often accentuate the frivolous, but the GSC production of Songs for a New World demands more. It invites us to take a deep look into our souls. At times the staging hugs the ground when it should be racing with high energy to reach higher ground, but it succeeds, often enough, in carrying us exhilaratingly aloft.
---
Robert Israel writes about theater, travel, and the arts, and is a member of Independent Reviewers of New England (IRNE). He can be reached at risrael_97@yahoo.com.