Overall, with Transitions Michael Nicolas proves himself a major cellist of his generation.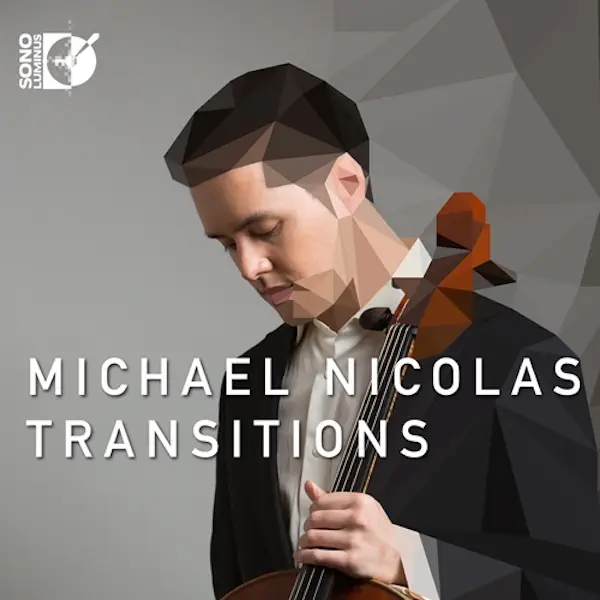 By Jonathan Blumhofer
The "human/machine dichotomy" is a big category and, perhaps, an odd theme for a solo cello album. Then again, Transitions, Michael Nicolas' debut effort on Sono Luminus, is not your average cello recording. It's thoughtfully curated and smartly programmed, to be sure, but there's also a decidedly-21st-century wit behind it (just read Nicolas' liner notes if you doubt this) and striking musical chops to back everything up.
Taking roughly fifty years' worth of music for cello with or without live electronics, multi- or backing track, Transitions begins with Mario Davidovsky's Synchronism no. 3 (written in 1964), continues with Steve Reich's Cello Counterpoint (2003), and culminates in four pieces written over the last couple of years by David Fulmer, Annie Gosfield, Anna Thorvaldsdottir, and Jamie E. Oliver la Rosa. Given such a chronological spread and the stylistic inclinations of these six very different composers, perhaps the first big takeaway from the recording is how much these individual pieces have in common.
Take Davidovsky's Synchronism, a virtuosic score for solo cello and tape. Its driving concept is its dialogue between musician and machine, the latter of which here often consists of sine waves and primitive bleeps and blips. The whole piece works, though, if not quite as spectacularly as the later, Pulitzer Prize-winning Synchronism no. 6 (for piano and tape), and, best of all, it doesn't overstay its welcome.
Fast forward half a century and you have Annie Gosfield's Four Roses…and a Five-Spot. It's a bit longer, the electronic element is more sophisticated (here a sampler that often sounds like a mistuned piano), and its rhythms sometimes more popular in orientation. But a similar conversation between player and computer propels the music forward; it, too, doesn't go on for too long (even though Four Roses runs three times longer than Synchronism no. 3).
One can make a similar observation about David Fulmer's haunting Speak of the Spring, with its moments of sumptuous lyricism interrupted by violent outbursts, and even the Reich, which here features Nicolas playing the version for solo cello and pre-recorded tape. In a sense, each of these composers seem to be charging after a similar theoretical goal: an even balance between the human and the mechanical.
But there's much more to the music on this disc than just a shared aesthetic vision, which, by itself, is a fairly dry, clinical thing. Quite the contrary. Each of the pieces betrays a remarkably strong musical character. Sometimes – like in the Gosfield – there's a welcome dose of humor involved. Or there are menacing shadows: Jamie E. Oliver la Rosa's Flexura is downright spastic, skittish one moment, locked in stasis the next.
ICElab at MCA | Anna Thorvaldsdottir: Transitions | Michael Nicolas, cello from ICE on Vimeo.
In other works, the mood can be strikingly nostalgic. Anna Thorvaldsdottir's Transitions, offers its share of searching gestures and motives, but it's tied together by a chorale-like melody that, as the piece proceeds, becomes like a touchstone to a missing time or place. And the Fulmer, for all its explosive moments, has many more that are tender, vulnerable, fragile.
Nicolas' performances in each is brilliant and assured. He's capable of some fearsomely aggressive playing – just listen to how he digs into the opening of Flexura, with its terrifying attacks and glissandi – but also extraordinary delicacy and introspection. Flexura, again, offers demonstrations of both those qualities, cheek by jowl, as does Four Roses and Speaking of Spring. The Thorvaldsdottir, which seems to be the hinge on which the disparate strands of these several pieces turn, features playing that's focused and captivating, while the Reich, with its motoric rhythms and triadic harmonies comes across as something of a balm.
Overall, with Transitions Nicolas proves himself a major cellist of his generation, a musician of great technical skill but also one capable of – and willing – to make strong, thoughtful artistic statements. In other words, he's precisely the kind of musician we need to be hearing from these days.
---
Jonathan Blumhofer is a composer and violist who has been active in the greater Boston area since 2004. His music has received numerous awards and been performed by various ensembles, including the American Composers Orchestra, Kiev Philharmonic, Camerata Chicago, Xanthos Ensemble, and Juventas New Music Group. Since receiving his doctorate from Boston University in 2010, Jon has taught at Clark University, Worcester Polytechnic Institute, and online for the University of Phoenix, in addition to writing music criticism for the Worcester Telegram & Gazette