It says something about where we are at as a country when the absurdist's voice is the only one that is persuasively human.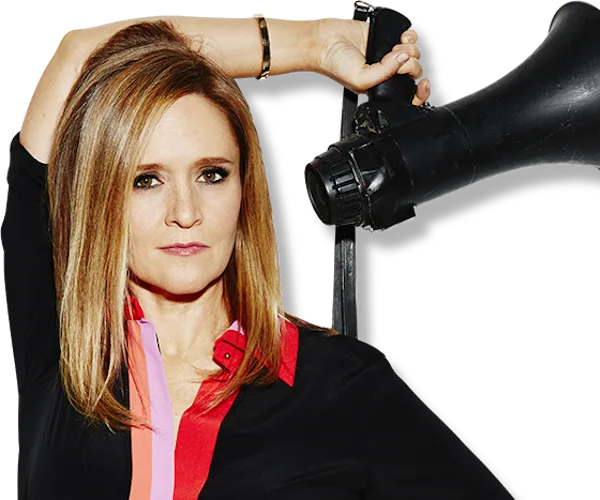 By Matt Hanson
During a recent appearance on The Tonight Show, comedian Louis C.K. decided that he was sick of self-promotion and decided to plug two of his new favorite sources of comic relief. Surprisingly, one of these was Pride and Prejudice and the other was TBS's new Monday night show Full Frontal with Samantha Bee, which he called the best show on television. Talent recognizes talent: of all the former Daily Show comedians currently in the cultural mix, Samantha Bee's acerbic and informed political comedy, after only a few months on the air, is already proving its trenchant superiority.
Given that the state of our political discourse has become almost too ridiculous to bear (and, with the rise of Trump, the paranoid style shows no signs of slowing down), it is up to our comedians, specifically those who have made spotlighting the ridiculous their life's work, to perform a vital public service — laughing at the emperor's new clothes. Especially now, given a media landscape that is becoming increasingly surreal, people turn to comedians to give them the straight dope, not just to provide laughs.
It's a truism that female comedians have it especially tough in an already difficult business, having to overcome audience prejudice and diminished expectations while avoiding being pigeonholed as shrill or forbiddingly unfeminine. As the only woman with a show of her own in the male-dominated world of late night TV, Bee's damn-the-torpedoes, one-of-a-kind tenacity is as admirable as her persistence in taking on bigger social issues than the usual showbiz fodder.
Take, for example, her popular bit on the politics of income inequality as it applies to buying diapers for poor babies:
It's a depressing fact that food stamps don't cover diapers, which only makes things more difficult for parents trying to make ends meet. Bee systematically breaks down the tiresome and obtuse criticisms made from the right about whether or not diapers should be considered luxury items, from the vapid claims about the government's not being responsible to help families in need to the spiteful nonsense about the plausibility of placing babies in daycare without a supply of diapers.
Bee deserves a tremendous amount of credit for taking the risk of addressing the kind of unglamorous economic issue you don't often see addressed on TV Cable news or NPR, much less in comedy routines. By the end of the bit, Bee has us cheering her on for speaking truth to power on behalf of millions of stressed-out mothers everywhere; more than that, she has spent five minutes tearing apart the kind of cruel ignorance that has become all-too-pervasive in American politics.
Full Frontal fearlessly tackles topics no squeamish man-child comedian would ever dare to touch: the horrifying backlog of rape kits, rampant sexual harassment in government, and so-called crisis pregnancy centers that morally blackmail women in order to keep them from terminating a pregnancy. Bee's satiric vision is flexible enough to make substantial critiques of the way we live now while keeping the tone engagingly breezy.
Check out the way she addresses the complex and relevant issue of super delegates. Bee explains the historical background of the set-up in impressive detail, citing several examples of the ironies generated by the current system, calling out both the right and the left for their ethical failures. All the while she keeps a rather dry topic accessible and consistently interesting by tossing one acidic barb after another, adding a kooky gag about hooking up with Charles Manson for good measure. It's a virtuosic six minutes of educational comedy that accomplishes the tricky feat of keeping its wit sharp and irreverent without losing its rhetorical focus:
At times, Bee's comedy can resemble a civics lesson delivered by a skilled stand-up comic, which is a very good thing. It's the perfect way, without being pretentious or preachy, to make people interested in political issues that they might otherwise ignore, even though these problems affect their daily lives. It says something about where we are at as a country when the absurdist's voice is the only one that is persuasively human.
Naturally, Full Frontal will need some time to develop as a more cohesive show on its own terms. This could include having more guests and conceptual bits, such as the amusing mini-parodies of Werner Herzog's lugubrious documentary style as applied to Jeb Bush's clumsy Presidential campaign and Patton Oswalt's recent send-up of the black-cloaked Orson Welles of F for Fake. What's most important is that the incisive critical tone is already firmly in place.
During Bee's decade-plus time as a correspondent on The Daily Show she perfected an irreverent but devastating style of comedy that is all her own: her  approach is unpretentious and deeply informed. She is not afraid to talk dirty if it sharpens a point. A shrinking violet she is not — Full Frontal offers a stinging attack at the soft underbelly of our body politic.
---
Matt Hanson is a critic for The Arts Fuse living outside Boston. His writing has appeared in The Millions, 3QuarksDaily, and Flak Magazine (RIP), where he was a staff writer. He blogs about movies and culture for LoveMoneyClothes. His poetry chapbook was published by Rhinologic Press.