I wanted to like Sunset Song, steeped as it is in Scottish history and scenery. It is director Terence Davies' love letter to a lost past, but also a memoir of heartbreak and hope.
Sunset Song, directed by Terence Davies. At Kendall Square Cinema, Cambridge, MA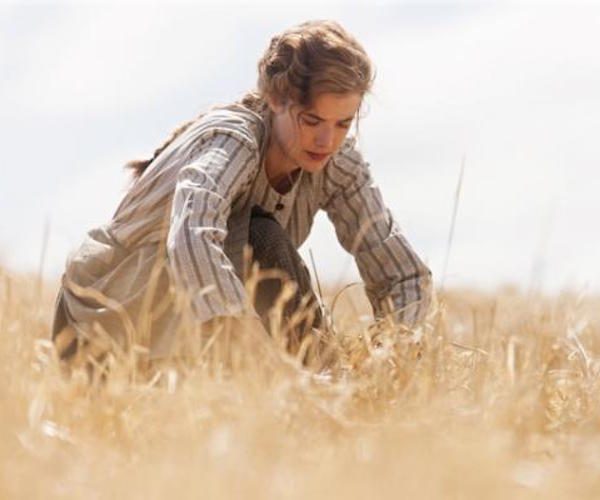 By Peg Aloi
Terence Davies' lush adaptation of a 1932 novel by Lewis Grassic Gibbon is an ambitious coming of age film, set in Scotland just prior to World War I. Chris Guthrie (played by Agyness Deyn in an impressive breakout performance) is the eldest daughter of a rural farming family. The film chronicles a decade in her life, from adolescence through young adulthood, focusing on the challenges faced by rural Scottish women who were expected to do men's bidding in the kitchen and bedroom. Women's lives are defined by men and childbearing, but there is a hope that thoughtful, strong-willed Chris might rise above this forsworn destiny.
Chris' father John (the always excellent Peter Mullan) is hard-working but harsh, and beats eldest son Will (Jack Greenlees) for perceived slights. Chris and Will form a kind of united front, listening in dismay as they overhear John forcing himself on wife Jean (Daniela Nardini) as she protests she can't handle another pregnancy. Jean does indeed become pregnant, and the family moves to a larger farmstead called Blawearie in a scenic valley, where Chris enjoys the views even as she works tirelessly. An itinerant laborer who asks to work for food sleeps one night in the barn; he tries to seduce Chris, saying her "hot blood" is going to waste. She resists, but, in one of many scenes where Deyn's expressive face and slender hands convey all without words, we see that she is tempted by his touch, but concerned by the possible repercussions of giving in.
Her mother bears a second set of twins, but in despair kills herself and her two babies. Brother Will leaves home, and the older twin siblings are sent to live with relatives. It becomes apparent to Chris that existence with her father will be one of drudgery, danger, and sexual abuse. He sees her as his flesh and blood — he has the right to do with her as he pleases. Chris manages to escape his drunken advances and, after John suffers a stroke, the man declines rapidly. Chris inherits the farm and feels a momentary sense of peace and empowerment.
But she yearns for companionship. Propriety dictates she mustn't live alone on the farm, so she hires a middle-aged woman to help cook and clean. A young local farmer and friend of Will's named Ewan (Kevin Guthrie) helps out at the farm. One rainy night, after Chris competently saves the flock from freezing, he proposes marriage. After their elaborate wedding, paid for with part of Chris' inheritance, the young couple seems deliriously happy, constantly kissing and enjoying daily chores. It seems that Chris has indeed managed to escape the life of lovelessness and brutality that seemed to be her lot. She has Ewan's child and manages the farm, yet enjoys her husband's affection and respect.
But the film seems determined to hit us over the head with the notion that ingrained ways of life are unchangeable: especially a culture that keeps women down. Ewan is convinced by his friends that he should enlist to fight in the war. After his first session of training, he comes back utterly changed, his former loving self turned cruel. Chris copes, but seems embittered as she realizes her self-reliance is more important than her marriage.
I wanted to like this film more than I did, steeped as it is in Scottish history and scenery; it is Davies' love letter to a lost past, but also a memoir of heartbreak and hope. The film richly conveys a time in history that saw thousands of young men cut down and damaged, leaving women to work the land. Chris' love of Blawearie suggests an abiding pride in a way of life that would soon enough give way to industrialization. And there are some fine performances here, and a number of nicely orchestrated scenes that make superb use of epic cinematography and traditional songs. (The English subtitles are a welcome aid to navigating the dialogue.) But, at 135 minutes, Sunset Song felt overly long, its denouement rather drawn out and disappointing. I found myself waiting for a toppling of the patriarchy, or an epiphany from Chris that suggested her release from male tyranny. But they were not to come.
---
Peg Aloi is a former film critic for The Boston Phoenix. She has taught film studies for a number of years at Emerson College and is currently teaching media studies at SUNY New Paltz. Her reviews have appeared in Art New England and Cinefantastique Online, and she writes a media blog for Patheos.com called The Witching Hour.