Legally Blind contains sufficient satiric sting because it takes aim at the current fashion for musicals in which handicapped souls are healed.
Legally Blind: The Helen Keller Musical. Book and lyrics by Ryan Landry. Directed by Tim Lawton. Presented by the Gold Dust Orphans at the Machine nightclub, 1254 Boylston St., Boston, MA, through May 22.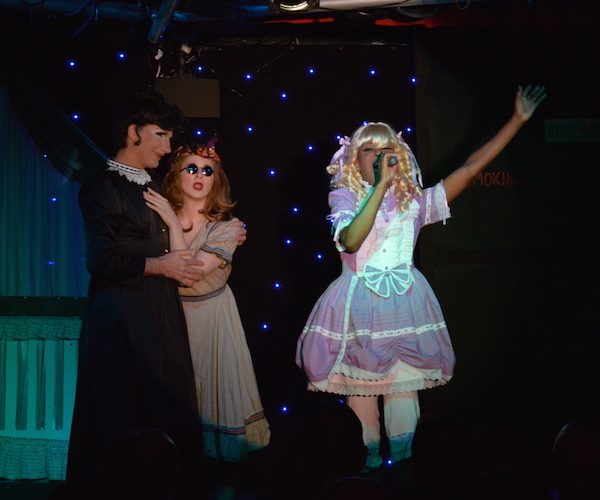 By Bill Marx
What's interesting about Ryan Landry's latest anarchistic farce/musical with the Gold Dust Orphans is that it is a quasi-departure from his usual frenzied form. It is not a souped-up send-up of a classic play or movie, the laughs coming when high art or admired cinema is dragged (and re-dragged) through the mud and then some. Legally Blind mashups the musical Gypsy and William Gibson's The Miracle Worker — it chronicles how the deft and blind Helen Keller overcomes her formidable handicaps (particularly an exploitative stage mother) and triumphs as the first blind stripper. The show scrambles up songs swiped from Little Shop of Horrors, Company, and Cabaret and offers the usual parade of colorful costumes, cartoon sets, cringe-making puns, campy one-liners, and hefty servings of politically incorrect caricature (including a Fu Manchu-up-the-scenery Chinese Dragon Lady). It doesn't contain nearly as many hilarious highs as some of Landry's other shows, but it is still continually amusing. One reason for the occasional longueur is that this time around the antic auteur wants to move in a slightly different direction.
In his curtain speech at the performance I attended, Landry alluded to the show's tragedy as well as its comedy. Now, tragedy is going way too far — Aristotle would have left the Machine nightclub during a scene with dancing eyeballs — but there is a stab at pathos here, perhaps in Landry's toned-down performance as Annie Sullivan, here transformed into a do-anything-to-succeed narcissist in the no-nonsense mode of Mama Rose. Like the tragicomic figure in Gypsy, Landry is a trouper who has been fighting to keep a company afloat for decades — and there is a price to be paid.
Landry's Sullivan is working hard to turn two charges into stars: favorite Baby Solange (Qya Marie) and Helen Keller (Jessica Barstis). Sullivan and a worshipful Herbie Schwartz (Brooks Reeves) push the pair through a tawdry series of showbiz adventures, a tour of the decrepit underbelly of showbiz that's enlivened by Marie's strong voice, particularly a couple of giggly versions of "I Will Always Love You." There are a few, but not that many, tasteless Helen Keller jokes, and those we get are not nearly as bad as the ones I heard as a kid. ("How did Helen Keller burn her hands? Trying to read a waffle iron.") Once Solange nosedives into drink, it is up to Helen, whose tunes are well sung by Barstis, to make burlesque history by strutting her stuff and stripping. At first, Helen simply thinks she is getting ready for bed and getting into her pajamas, until her loyal and loving boy friend, Tung Fook (Tim Lawton), wises her up. The pair's declaration of their love, a warped version of "Simply Seymour," supplies one of the evening's peaks of foolishness.
Some will dislike the barrage of Asian jokes (one-liners scattered at Koreans, Chinese, and Japanese) had at the expense of the addled Fook and his bratty mother Sayonara, who owns a very downscale Chinese restaurant. But they were giggly enough, as were the appearances by a Gay Dragon spirit wagging a long schlong. The dancers (Bradley Jensen, Briana Scafidi, Meredith Langton, and Alexander Davis) are frisky, and the show ends on a muted note of fun — after Helen gets the lowdown she decides taking off her clothes in public is for her. She becomes a star Las Vegas stripper, with Solange as her manager. Sullivan is left to simmer in terminal self-pity. Here is where Landry tries to drum up notes of sadness.
I am not sure about the tear quotient in all this, but Legally Blind contains sufficient satiric sting because it takes aim at the current fashion for musicals in which handicapped souls are miraculously healed. Violet, the story of a woman who learns to live with a disfiguring facial scar (recently produced at Speakeasy Stage Company), comes to mind. Of course, Diane Paulus, the artistic director of the American Repertory Theater, specializes in inspiration, a number of her shows filled with didactic testaments to the "extraordinary' in all of us. (Has Landry ever taken aim at the torpid Pippin?) We need to have these trite liberal bromides sent-up as often as possible. It is ironic when Dan Aucoin, the Boston Globe's theater critic and representative of a 'family' newspaper, complains that there aren't enough R-rated moments in a show, as he does about Legally Blind. But more seriously discouraging is how the bland-to-the-max Globe/NPR critical brain trust routinely huzzahs the manipulative and predictable genre of tuneful uplift, one that is turning the once glorious American musical into mounds of politically correct, therapeutic mush. Legally Blind offers some healthy guffaws, if only because it kicks to the curb the 'we shall overcome' mania swamping our theaters. Landry's Helen learns the 'truth' — she has been used — and still decides that it is worth her while to wrap her naked self around the stripper pole. Now that's entertainment — and empowerment.
---
Bill Marx is the editor-in-chief of The Arts Fuse. For over three decades, he has written about arts and culture for print, broadcast, and online. He has regularly reviewed theater for National Public Radio Station WBUR and The Boston Globe. He created and edited WBUR Online Arts, a cultural webzine that in 2004 won an Online Journalism Award for Specialty Journalism. In 2007 he created The Arts Fuse, an online magazine dedicated to covering arts and culture in Boston and throughout New England.