Those familiar with –and, like me, in love with — the 1967 animated Disney film, may fear (as I did) that the new version would substitute CGI for story, hip patois for human pathos, and generally just make a modern mess of it.
The Jungle Book, directed by Jon Favreau. Adapted from Rudyard Kipling. At Somerville's AMC Assembly Row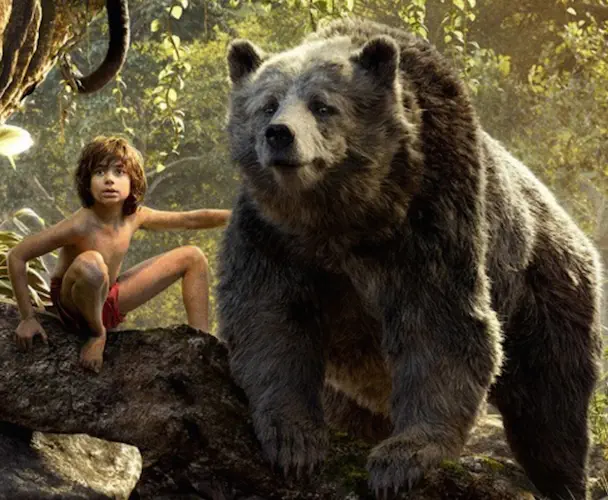 By Jason M. Rubin
It's one of the great ironies of life. Man, in all his power and glory, intelligence and creativity, is the single greatest threat to the natural world. And yet, put a man in a jungle and it's a good chance he'll get eaten pretty quickly.
I wouldn't say that's the lesson of Rudyard Kipling's The Jungle Book or its movie versions, the latest of which was released on April 15, but it's a key part of the story. The "man cub" Mowgli, who was raised by wolves after being orphaned and lives in harmony with his fellow jungle creatures, nevertheless suffers for the sins of his species, whose command of "the red flower" (fire) destroys their habitats. Hunted by the traumatized tiger, Shere Khan, Mowgli is the rare human who means no harm, yet still is threatened because of his bipedalism.
Those familiar with — and, like me, in love with — the 1967 animated Disney film, may fear (as I did) that the new version would substitute CGI for story, hip patois for human pathos, and generally just make a modern mess of it. After all, Disney is still at the controls and there are many good reasons to be mistrustful of Disney as a corporation. And yet when Disney is at its best, real magic happens. And so it does in this new version of The Jungle Book.
Disney magic and movie magic both depend on prestidigitation: fooling viewers into thinking that what they're seeing is real, when intellectually they know it is not. Though essentially a "live action" movie, just about every single frame would be impossible to film in real life and yet the images look 'real.' It requires surprisingly little suspension of disbelief to feel that Mowgli (the remarkable Neel Sethi, only 10 when he was cast) can really climb enormous trees and cliffs, or that a Lion King's worth of wild animals can hit their cues so perfectly.
Wisely, director Jon Favreau sticks pretty much to the story that everyone knows, with a few extra plot-setting scenes that are exciting and fun. Even the original film's two signature songs, "Bare Necessities" and "I Wanna Be Like You," are retained, though Bill Murray and Christopher Walken are no Phil Harris and Louis Prima. In the live action context, the songs are not required and in fact seem out of place, yet they are so good one doesn't mind hearing them in their familiar scenes in the movie.
One significant change that I enjoyed is that Mowgli is more heroic now. In the 1967 film he is tossed from one species to another, surviving largely on luck and pluck. His ability to fit in is due mostly to his youthful innocence. In the new version, he uses compassion and ingenuity (i.e., his human qualities) to not only rescue himself but others at various times. He survives because of his own wits and courage (and, of course, an occasional last-second intervention from his friends, Bagheera the panther and Baloo the bear).
Overall, the animals themselves are more noble in Favreau's hands. Gone are the blustery, blowhard elephants, the Beatlesque vultures, and the hapless, lisping snake. Instead, the elephants are majestic, the vultures silent, and the snake truly threatening. As Baloo, Murray is more low-key than Harris; it took some time to accept that the former's interpretation of the character emphasizes the bear's innate laziness rather than his love of a good back scratch. As Bagheera and the narrator, Ben Kingsley is most like his 1967 counterpart, Sebastian Cabot; in other words, practically perfect.
As the predatory Shere Khan, Idris Elba supplies more heat than the icy cool deadliness of the original movie's George Sanders; unlike the 1967 film, we see that beast's threats are real, and his fate at the end of the movie is more dramatic.
Raksha, the wolf mother who raised Mowgli (Lupita Nyong'o), is given a much more prominent role as a courageous and loving figure, and Kaa the snake is voiced by Scarlett Johansson, who talks seductively but lacks personality. Still, the focus on these two female characters help to make the movie less male-dominated than the original, which is particularly important given that the cute, large-eyed Indian girl who tempts Mowgli into the man village in the animated film has been dispensed with (and is not missed).
As for the ending, it is different from the 1967 film and, in my opinion, better. Rather than being led away from the jungle by his mysterious emerging libido, Mowgli is at his most resourceful and confident in the new film's exhilarating final scene, and he remains committed to the jungle. He is not the only hero, though, as the entire jungle population, no matter how large or small, carnivores and herbivores together, unite to protect their environment and their way of life.
And that, ultimately, might be the lesson to take from the movie. We can destroy nature through our own limited vision of progress, or we can choose to live harmoniously with our fellow creatures and walk more gently upon the earth. I wouldn't expect such an un-corporate lesson to come from the Disney, but that's movie magic for you.
---
Jason M. Rubin has been a professional writer for 30 years, the last 15 of which has been as senior writer at Libretto, a Boston-based strategic communications agency. An award-winning copywriter, he holds a BA in journalism from the University of Massachusetts Amherst, maintains a blog called Dove Nested Towers, and for four years served as communications director and board member of AIGA Boston, the local chapter of the national association for graphic arts. His first novel, The Grave & The Gay, based on a 17th-century English folk ballad, was published in September 2012. He regularly contributes feature articles and CD reviews to Progression magazine and for several years wrote for The Jewish Advocate.