There's a very apparent level of trust between the BSO and its leader and it has perhaps best demonstrated by the consistently spirited excellence of the orchestra's playing night in and night out of late.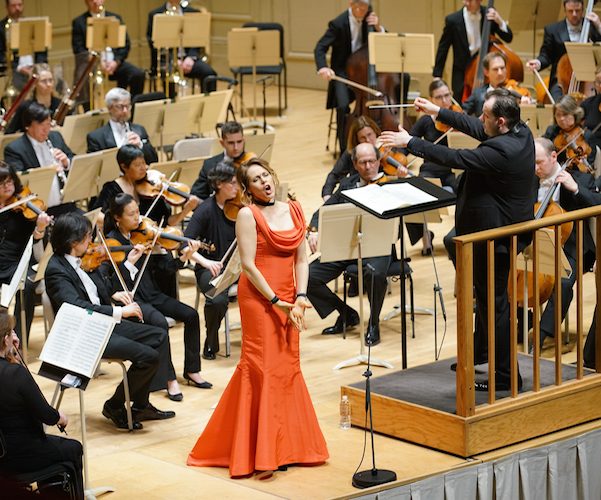 By Jonathan Blumhofer
On the face of it, the last concert of Andris Nelsons' second season as Boston Symphony Orchestra (BSO) music director had not a little in common with the inaugural one of his first. The program was a bit of a hodge-podge. His wife, the acclaimed soprano Kristine Opolais, sang. There was lots of goodwill from musicians and audience to go around and much hearty cheering at the end of it.
What was most different, though (besides the repertoire, which, this weekend, was entirely French and Russian), was the obvious rapport Nelsons and the BSO have cultivated these last, whirlwind two years. That first concert, some warm moments notwithstanding, was largely tentative: all the potential of the BSO's relationship with its new music director remained to be tapped. Well, this year especially, conductor and orchestra have truly come into their own together. There's a very apparent level of trust between the BSO and its leader and it has perhaps best demonstrated by the consistently spirited excellence of the orchestra's playing night in and night out of late.
On Saturday, this tendency was clear throughout the evening, especially in the program's first work, Henri Dutilleux's Métaboles. Cast in five connected movements, Métaboles offers a succession of striking contrasts: the first movement, filled with tightly singing woodwind chorales and solos punctuated by percussive bursts; the second, showcasing serenely dissonant string textures; in the third, jazzy double bass riffs and brass solos alternate; enigmatic percussion figures highlight the fourth; while a propulsive, brilliant finale sums everything up with colorful flourishes.
Over the last couple of seasons, Nelsons has proven himself a conspicuously fine conductor of 20th- and 21st-century music and the performance of Métaboles that he drew from the BSO on Saturday was true to form. The orchestra's playing was rhythmically precise and tonally bright, illuminated by crisp ensemble playing, glassy textures (especially in that gorgeous second movement) and, over its last several pages, feverish intensity.
Dutilleux, who would have turned 100 in January, had a long relationship with the BSO, though these performances of Métaboles marked only the third time the BSO has presented this particular piece. Nelsons ably made the case that it's exactly the type of underperformed music that the orchestra ought to bring back regularly every couple of years – much more than Brahms piano concertos and Beethoven symphonies: it's a striking, compelling, and rewarding score that challenges in not a few ways but never loses itself to abstraction or emotionally sterility.
Following Métaboles, Opolais took the stage for a pair vocal compositions. The first, Rachmaninoff's brief "Zdes' khorosho" ("How fair this place"), allowed her to show off the velvety lyricism of her voice while the second, the Letter Scene from Tchaikovsky's Eugene Onegin, offered more dramatic and musical substance.
These were Opolais' first appearances with the BSO since September 2014 and they left an altogether stronger impression. The repertoire suited her well: Opolais has keen dramatic instincts and her Letter Scene ably captured (especially for a non-staged presentation of the scene) the conflicting emotions of the opera's remarkable heroine, Tatiana. She also has a simply lovely voice, one that seemed particularly well-suited to both pieces she sang.
Nelsons and the BSO made the most of Tchaikovsky's writing for the orchestra in the Onegin excerpt, playing with much energy and color. Keisuke Wakao and Richard Sebring delivered, respectively, radiant oboe and horn solos. Michael Rot's orchestration of the Rachmaninoff was also warmly realized, even if it covered Opolais a bit towards the beginning (that same problem cropped up a couple of times in the Tchaikovsky, too).
After intermission came a strong performance of Debussy's La Mer. Parts of it might have been more mysterious, but the big climaxes were exhilarating and some of the most delicate passages – like the stunning section of terraced motives around the middle of the finale – crystalline. The middle movement, "Play of the Waves," sparkled. Among specific highlights were solos by principal flute Elizabeth Rowe, English horn Robert Sheena, and principal trumpet Thomas Rolfs. Also worth noting was the quality of the BSO's entire percussion section in La Mer, which stood out for the precision and discretion of its playing.
By an interesting quirk, this weekend's concerts began and ended with the same pieces that Alan Gilbert's most recent concerts with the BSO in January 2013 did. On that occasion, I found Gilbert's take on Ravel's La Valse downright chilling: it was rhythmically driven, emotionally taut, and executed flawlessly and without sentiment.
Nelsons' La Valse on Saturday was a bit more relaxed in tempo, reveling in the dazzling play of orchestral colors that fill the score's pages. Stretches of it were plainly sumptuous. In some hands, such an approach can be an end (and a rather unfulfilling one, I'd argue) in itself. But Nelsons had a solid grasp on the La Valse's narrative thrust throughout and, in this context, the music's closing disintegration came across with harrowing immediacy.
Three years ago, I wrote that, after a good performance of La Valse, it should be hard to cheer its disturbing subtext of a civilization spinning inexorably to a mechanized slaughter. That remains true and was the case this weekend. But applaud Saturday's full house did, and they clapped especially long and loud for the BSO's three retirees this year: violists Robert Barnes (with the orchestra since 1967) and Kazuko Matsusaka (since 1991), and assistant librarian John Perkel (since 1998).
It was particularly nice to have Nelsons on hand for this end-of-season ritual, even if he spent much of it crouching on the floor of the stage while these long-time orchestra members took their bows. This is very much his orchestra now, after all, and these are precisely the sort of events that are the purview of a music director and shouldn't be shunted off to guest conductors. Of course, Nelsons is also the type of conductor who seems happiest when he can blend in with his musicians and this allowed him to do just that.
At any rate, another BSO season is on the books, but things don't slow down for the orchestra anytime soon: next month, they're off on a European tour and Tanglewood starts shortly thereafter. Plus, the next installment of the BSO's "Under Stalin's Shadow" series is slated for release in May. Of course, when an orchestra's playing with the purpose and direction as the BSO is these days, it's especially good for them to be so busy: to paraphrase Samuel Daniel, the orchestras that have most glory never rest.
---
Jonathan Blumhofer is a composer and violist who has been active in the greater Boston area since 2004. His music has received numerous awards and been performed by various ensembles, including the American Composers Orchestra, Kiev Philharmonic, Camerata Chicago, Xanthos Ensemble, and Juventas New Music Group. Since receiving his doctorate from Boston University in 2010, Jon has taught at Clark University, Worcester Polytechnic Institute, and online for the University of Phoenix, in addition to writing music criticism for the Worcester Telegram & Gazette