Jess Foster's clever script takes the trope of "cars are like women" to its logical, though unexpected, extreme.
Hard and Fast: A Love Story by Jess Foster. Directed by Dawn M. Simmons. Presented by Boston Public Works at The Stanford Calderwood Pavilion at the Boston Center for the Arts through December 5.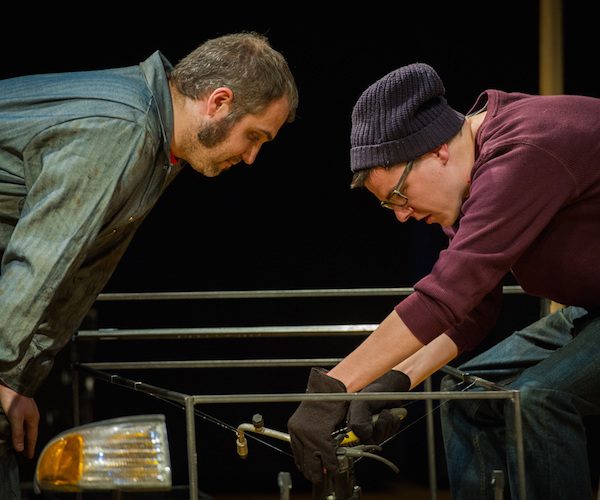 By Jess Viator
Hard and Fast: A Love Story lulls the audience into a false sense of complacency by initially seeming to be a predictable, though well-told, coming-of-age story. Then, suddenly, the love story sneaks out from the background and knocks us out of our comfort zones. The youth-moving-toward maturity plot is driven by a 16-year-old named Parker, who grapples with conflicting messages of masculinity. Hard and Fast examines how and why he decides on which manhood directive eh should follow.
Parker's father, John, is a high-powered lawyer who wants to buy his son a car—but it must be the exact same model Aston Martin John had himself as a teenager. Here is a dad who is going to great lengths to force feed his son his own selective values and experiences. John is a man who gets what he wants; in order to procure the exact Aston Martin, he coerces a mechanic to give up his dream car.
This is where the love story comes in. Roger, the mechanic and restorer, is in love with the Aston Martin (and I don't mean figuratively). John uses his lawyerly acumen (and bottomless bank account) to leverage Roger into relinquishing the car. But Roger insists on one condition: Parker must restore the car himself, with Roger's help. At the beginning, the 16-year-old is not into this arrangement. He's a naturally impatient teenager cushioned by a life of entitlement. He wants the car now—and he doesn't want to have to work to get it. But Roger treats Parker with respect, and he urges the teen to have respect for cars and, consequently, for people (because in Roger's mind cars are people). During their time together, Parker discovers that he loves working on auto—and it is a particularly valuable passion because it is rooted in a lesson hard won.
Jess Foster's clever script takes the trope of "cars are like women" to its logical, though unexpected, extreme. It is a provocative idea: a woman writes a play in which three characters, all of them men, explore their concepts of masculinity. A large piece of the drama is, naturally, related to how they view and relate to women. But Foster has put cars in the script in place of actual women. This simplifies the conflicts, but the parallel is flawed; cars are not like women, cars are objects and women are people. The extended metaphor eventually becomes problematic because but it reduces the complexities of half of the population to cliches.
In this world, cars are either objectified women or feminized objects; either way, they don't have voices of their own. Everything they say must be interpreted through a man: Roger. But because the playwright is a woman, we can presume that she has put herself in the position of the cars; Foster is the voice that champions mutual respect and consent, which Roger hears and internalizes and then imparts to Parker and, by extension, to the audience. This game of progressive telephone is a cunning tactic; there are men in the world who are conditioned to not hear women—they do not acknowledge that women have valid opinions—but these men might listen to what a woman has to say if their messages are spoken through the mouthpiece of another man.
The text of Hard and Fast puts a lot of pressure on the actor who plays the complicated Roger. The figure is gruff and blue-collar yet sensitive and thoughtful; he's kind of a loser and a little bit sleazy; he's intelligent and witty and a man in love. Unfortunately, Mike Budwey is miscast in the role and unconvincing. The actor doesn't suggest the life experience or project the mannerisms of an older man. In his best scenes he delivers lively and compelling monologues to his inanimate love interest, the Aston Martin. When he interacts with the other actors, he tends to rush and trip over his lines, which undercuts the comic timing. And he doesn't deliver the called for emotional depth; at one point, Roger is deeply jealous of Parker, but there is no hint of jealousy in Budwey's demeanor.
The other two characters are more conventional—a shark lawyer and a rebellious teenager. Dave Anderson's portrayal of John is admirably complex; the figure is not a villain—he sincerely has his son's best interests in mind. Yet he is strong-arming him. Anderson combines the man's domineering behavior with both fatherly love and bewilderment at his son's defiance. Zach Winston initially struggles to portray Parker with realistic panache; in his introductory scene, Parker throws an overwrought teenage tantrum, and it comes off as a little too put-on. In subsequent scenes, Winston steps his performance up, skillfully capturing the inconsistencies of adolescence; childish then thoughtful, earnest then Machiavellian, rejecting validation then seeking it.
Most of Hard and Fast is set in a garage, and revolves around multiple cars, which the actors must tinker with throughout the play. This requirement poses a large problem for the set designer (presuming that the theater company does not have the resources to recreate a classic Aston Martin). Natalie Khuen's set design resolves this problem by having car-shaped steel frames on stage, with modular grills and headlights to represent each of the various cars. Under each car's "hood" are the car parts that the actors work on, suspended on wires. This is an inventive solution, and it works, in part, because the décor for the rest of the garage is astonishingly accurate—down to the radio, which plays car-themed classic rock.
Hard and Fast's "cars are like women" metaphor is so heavy-handed that I wonder if the real crux of the play is a commentary on how men—even genuinely good men—can oversimplify women. Roger preaches about having respect for cars but then there is the uncomfortable question of ownership—who does the car "rightfully" belong to? Roger disdains men who buy cars based on beauty alone, without understanding the value of what they have—but then all of the men in the play are obsessed with the Aston Martin because of its beauty and rarity. Is Foster calling out men like Roger, who purport to advocate for women but only if they see them as prized possessions? Is Roger a tragic hero? Or an ironic warning? Well directed by Dawn M. Simmons, the production presents a thought-provoking though puzzling script that needs clarification.
---
Jess Viator is an emerging independent theater director, an occasional stage manager, and a lapsed playwright. She has a BA in theater performance, and recently completed a master's degree in theatre studies from the University of Dundee in Scotland.