While 887 explores the political, historical, and cultural ramifications of centuries-old racism, Robert Lepage never panders to victim mentality polemics.
887, written, designed, directed and performed by Robert Lepage. An Ex Machina production. At the Bluma Appel Theatre, St. Lawrence Centre for the Arts, Toronto, Ontario, closed on July 19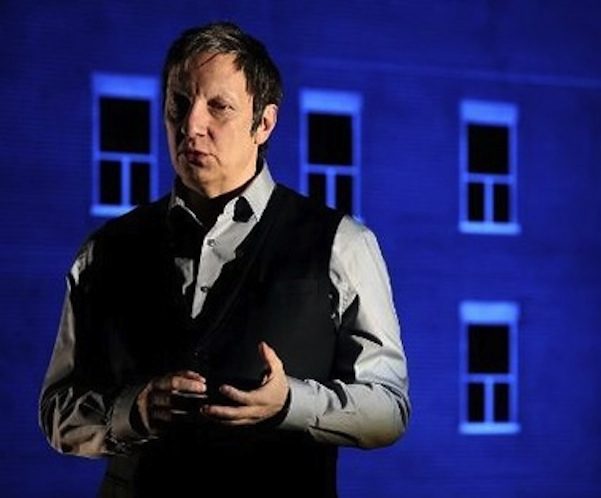 By Robert Israel
"Remembering is a noble and necessary act," Nobel laureate Elie Wiesel once wrote. "The call of memory, the call to memory, reaches us from the very dawn of history."
Theatrical wizard Robert Lepage embraces Wiesel's words as his mantra. In the world premiere of his one-man show (in the coming weeks he takes the production to Scotland's Edinburgh International Theater Festival, Italy, and then France), he explores how the call to memory has shaped his life as well as the lives of those of his close-knit family. He then delves into how memory connects him to his fellow Quebecois living in a still-fractious Canada.
As with all of Lepage's productions, notably The Andersen Project and Needles and Opium (both presented by ArtsEmerson in Boston), his theatrical narratives  are enhanced by a brilliant use of technology: sound, light, cinematic images, puppets/dolls, scale models that traverse the stage on wheels or rotate (revealing more images embedded within), to mention only a few. To his credit, Lepage draws on electronics to enhance rather than dominate his powerful approach to storytelling. Thus while the production is a solo Lepage creation (he has long inserted himself and his personal experience into his theater works), ample credit must be given to the collective efforts of his crew (sound, light, dramaturg, director, co-writers, and others) who serve as creative co-conspirators, assisting him in making his dreams a riveting theatrical reality.
The catalyst for Leage's journey down memory's various lanes is an invitation he receives to recite a poem, Speak White, by Michele Lalonde. He has trouble committing the poem to memory. And it is easy to see why: the work is a cri de coeur – it refers to a racial slur that is used against French-speaking Canadians by their English-speaking overlords. And while the show explores the political, historical, and cultural ramifications of this centuries-old racism, 887 does not pander to  victim mentality polemics. Instead, Lepage shows us why we need to remember the painful lessons of our personal and collective histories: we draw strength from these memories and can strive not to repeat the mistakes of the past.
Also, unless we grasp tightly onto memories, we might lose them. Life is temporal. Regarding Lepage's family story, we learn how his late father struggled to keep his family together under strenuous financial burdens. We hear about Lepage's grandmother, who came to live with him and his four brothers and sisters in their small apartment and drifted into dementia. We are told that, despite showing early signs of talent, Lepage was excluded from admittance to a theatre-training program because of his family's working class status. The poem "Speak White,"  its forceful lines exposing class discrimination, resonates powerfully here. Lepage's passage into adulthood, his bittersweet experiences of family and homeland, have left him scarred, but not embittered. In fact, they have motivated him to excel.
There are several stretches of tedium during the play's two hours. The script could benefit greatly from trimming, particularly chunks of Lepage's  rambles about family members and neighbors and then his overgenerous sharing of the minute details of Canadian history. His evident fascination with the specific personality quirks found among his eccentric neighbors on 887 Murray Avenue become lugubrious: because the characters he describes are unseen, we have trouble visualizing them and connecting with their significance as individuals.
That said, there are scenes that provide moments of Lepage's distinctive radiance. One particularly effective episode takes place entirely in silence, when the set is transformed into a café. Lepage, using only a few props, morphs himself into the character of his father, back in the 1960s, wearing a cabbie's hat and uniform, seated at a diner where we also given a cinematic glimpse of a working kitchen.
During the play's final moments, Lepage stands defiant, reciting some lines from Lalonde's poem, "Speak White":
Speak white
It is a universal language
We were born to understand it
With its teargas words
With its nightstick words
The emotional and physical abuse detailed here sends out shockwaves that force us to grapple with our own memories of cruelty, struggle, and discrimination. Lepage lets us feel the sting of what Wiesel calls the "noble and necessary" cleansing of memory  When we relive them, we are no longer adrift — with pain comes connection.
---
Robert Israel writes about theater, travel and the arts, and is a member of Independent Reviewers of New England (IRNE). He can be reached at risrael_97@yahoo.com