Happy Medium Theatre's powerful production is a stirring testament to how the artists in our area have found inventive ways to triumph over the obstacles the economy throws their way.
Dying City by Christopher Shinn. Directed by Cameron Cronin. Staged by the Happy Medium Theatre in the Jackson Square neighborhood of Jamaica Plain, MA (contact Mikey DiLoreto at mikeydiloreto@gmail.com for directions), through July 11.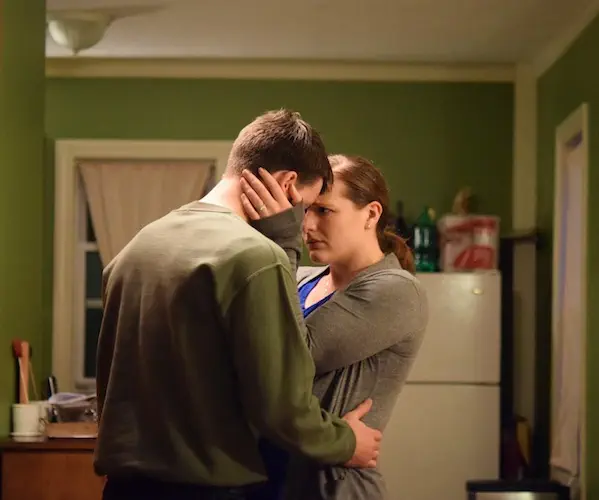 By Ian Thal
One of the problems faced by fringe theater companies in the Boston area is the dearth of performance space. When the South End's Factory Theater was informed that their lease would not be renewed last year, its resident companies were left scrambling to find new venues for seasons they had already begun.
For Happy Medium Theatre, crisis became an opportunity. Its staging of Christopher Shinn's powerfully intimate living room drama Dying City takes place in an actual living room and adjoining kitchen. And not just in any apartment, but in the home of actors Kiki Samko and Michael Underwood – themselves a married couple.
It is 2005 and Kelly (Samko) is packing books into cardboard boxes in her New York apartment. She stops to watch a rerun of Law & Order: Special Victims Unit on her Tivo when her door buzzes. She answers, and the surprise visitor is Peter (Underhill), the identical twin brother of her late husband, Craig. It has been a year since Craig's funeral. It is quickly established that Craig had been killed in what the Army termed an accident while serving in Iraq (the "Dying City" of the title is Baghdad).
A year later, Peter is dubious that the death was accidental; he and his brother were steeped in gun safety during their childhood (their father had been a Vietnam veteran). Peter, meanwhile, is an actor best known for his film roles, but is currently appearing as Edmund in a production of Eugene O'Neill's A Long Day's Journey Into Night (itself a play about an actor). Things are not how they seem and not just concerning doubts about the official cause of Craig's death. Kelly has recently changed her phone numbers and Peter had been unable to reach her.
Peter explains that he had walked out of the show during intermission, ostensibly because the actor playing James made a homophobic remark backstage. When Peter steps into the other room to sort out whether he can explain his absence to the company, in walks Craig (also Underhill). The flashback takes place in 2004 and is set after an awkward farewell dinner for Craig — it is the night before he is to ship off to Fort Benning, Georgia en route to Iraq. Peter is passed out in the bedroom and Craig is suspicious about his brother's new boyfriend, who has already left.
As the play progresses, scenes alternate between Peter's unexpected visit and Craig's last night. Parallels and symmetries unfold. One twin is gay, the other is straight. All three characters are professional interpreters: Kelly is a psychotherapist; Peter is an actor, and Craig, before he was called back to active duty, was a doctoral candidate writing a dissertation on William Faulkner. All three characters are  also accomplished dissemblers: no matter how shocking their confessions. Kelly must maintain an affectless demeanor with her clients in order to keep a therapeutic focus; Peter is always conscious of his self-presentation as an actor; and Craig, who commands soldiers, must repress emotions that may compromise a mission or the chain of command.
In both 2004 (with Craig) and 2005 (with Peter), Kelly and the brothers dance around each other. They reveal one secret or piece of information while  keeping something else hidden; they posture in order glean something from how the other reacts. Peter discusses his acting career and their father's PTSD from Vietnam; Craig cynically analyzes the duplicity of Kelly's clients and Peter's boyfriends; Kelly examines the tension between a story's truth and what the person gains by telling it (as when Craig suggests one of Peter's exes is a liar.) All three are very good at what they do, but there is breakdown. Peter is undone by his self-confidence, Craig is backed into a corner, and Kelly momentarily lets her facade drop, leaving the audience to voyeuristically piece together the full story.
Shinn is operating in a pseudo-realist mode here but, unlike dramatists who believe that means imitating the conventions of film or television, Shinn creates a dramatic version of a novella – this is a richly textured drama in only ninety-minutes. Not a word is wasted. With ruthless economy, his characters meditate on post-traumatic stress disorder as well as repetitive compulsions and their triggers. Kelly remembers the visit by the Casualty Notification Officer whenever her door is buzzed; she watches the same episodes of Law and Order and The Daily Show with Jon Stewart over and over. She offers a revealing interpretation of the popularity of the police procedural: it feeds our primal need to give the victim's life story a meaning, even though the death is meaningless. Peter obsessively prints out and rereads an email his brother sent him from Iraq (he keeps offering to share the message with Kelly). Both brothers seem eager to suggest that their father's war-time experience molded them into what they are.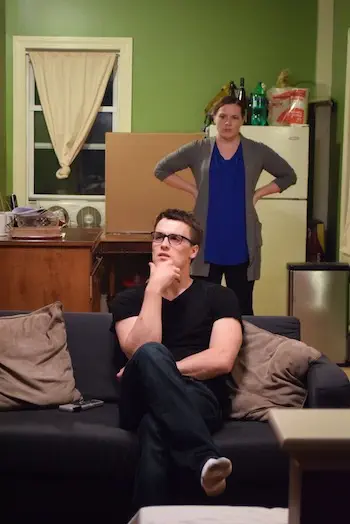 This living room drama is set in New York during the Bush years; thus the PTSD of the 9/11 attacks plays a role in shaping its characters. (Shinn's play is a  potent reminder of the tragedies of the previous decade.) Kelly and Craig watched the destruction of the Twin Towers from their living room window, and Peter, who was in LA at the time, keeps imagining what it was like to witness the destruction. All three have deeply conflicting feelings about the war that Craig was sent to fight. Kelly is caught between skepticism about the Bush administration's false causus belli about WMDs and the horrors of Saddam Hussein's rule; Craig is trapped between his belief in what he believes to be a just mission and the ineptitude with which it has been managed, and Peter might be dissimulating his true opinions — if he has any at all.
Shinn's script demands smart actors, and Samko and Underhill are well up to the challenges. Underhill is particularly adept at individuating the two brothers. On the one hand, he gives them a similarly clenched lower lip, perhaps to suggest a common struggle to control (or withhold) unruly energies. But he also fashions a distinct body language for each figure, movements and gestures that reflect how their careers have shaped them physically. Peter's expressive hands gesticulate on the ends of his alternately extended and flexing arms; often bent over, he is figuratively attempting (like a puppeteer?) to manipulate Kelly. Underhill's Craig, meanwhile, comes off as a young man who spent four years in ROTC and another on active duty before starting his graduate studies: his core is tight, his backbone is straight. He seems ready to spring with ease into action, propelled by a single-minded purpose that cuts against and conceals duplicity. Samko's Kelly, meanwhile, knows when to hang back and when to offer an interpretation that might trigger another revelation – she knows exactly when she is being deceived, even when she pretends not to.
The Happy Medium Theatre crew do an excellent job of transforming the performers' home into a theater space while protecting the privacy of the actors and neighbors (hats off to the stage management team of Mikey DiLoreto, Amy Meyer, and Lesley Anne Moreau). Director and scenic designer Cameron Cronin doesn't just keep the drama moving along, he manages to suggest the reality of a world for these characters beyond the fourth wall. The space, the second floor of a Jamaica Plain three-decker, is remarkably intimate: depending on where one sits, one can easily glance into a tea-cup in an actor's hand, and even see a bedroom door open and close. Meyer's dramaturgical research gets the period details right – even when it comes to picking which television episodes Kelly is watching in reruns (the screen is only visible from some seats).
It is unfortunate that the size of the apartment means that only a few people will be able to see this compelling production. If nothing else, Happy Medium Theatre's staging is a stirring testament to how the artists in our area have found inventive ways to triumph over the obstacles the economy throws their way.
---
Ian Thal is a playwright, performer and theater educator specializing in mime, commedia dell'arte, and puppetry, and has been known to act on Boston area stages from time to time, sometimes with Teatro delle Maschere. Two of his short plays appeared in theater festivals this past summer. He has performed his one-man show, Arlecchino Am Ravenous, in numerous venues in Massachusetts and Rhode Island. One of his as-of-yet unproduced full-length plays was picketed by a Hamas supporter during a staged reading. He is looking for a home for his latest play, The Conversos of Venice, which is a thematic deconstruction of Shakespeare's The Merchant of Venice. Formerly the community editor at The Jewish Advocate, he blogs irregularly at the unimaginatively entitled From The Journals of Ian Thal, and writes the "Nothing But Trouble" column for The Clyde Fitch Report.