Ascending Light is, by far, the most serious orchestral score of Gandolfi's I've heard and it succeeds to a considerable extent thanks to its expressive honesty: it doesn't pretend to be anything it's not.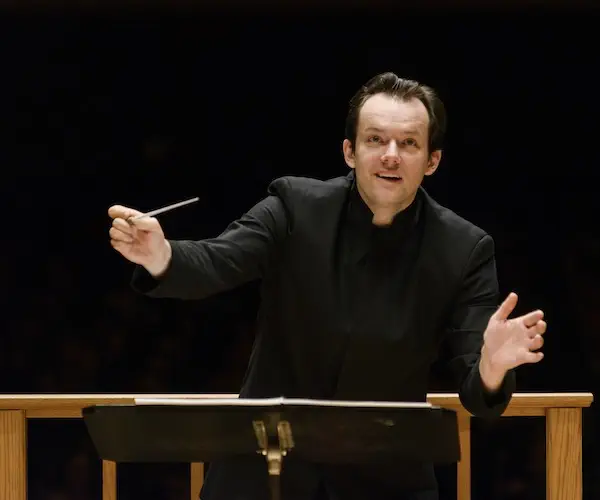 By Jonathan Blumhofer
Andris Nelsons returned to the Boston Symphony Orchestra's (BSO) podium on Thursday to close out his inaugural season as the orchestra's music director with the first of three weeks of subscription concerts. This first program (through March 31) features the world premiere of Michael Gandolfi's Ascending Light, a substantial new piece for organ and orchestra, and Mahler's titanic Symphony no. 6.
Commissioned by the Gomidas Organ Fund, in part to commemorate the centenary of the Armenian Genocide, Ascending Light takes its title from the eponymous Armenian hymn, which is quoted in the last section of the piece. The first of its two connected movements opens with big, broad chord progressions and scales – mostly diatonic, but spiked here and there with dissonance – for organ and orchestra. This gesture proves to be a recurring motive. In between come softer, sometimes slower, interludes and meditations passed between soloist and ensemble. First clear and simple, they grow knottier as the movement unfolds. Over its last half or so, tempo and energy pick up, culminating in a spirited episode that recalls parts of The Rite of Spring. The second movement begins by quoting an Armenian folk melody called "Lullaby of Tigranakert," morphs into a set of three variations, and then transitions into a statement of the aforementioned hymn. The piece closes with a "joyous, vital, uplifting coda."
Ascending Light is, by far, the most serious orchestral score of Gandolfi's I've heard and it succeeds to a considerable extent thanks to its expressive honesty: it doesn't pretend to be anything it's not. Like most of Gandolfi's music, it is efficiently composed. His melodic writing is fluid, the harmonic language consistent and fitting. The solo part is idiomatic, if not overly showy. Gandolfi's handling of the orchestra is always expert, often colorful. Every instrument "tells" and there are ear-catching explorations of tonal combinations between organ, brass, and wind instruments in the second movement, which also includes some evocative, extended studies of orchestral space. Ascending Light is not a particularly challenging piece to sit through and it touched a nerve with Thursday's audience, which rewarded it with a big ovation.
That response wasn't undeserved, but these ears did come away wishing that Ascending Light had sounded a bit less familiar. Among others, Gandolfi ably channels the American pastorale style of Copland, Barber, and Previn; includes a brace of Stravinsky; and, in the rollicking middle variation in the second movement, some John Williams. Of course, in and of itself, there's nothing wrong with doing that, but it did lend the piece a "safe" quality it could have done without.
Compositionally, Ascending Light doesn't really break new ground. Some of it (like the recurring opening theme) is foursquare and too repetitious. Parts of the finale, such as the section leading to the big peroration at the end, felt formulaic. It contains no real surprises. I found the "uplifting" coda predictable and, emotionally, something of an anticlimax.
That said, Thursday's performance was at a very high level. Olivier Latry played the solo part with style and color. The only time he might have seemed fazed came at the very end, when a faulty organ stop sustained the last note for a good five seconds after the orchestra cut off; even then, he exuded good cheer. Nelsons drew a confident, sonically ripe performance from the BSO.
To judge from the big ovation it received, there certainly is an audience for this piece, though it's an open question what sort of legs Ascending Light might have. Certainly there's no shortage of music for organ and orchestra, though, rightly or wrongly, posterity hasn't been kind to too much of it. Despite some small reservations, what Gandolfi does right in Ascending Light he does very well – and those sections constitute much of the piece. It may lack the bite of Barber's Toccata Festiva or the novelty of Lou Harrison's Concerto for Organ and Percussion Orchestra, but Ascending Light is a serious entry into the genre and it conveys a winning sincerity all its own.
After the Gandolfi came Mahler's Symphony no. 6. And, for intensity, sometimes bordering on hysteria, and sheer passion, it was hard not to be moved one way or another by Nelsons' account of the piece on Thursday night.
More than anything else, this was youthful Mahler. Tempos were on the brisk side and Nelson's propensity to rush headlong towards the final bar cost the symphony some measure of its drama. He blazed through the great Alpine scenes in the first and fourth movements like a tourist in a hurry to get back to his hotel. The climax of the finale's great, lyrical melody, which should come as a shock – like the rug getting pulled from beneath your feet – came across more as a neat effect in Mahler's bag of tricks, rather than as a heartbreaking, cataclysmic event. (Nelsons, like Mahler, also omitted that movement's third hammer blow.) In the middle movements, things sometimes felt oddly disjunct, especially in the Scherzo's tempo shifts.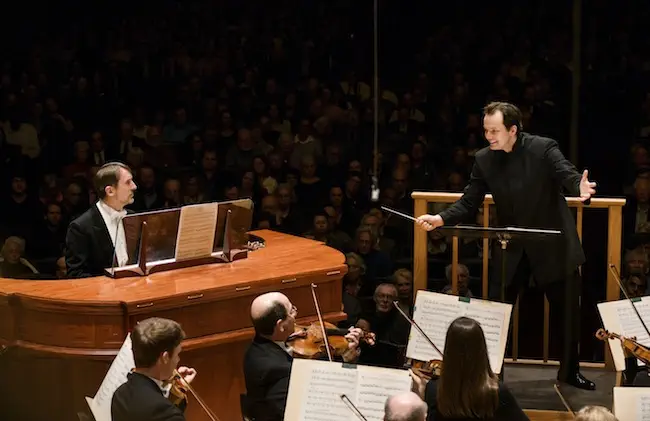 At the same time, there was a galvanic energy to this performance. The first movement crackled. There was a really menacing quality to the slithery, descending brass chords in the Scherzo. The slow third movement, Mahler's most sweepingly lyrical creation, was bright with color. And the finale unfolded with crisp articulation and a marvelous sense of the movement's weirdness. I've heard subtler, more powerful interpretations of this symphony, but there was a charisma to Nelsons' approach that one doesn't encounter every day.
Some patchy intonation in the upper winds and horns notwithstanding, the BSO delivered an electrifying performance of this Herculean score. Strings, low brass, trumpets, and percussion were particularly strong and textures were clear throughout, remarkably so in the outer movements. And the orchestra's stamina itself was impressive. This is a piece that doesn't let up for nearly ninety minutes, and Thursday's performance ended with as much pluck and vitality as it began with.
Much credit for that is surely due Nelsons, who conducted the score with tremendous energy. He's prone to move all over the podium in even the most placid repertoire, but this symphony brought out an array of acrobatics: frequent hops and jumps at big moments, crouching low for soft ones, and a new move – a kind of gallop-in-place – during the canter-like rhythms that pop up several times during the finale.
Early in his career, Leonard Bernstein was apparently teased to no end for acting out a cymbal crash while conducting one in concert. Nelsons does that and more on a regular basis. It's a trait I find endearing, one that puts him in good company. And this Mahler, even if it lacked the depth of a more experienced hand, suggests that the BSO, who passed on Bernstein as Koussevitzky's successor nearly seventy years ago, may now have on its hands – in Mahler, at least – one of his spiritual descendants.
---
Jonathan Blumhofer is a composer and violist who has been active in the greater Boston area since 2004. His music has received numerous awards and been performed by various ensembles, including the American Composers Orchestra, Kiev Philharmonic, Camerata Chicago, Xanthos Ensemble, and Juventas New Music Group. Since receiving his doctorate from Boston University in 2010, Jon has taught at Clark University, Worcester Polytechnic Institute, and online for the University of Phoenix, in addition to writing music criticism for the Worcester Telegram & Gazette.