Boston was first introduced to ensemble taiko in 1975, when members of the Japanese group Kodō crossed the finish line of the Boston Marathon and moments later gave a performance for surprised spectators.
Tamagawa Daigaku Taiko and Dance Group. Presented by the Japan Society of Boston at the Berklee Performance Center, 136 Massachusetts Avenue, Boston, MA, on April 5 at 3 p.m. (Advance purchase is recommended–the group's New York performances have sold out every year since 2010.)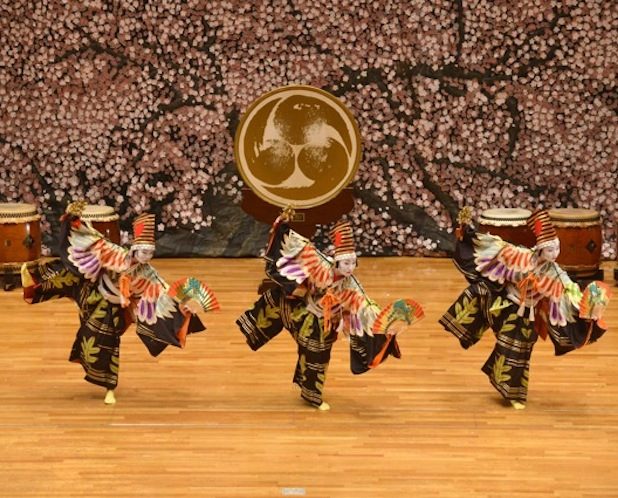 By Andrea Higgins
In unison, the drummers place their sticks on the drums in front of them. Almost imperceptibly, a light tapping begins, rapid fire Te- Ke- Te- Ke- Te- Ke- Te- Ke. The motion of hands alternating right- left, right- left soon becomes visible. The sound grows heavier and fuller. Lightly tapping hands quickly become pounding arms. The drummers push their sticks down toward the center of the drums. Hitting the rim and drum simultaneously, they drive the sound to an ear-splitting crescendo TA- KA- TA- KA- TA- KA- TA- KA. Their flailing arms become a blur of vertical lines framed by their rigid bodies….Just as quickly, sound and movement recede to nearly imperceptible once more Te- Ke- Te- Ke- Te- Ke- Te- Ke….until the lead drummer slices through the din DON- DON- DON- DON. Silence. Drummers freeze. Echoes fade. Hair stands on end.
–Shawn Bender, Taiko Boom: Japanese Drumming in Place and Motion
For centuries in Japan, the arts of taiko drumming and folkloric dance have been interwoven into the fabric of society. Part of folk festivals, war time communication, and Buddhist rituals, these arts symbolized an enduring connection to both time and place.
In the 1950s, a shift in the world of taiko drumming came about when jazz musician Oguchi Daihachi experimented with an ensemble based approach to performing taiko. Calling it kumi-daiko, Daihachi incorporated drums of various sizes and pitches, setting up on the stage what looked like a variation on an orchestral percussion section. This innovative approach led to a taiko renaissance, during which professional taiko performing groups emerged and began to explore contemporary rhythms, stagecraft, and physicality. Still, the groups maintained a strong sense of cultural identity rooted in traditional Japanese instruments and techniques, the latter drawing on movement motifs grounded in local custom.
As anthropologist and author Shawn Bender observed about the Sukeroku style of drumming on Sado Island in Tokyo, the technique is as much about "embodying the inherited form" as it is about producing a specific sound. The spirit of innovation that permeates taiko ensembles of today does not diminish the music's tradition of honoring a self-sufficient agrarian lifestyle and shared spiritual beliefs. Since taiko first emerged on the world stage at the opening ceremony of the 1964 Olympics in Tokyo its appeal has proved to be universal. Boston was first introduced to ensemble taiko in 1975, when members of the group Kodō, which is based on Sado Island, Japan crossed the finish line of the Boston Marathon and moments later gave a performance for surprised spectators.
Taiko returns to Boston when Tamagawa Daigaku Taiko and Dance Group, directed by Kabuki Master and professor Isaburoh Hanayagi, performs at the Berklee Performance Center. One of the few universities in Japan that offers a performing arts major, Tamagawa Daigaku's highly respected troupe has been traveling to the United States since 2003.
I recently had an opportunity to speak with Ms. Rie Seo, an alumni of Tamagawa Daigaku and a former member of its Taiko Drumming and Dance Group. Ms. Seo, who now resides in New York, is the Production Manager for the upcoming four-city U.S. tour.
---
Arts Fuse: Tell me about yourself and how you became involved with this touring production of Tamagawa Daigaku Taiko Drum and Dance Group.
Rie Seo: I am an alumni of Tamagawa University, where I studied Japanese dance and taiko drumming in the 1990s. I then came to the United States to pursue professional work in theater design and lighting design. In about 2003, Isa [Isaburoh Hanayagi], the group's artistic director and choreographer, contacted me because the group was interested in touring to the United States, and since I was already here and spoke English, it was easy for me to help facilitate things.
AF: I was interested to discover that Tamagawa offers programming for K-12 as well as its University Programs? Did many of the students in the group grow up there?
Rie Seo: Some do, but not all. I don't know the exact numbers, but in my class there were five students who had started very young. That was about 10 percent of the class. Tamagawa University is one of just a few colleges that has a Performing Arts Department and Performing Arts Major in Japan. So many students in the group come from elsewhere because they are specifically seeking a college performing arts program.
AF: Did you study there from a young age?
Rie Seo: No, I came to the University.
AF: What draws young performers to study taiko drumming and the folkloric dance traditions in Japan today?
Rie Seo: Many of the students who come to Tamagawa Daigaku's program do not do so to study the traditional arts of drumming and dance. They are there pursuing ballet, modern, hip hop, and western influenced dance. But after being there, they discover it. Isa makes it accessible to young generations. Also, the drummers perform on the opening day of classes and they all get hooked.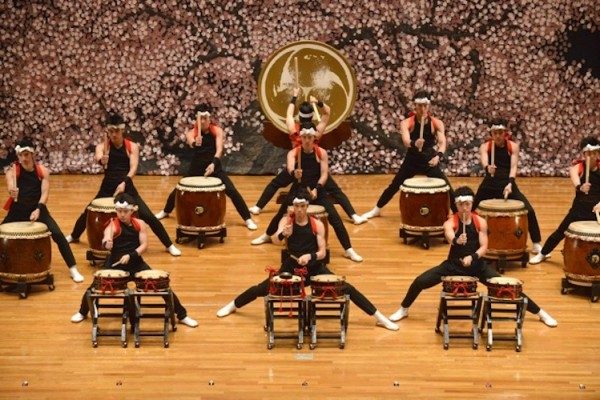 AF: How does Isa make the traditional forms more accessible?
Rie Seo: He uses more contemporary music. It is still traditional Japanese instruments, but more dynamic compositions and choreography that make it exciting to rehearse.
AF: Tell me about the production. What can Boston audiences expect to see?
Rie Seo: This production has pieces newly composed and choreogpraphed, as well as works by past generations of students who have taught these pieces to the new students.
AF: Isaburoh Hanayagi, your director, is a Kubuki Master. Kabuki theater is highly stylized and draws from historical and folkloric influences, and if I understand correctly, often deals with moral dilemmas of the central characters. Will the pieces in this production contain this narrative element with individual characters playing out a scene, or are all the pieces ensemble works?
Rie Seo: They will be ensemble pieces, but there may be some pieces that have a central or featured character.
AF: Is there a thread that ties all the pieces on the program together? Are they repertory pieces or will it be more like a story ballet?
Rie Seo: It will be a collection of different rep works, but what ties them together is that they are based on a way of life and they have a historical background with regional folk influences.
AF: With respect to the folk influences, does the program deal specifically with Japanese culture, or are there universal themes or archetypes that will be familiar to American audiences?
Rie Seo: Much of the movement is based on farming as a way of life. This is universal because farming is present in every country and society, but what makes the program reference the Asian farming way of life, is movement that draws connection to the rice farmer. This is what makes it more culturally specific.
AF: Can you talk a little about what the training is like? How does Japanese drumming and dance training differ from that of dance and music forms that are popular in America?
Rie Seo: For dance class we wear the traditional kimono and special socks. But in terms of the technique, we work to keep the center point very low. Because the movements draw from the farmer's movement, we want to be grounded, we keep our knees bent, whereas in ballet or other western dance the center is high, as though fighting against gravity.
AF: How about the drummers? What is their training like?
Rie Seo: First they learn how to hold the sticks and second how to hit the center of the drum. This takes time to learn to do without having to think about it. Then they have to learn the rhythms of the compositions. There is no score, so they learn through listening and vocalizing.
AF: So they learn to vocalize the rhythms in order to know what the piece should sound like before they begin to play it?
Rie Seo: Yes, and they practice on car tires to gain strength and to cut down on the noise while rehearsing. [Laughter] It can get very loud.
AF: Do most of the students who go through this program go on to professional careers as performers?
Rie Seo: Not all pursue professional theater, but I would say that more than half probably end up in a related field.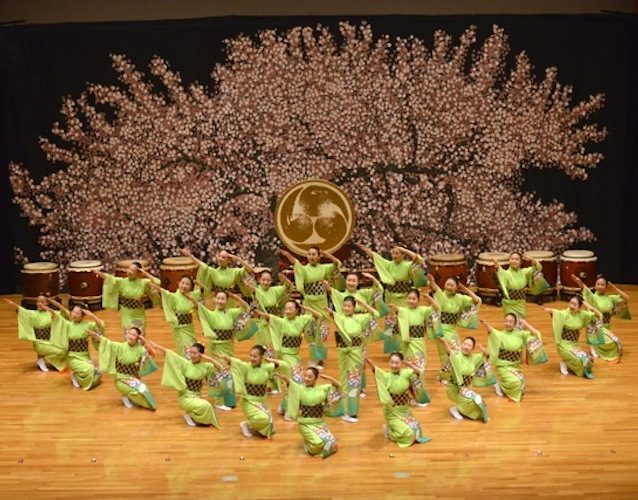 AF: Are there many professional opportunities in the performing arts in Japan?
Rie Seo: There are some, but not as many as in the U.S.
AF: How is the decision to pursue a professional performing career met in Japan. Are mom and dad happy if their son or daughter says that they want to go to college to become a taiko or folkloric dance performer?
Rie Seo:[Laughter] No, but it is changing and becoming more open! Perhaps not as open as in the U.S., but society in Japan is changing.
AF: Will there be an opportunity for audiences to interact with the perfomers through a Q & A, or master class?
Rie Seo: We had wanted to do a workshop, but I am not sure what happened with that. The performers will all go to the lobby after the performance, so audience members can come to say hello.
AF: Do they all speak English?
Rie Seo: No, I think only two do, but I will be there to help translate.
AF: What are your other duties as the Production Manager on this tour?
Rie Seo: [Laughter] I will be at the theater and make sure everything is set up right with the stage and props. I have worked in lighting design, so I will also make sure that is set up properly as well as the sound. And then there is everything else with transport, and food, and so forth.
AF: So you are the mama bear for all the students?
Rie Seo: [Laughter] Yes! And Isa is papa bear.
---
Recommended Viewing
For a sense of the intense physicality and endurance required for Taiko drumming, watch this video clip of Kodō, a professional taiko group based on Sado Island, Japan. Here they are playing ōdaiko, the largest of the taiko drums.
For a more intimate sense of the taiko drummer as artist, watch Chanto – Masato Baba by Ian Mora. This short documentary features Masato Baba, a taiko composer and performer based in Southern California.
---
Andrea Higgins is a certified teacher of the Feldenkrais Method® of movement and she has taught many specialized programs in dance technique, performance, composition, and somatics. Information about her teaching practice and her most recent published works on the subject of Feldenkrais can be found here.