If you're interested in ol' reliable Noel Gallagher songs, there are a couple of examples on Chasing Yesterday.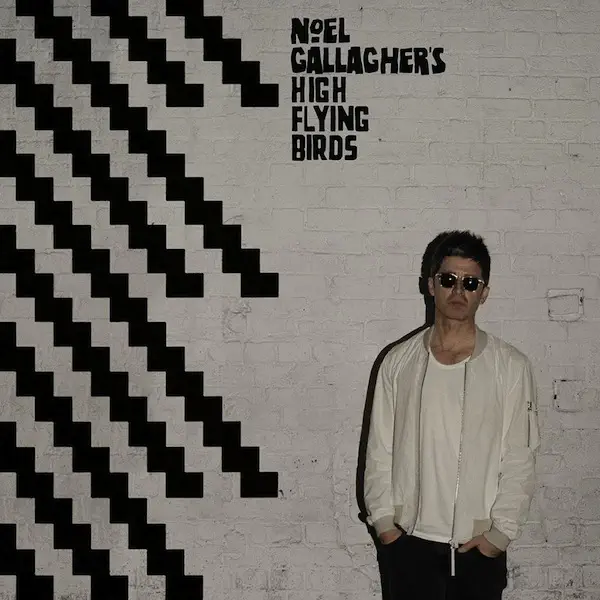 By Adam Ellsworth
Back in 2011, when ex-Oasis leader Noel Gallagher announced he was putting out his first solo album, he also said that a follow-up, in the form of a collaboration with psychedelic production team Amorphous Androgynous, would be released shortly thereafter. Months passed and no record ever materialized. In February 2012, Noel stated that the album wouldn't be out until 2013. Six months later, he said that the album might never be released. Finally, in January of this year, Gallagher put us all out of our misery and proclaimed that the album would "never see the light of day." He wasn't happy with the mixes, he told NME, and "couldn't be arsed" to redo the album to put it out.
So until the inevitable box set hits the shops in 2035, that seems to be the end of that.
Which is too bad really. Had the record been completed and released it would have meant that Noel's sophomore album would have been, at the very least, interesting. Instead, he's given us Chasing Yesterday for his second solo outing, a record that hints at what the Amorphous Androgynous project could have been, but that is mostly a letdown.
Of course, the album is not totally a lost cause. We're talking about one of a generation's greatest songwriters after all — he is far from dried up. The album's first single, "In the Heat of the Moment," is a sly, slinky track with a catchy, almost taunting, "na na na na na na, na na na na na na" reprise. The album closing "Ballad of the Mighty I" is even better. Ex-Smiths man Johnny Marr guests and provides funky guitar to the dancey tune. If you're interested in ol' reliable Noel songs, then these are the standouts on Chasing Yesterday. They won't make you forget that this is the man who wrote "Live Forever" and "Some Might Say," though they'll more than do, and they are equal to anything on the excellent Noel Gallagher's High Flying Birds debut from 2011. "You Know We Can't Go Back" comes on in a similar vein — it's a charging, anthemic rock song. The tune is admittedly a little cheesy, but it's also very Noel, and for those of us who love him, that's never a bad thing.
But oh, what could have been! The most adventurous song on the album is "The Right Stuff," a track that (you guessed it) began life during the Amorphous Androgynous recordings. The version on Chasing Yesterday is "vastly different" from the one recorded with Amorphous Androgynous, Noel has said. Perhaps it is. Nevertheless, "The Right Stuff" represents a left-turn for the album and for Gallagher as he duets with a female vocalist and hard guitars mix with a spacey saxophone. A dreamy organ splits the song from its successor, "While the Song Remains the Same," which can't match "The Right Stuff" but at least stays in the ballpark with its floaty shuffle rhythm and nimble guitar. Commercially speaking, a whole album of "The Right Stuff" and "While the Song Remains the Same" might not be the best idea. Artistically though, it would have truly staked new ground for Noel.
Most of the rest of Chasing Yesterday sticks to forgettable mid-tempo ballads. Album opening "Riverman" might be successful but it's hard to tell since the listener can't help but be distracted by the fact that the opening acoustic strum sounds almost exactly like Gallagher's most famous composition, "Wonderwall." It seems the man who for so many years appropriated from others has started to dip into his own coffers. Despite featuring a nice organ riff, "The Girl with X-Ray Eyes" doesn't have much else going for it, while "The Dying of the Light" might be the lowest point of the album. Aren't you supposed to rage against the dying of the light? If so, Noel didn't get the message.
"Lock All the Doors" and "The Mexican" join "You Know We Can't Go Back" as the true rockers on the album. The former started life in the early-Oasis days but has only now been recorded and released. It's a big song, though it's also the only song Noel has ever sung that has made me think, "You know what? Liam should be singing this instead." For those who don't know, 'Liam' is the youngest Gallagher brother and the former lead vocalist for Oasis. Does this mean Noel needs to get the band back together? Not necessarily, though few will complain if he does that. It's just that if this is a direction he wants to go in, dusting off old rock songs he wrote in the '90s, then he's better off burying the hatchet and bringing his brother back into the fold. If Noel wants to do something a little more experimental though, he's really got to go for it and give us a whole album of "The Right Stuff" and other tunes like it. He's more than capable. It all comes down to whether or not he's willing.
---
Adam Ellsworth is a writer, journalist, and amateur professional rock and roll historian. His writing on rock music has appeared on the websites YNE Magazine, KevChino.com, Online Music Reviews, and Metronome Review. His non-rock writing has appeared in the Worcester Telegram and Gazette, on Wakefield Patch, and elsewhere. Adam has a MS in Journalism from Boston University and a BA in Literature from American University. He grew up in Western Massachusetts, and currently lives with his wife in a suburb of Boston. You can follow Adam on Twitter @adamlz24.