Minimalism doesn't make narrative or emotional demands. It shows you a surface, and if there's anything below the surface, you draw your own conclusions.
Brian Brooks Moving Company. Produced by Celebrity Series at Citi Shubert Theater, Boston, MA, Feb. 28 and March 1.
By Marcia B. Siegel
Brian Brooks led off his company's performance with a symbolic stripping down. He begins his solo I'm Going to Explode (2007) sitting in a chair. He takes off his jacket and shoes, loosens a tie, moves to stage right, and starts pushing both arms forward and back in a spasm of nervous energy. Fuelled by LCD Soundsystem's glum reflection on the past, "Losing My Edge," Brooks speeds up until his arms are pulling him into dizzying spirals and circles above, behind and around himself. Letting the motion subside a bit, he bobs up and down in sketchy hip hop steps suggested by the music. He punches the air, drops cross-legged to the floor, shoots up again. Jitters, drops, shoots up. The music cuts off abruptly. Brooks puts on his jacket, which he's left folded on the chair. He's reaching for his shoes when the lights go out.
I've always liked minimalist dances. They're a relief from the extravagance and hyperactivity of most other dance. I love the spareness and the clarity. Minimalism doesn't make narrative or emotional demands. It shows you a surface, and if there's anything below the surface, you draw your own conclusions. Minimal dance offers you information with small but significant changes. You get to take in the process for a long time and savor the changes when they happen.
Brian Brooks builds movement organically from a minimal gesture to a more vigorous action, without previously learned technique. Even though the movement is pedestrian, it's also very neat, nothing extraneous, and its phrases repeat almost obsessively but not mechanically, from rudimentary ideas to more complex variations based on the same source, and often wind down to the beginning again.
In the most recent piece on the program, Division (2014), six dancers stand in a line perpendicular to the edge of the stage. They hold flat rectangular panels measuring about three by four feet. This formation initially looks military, but the dancers don't strive for exact unison. The line moves forward and breaks up into smaller groups of people. The dancers manipulate the panels in increasingly complex designs, from sliding them on the floor to tilting, lifting, swirling them. All the dancers' movements come from the work they do with the panels –bending, crouching, reaching to lift and upend them, twisting around corners—and from their walking and running as they reformat the panel designs, accompanied by Jerome Begin's score of electronic ripples, bleeps, scrapes and muffled hammer blows. There isn't a codified dance movement in the piece.
Maybe it was the electronic sound effects, maybe it was the props, but I kept flashing on the late Alwin Nikolais, a master of designs animated by his skillful dancers. But Brooks's emphasis was on the dancers, not on the evolving architecture.
Props did play a major role in part three of Descent (2011). With a black background and shafts of smoky light (by Philip Treviño), a nearly invisible figure appears. A white veil or scarf floats upward. The veil billows and sails, almost alive in the light. You try to figure out how it's getting there. Another creature joins it. Eventually there will be four or five veils, in different colors and sizes, riding on the light. At last you realize that people are moving in the dark, whooshing the veils into the air by waving pieces of cardboard. What a terrific effect.
In the other parts of Descent, people plodded across the space with other people resting on their backs in cruciform position. Developing the idea of one person carrying an inert partner, two men engage in a dialogue that involves changes of direction and position, but the same man always bears the other man's weight. When the whole group of six dancers joins in, they create new patterns, translating the stretched-out liftees' position into running dives and falls onto clusters of other dancers.
The interplay of active and passive partners is central to Brooks's duet First Fall (2012), with guest artist Wendy Whelan, set to Philip Glass's music. In a spotlight,  Whelan, a former principal of the New York City Ballet, shows off with slow backbends and snaky arms, the antithesis of ballet's upright carriage and precise port de bras.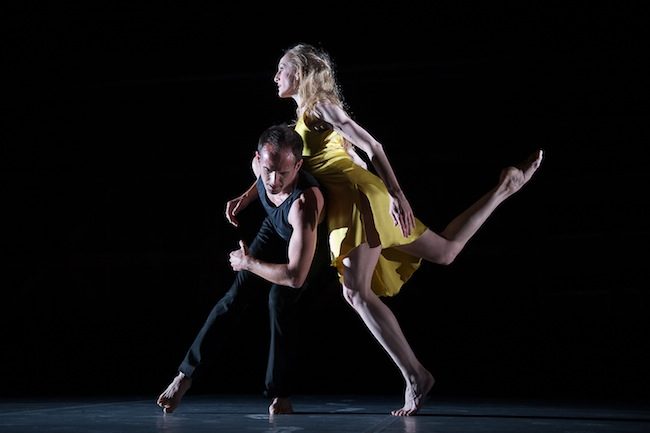 At first it seems as if Brooks is manipulating Whelan, when he appears behind her and lifts her arms, turns her on her axis. Later she pushes him lightly, leans on him, falls backwards onto him. He's crouching on all fours and slowly sinks under her weight. Balancing her on his back, he inches in a circle. She doesn't move as he rises to standing. I wondered if this piece was an ironic take on the ballet pas de deux, in which the male partner effaces himself in order to show off the woman, while she's actually the power behind the pair.
First Fall got a lot of attention. As a vehicle for a retiring ballerina it exploits talents Whelan didn't get to use in the NYCB repertory, but it's also a shrewd move for Brooks to append a star of a different persuasion to his modern dance company. I was surprised that the duet was so low-key and even modest.
Another recent work, Torrent (2013), involved all eight company members, minus Brooks. It began with a never-ending lineup that kept replenishing itself and re-assembling bit by bit. In constantly changing combinations, the dancers let their arms lead the body into big circling moves, they leaned and fell against each other, shadowed each other and propelled their partners into new directions. With nonstop unfoldings of the vocabulary, the dancers seemed to be dancing through the music: Max Richter's update on Vivaldi's Four Seasons.
Motor (2010), featured Brooks and Matthew Albert, essentially hopping in unison. What at first seems like ten minutes of sameness turns out to be a marathon that's changing all the time: from right foot to left, their direction, speed, the distance between them. An interesting score by Jonathan Pratt sent sustained clusters of trombone notes over a fast rhythmic tapping of sticks on the rim of a drum. The dancers stayed together through their many changes,  but they didn't seem to be relying on the changes in the music to do it. Finally, the dance became a heroic act of endurance and precision.
---
Internationally known writer, lecturer, and teacher Marcia B. Siegel covered dance for 16 years at the Boston Phoenix. She is a Contributing Editor for the Hudson Review. The fourth collection of Siegel's reviews and essays, Mirrors and Scrims–The Life and Afterlife of Ballet, won the 2010 Selma Jeanne Cohen prize from the American Society for Aesthetics. Her other books include studies of Twyla Tharp, Doris Humphrey, and American choreography. From 1983-1996 Siegel was a member of the resident faculty of the Department of Performance Studies, Tisch School of the Arts, New York University