Horton Foote's dialogue often dances on the edge of sentimentality, but, in the hands of this truly extraordinary trio of performers, moments that might be sappy are instead deeply moving.
The Trip to Bountiful by Horton Foote. Directed by Michael Wilson. Presented by ArtsEmerson and Jonathan Reinis Productions in association with Center Theatre Group. At the Emerson/Cutler Majestic Theatre, Boston, MA, through December 7.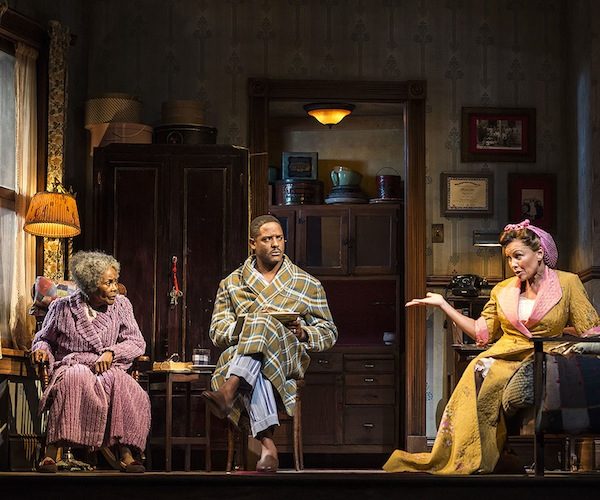 By Terry Byrne
Every once in a while an evening in the theater is so magical it reaffirms the awe-inspiring power of the stage. The touring Broadway production of The Trip to Bountiful generates that kind of visceral thrill, thanks to the luminous performances of award-winning TV and film actors Cicely Tyson, Vanessa Williams and Blair Underwood.
The humanity of their portrayals is even more striking since Horton Foote's story is so simple: Mrs. Carrie Watts (Tyson) lives in a cramped Houston apartment with her son Ludie (Underwood) and his wife Jessie Mae (Williams). Carrie's become a bit forgetful and is subject to "sinking spells," and so must remain under Jessie's watchful eye. Carrie sits at the living room window longing to return to her home in the small town of Bountiful one last time, and the action of the play revolves around her efforts to get there.
Foote's dialogue often dances on the edge of sentimentality, but, in the hands of this truly extraordinary trio, moments that might be sappy are instead deeply moving. In fact, emotionally fraught bits of information are often delivered in such a matter-of-fact style that their impact becomes breathtaking.
Williams plays Jessie Mae, who shifts between a callous desire for Coca-Cola and beauty parlor visits and moments of aching emptiness with nary a pause. The character may be self-absorbed, but there is no self-pity here. Although Jessie Mae is shallow and selfish, Williams infuses the figure with just the right amount of humor to make us sympathize with her.
As Ludie, Underwood presents a man who deeply loves both of the women in his life. Though he is torn by their competing needs, he is absolutely committed to keeping both of them happy. He is so determined to live in the present and work toward a better future that he refuses to be drawn into his mother's nostalgic stories of better days in Bountiful.
And then there's Tyson, who earned a Tony Award for this role last year. Watching this legendary actress perform with every fiber of her being is never less than mesmerizing. Her reactions are so expressive, her interpretations so layered, we learn volumes about about her character through the performer's mastery of the revealing detail. Just watch her scampering around the tiny apartment, and then sluggishly shuffle when she is reprimanded; dancing at a bus station while singing hymns that keep her spirits up; patting the hand of Thelma, a lonely young wife whose husband has just been shipped overseas; and gazing off into the distance as she envisions the idyllic home of her memory. Tyson's performance blossoms just as her character Carrie does, starting with a discouraging sense of how useless she's become and building slowly to an appreciation of all that life has given her.
The ease with which these actors, along with Jurnee Smollett-Bell (Thelma), communicate with each other, as well as the comfortable way they wear their characters, makes it hard to believe the script was originally written for white actors. Lillian Gish played Carrie in the 1953 teleplay and on Broadway, and Geraldine Page played the role in the 1985 film. Director Michael Wilson makes sure the differences are visible, although he underlines the contrasts through a subtle use of subtext: Ludie's fear of being dismissed from his job feels rooted in something beyond his job performance; Carrie and Thelma notably sit at the back of the bus; and the confrontation with the sheriff in the bus station is initially terrifying.
But the differences only emphasize the universality of the story. Nothing earth-shattering is revealed in The Trip to Bountiful except the inescapable impact of time and the enduring power of the human spirit. In the hands of this company of performers, the message that touches your heart goes beyond any color line.
---
Terry Byrne has been writing about the arts for nearly two decades. She has an MFA in Playwriting from Boston University and is a Resident Scholar at Brandeis University's Women's Studies Research Center.