Though acknowledged as one of the half-dozen or so key figures in Latin American modern art, Wifredo Lam's status in the modernist canon is unclear.
Wifredo Lam: Imagining New Worlds, at the McMullen Museum of Art, Boston College, Boston, MA, through December 14.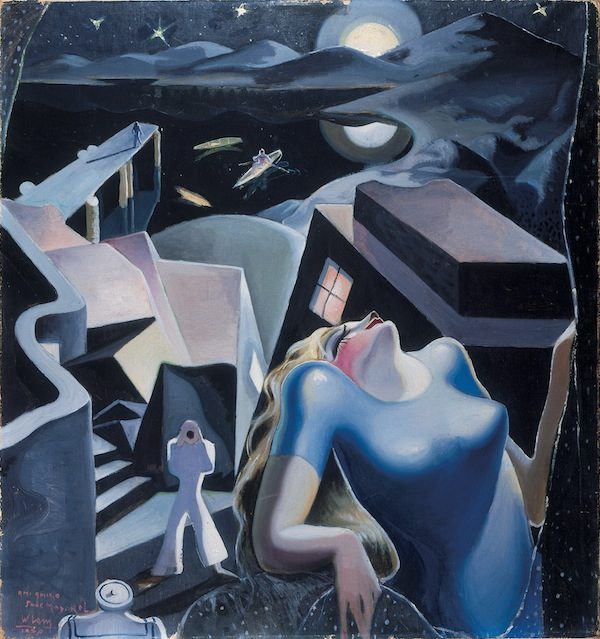 By Tim Barry
Aside from drinking the occasional mojito, maybe listening to the rapper Pitbull, or witnessing the recent appearance of a number of promising bats in the Red Sox line-up, most of us don't take much notice of Cuban popular culture. That we're not officially allowed to visit there doesn't help. So if you haven't given a lot of thought to the art of 20th-century Cuba, you're likely not alone.
But the profile of Latin American art in general, including the modern and contemporary art of the Caribbean, and especially Cuba, is steadily rising in these parts. The Boston Museum of Fine Arts recently exhibited a large and accomplished group of Latin American contemporary artists from the Cisneros Fontenals Foundation in Miami, and Cuban and Cuban-American artists as stylistically diverse as José Bedia, Ana Mendieta, and Felix González-Torres continue to exert a profound influence on the art of today.
Still, the announcement of an exhibition of work by Cuban modern master Wifredo Lam at Boston College's McMullen Museum of Art comes as a bit of a surprise. Though acknowledged as one of the half-dozen or so key figures in Latin American modern art, Lam's status in the modernist canon is unclear. Perhaps, then, a careful look at his work may remedy that.
Born in Cuba in 1902, he lit out for Europe as soon as he got the chance. He honed his aesthetic in the Spain and Paris of the '30s, where he fell under the influence of Picasso. The latter took the young Lam under his wing; they later showed together in New York. And it is the artistic imperatives of Picasso that most inform the Cuban's work.
He later ran with the Surrealists, traces of whom permeate his approach. And therein lies a possible problem with Lam: while he developed a highly personal style, incorporating images drawn from nature with echoes of his Afro-Cuban heritage, he tended to operate within a specific vernacular. In other words, he shifted with the times.
Each decade of his development seems to echo the prevailing currents of artistic practice, which is ably documented by exhibition curator Elizabeth T. Goizueta. Lam's early works approximate the realist style of Joaquín Sorolla, betraying consummate skill. In the '30s he moved on to Matisse, aping the master of pattern with precision; witness the Portrait of Senora Garcia de Castro, II (1937).
He also dabbled in the Surrealism of Dalí, but some cases the result was kitsch, such as Compositión 1 (1930). It exuberantly cobbles together a big-breasted siren, enigmatic de Chirico-esque stairways, mysterious figures in boats, a moonlit night, even a headless torso and a figure out of Munch's The Scream. As a poster on some undergrad's dorm wall it would be right in place.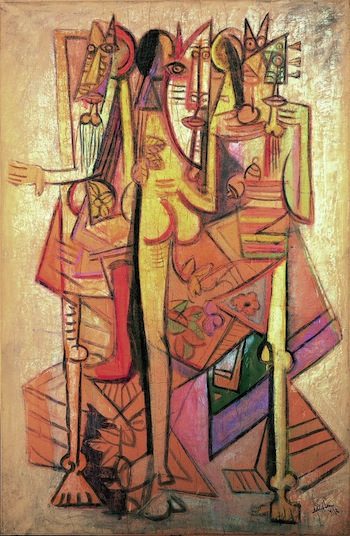 By the '40s, he's painting like Matta, the Chilean abstractionist who travelled with Lam. They both shared a spiritual mentor in that storm trooper of Surrealism, André Breton. During this period of the Second World War's global tumult, Lam achieves something approaching mastery. 1942's The Reunion (Group), introduces the spiky objects that emerge as hallmarks of Lam's painting language.
The Annunciation (1944) follows this spiky direction, with biomorphic forms peopling the scene. In The Twins (1944), he tempers the spikiness a bit while exploring leaf-like, "vegetal" forms. The earth-toned palette and gauzy, dreamy paint-application of this period make for some stunning pictures.
A work like The Ascension (1947) seems in the context of this exhibition to be the culmination of Lam's high period, the peak of his artistic expression. He created several masterworks later in his career, such as the dark beauty Nearby The Virgin Islands (1959), and for me what is best picture in the show, Great Composition (1960)—a chalky grouping of his now-familiar part-human, part-plant and part-animal figures, rendered in simple tones of blues and whites.
By and large, however, by the '50s and '60s Lam had lost his inspiration. His spiky graphic clusters begin to reflect the design tropes of the day; think of the look of the RCA and Magnavox corporate logos, the soaring wings of Eero Saarinen's Pan-Am terminal, Mad Men-era TV antennas, Cadillac tail-fins. A large untitled painting from 1970 is a ghastly mish-mash of styles and approaches; after completing it Lam virtually gave up painting. A look at this work makes it clear that he had nothing left to paint.
At the end of the '60s, painting had been declared dead as Conceptual art, Minimalism and Pop art began to get a headlock on visual arts. To Lam's credit, he moved back one step. He returned to drawing, the real revelation of this exhibition.
Along one long wall is a suite of etchings with aquatint in mostly muted tones of brown, orange and gold. These 1969 works show Lam harking back to his roots. You can almost picture the young Wifredo, wan and spindly, gazing at the paintings of Hieronymus Bosch back in his scuffling days studying at Madrid's Prado Museum.
For it's all here; splayed-legged creatures appear, neither man nor beast, circling with horned appendages. One cow-headed fellow seems to have a raging tooth spiking dangerously. Some Calder-like creatures take wing, there are also demonic sprites that could turn up in current work by Raymond Pettibon or Ralph Steadman.
This series is all about what the catalogue mentions as part of the "Spanish tradition that exalts the illogical, the subconscious, the dream and the absurd, the monstrously sexual." In his catalogue essay, Roberto Goizueta asserts that "Lam rarely depicts anything explicitly" but these etchings call his point into question. On the contrary, pendulous scrotal forms drag onto the ground, while thatches of public hair approximate brooms, or switches for punishment.
It's a riot of buttocks, genitalia, and breasts. Many, many breasts, in nearly every picture in the exhibition. Judging from the more than 40 paintings, etchings, and drawings here there is no mystery about Wifredo Lam's interests.
The essays in the handsomely designed catalogue dance away from the issue that sex takes up a considerable space in Lam's worldview. Or maybe the scholars address it: after looking up words like 'syncretic' and 'diachronic;' I lost interest in puzzling over terms like the "pure Saussurian fashion of Levi-Strauss," with his "practico-theoretical logics."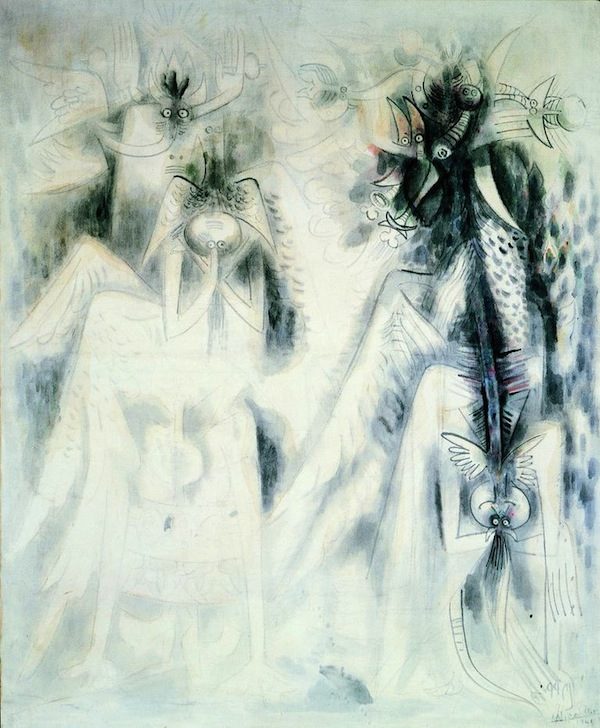 Finally, the exhibition does not make a compelling enough case for Lam's place in the pantheon. He was a clever consolidator of the styles and syntaxes of each period in which he worked—inarguably, yes.
What separates him from the Jackson Pollocks, the Giorgio de Chiricos, and indeed from his own personal Jesus, Pablo Picasso, is that Lam's work didn't change much of anything. It didn't shake up or redirect the conversation. It was too derivative, though it did meld many elements in a visually pleasing manner. He repurposed indigenous native artifacts, and searched and sorted through various cultural ephemera, but others did that kind of thing better.
If Pollock was the Miles Davis or the Duke Ellington of mid-century art, then I suppose you could place Lam someplace in the orchestra. When it's his turn to stand up and take a solo, all the hipsters turn their heads and go 'wow, who's that crazy cat?' But when he sits back down he's already passed from their memory.
The art of Wifredo Lam: pungent, expressive, vivid in spots, but at the end of the day really just a snapshot of a moment in time. And it's a moment which is looking more dated, less fresh, and less worthy of our attention. By the way, the same will be said of Pitbull fifty years from now. Let's hope the mojito doesn't suffer the same fate.
---
Tim Barry studied English literature at Framingham State College and art history at the University of Massachusetts-Dartmouth. He has written for Take-It Magazine, The New Musical Express, The Noise, and The Boston Globe. He owns Tim's Used Books, Hyannis, and Provincetown, and TB Projects, a contemporary art space, in Provincetown.