Arts Fuse critics select the best in music, film, visual art, theater, author readings, and dance that's coming up in the next week.
By The Arts Fuse Staff
Film
Boston Area Film Schedules — What is playing today, Where and When
Rockin' The Wall: How Music Changed The World
October 3 at 8 p.m.
Regent Theatre in Arlington, MA
This documentary is the story of how rock and roll played a part in bringing down the Berlin Wall and smashing the Iron Curtain. In the Eastern Bloc, the mere act of expressing one's individuality constituted a potential act of revolution; music provided a key impulse for the anti-communist struggle. The film is told from the perspective of rockers who played at the time, on both sides of the Wall, and from the point of view of survivors of the communist regimes who recall the inspiration rock music provided. Rockin' The Wall features new interviews and several original songs written exclusively for the film. There will also be a live performance by Vanilla Fudge's Vinny Martell, who will play an acoustic set of '60s rock with special guest Peg Pearl, Denver recording artist. Director Larry Schweikart will introduce his film and host a post-screening Q&A.
God Help the Girl
October 3–5
Brattle Theatre, Cambridge, MA
This musical feature film is written and directed by Stuart Murdoch, lead singer of the group Belle and Sebastian. The storyline revolves around Eve (Emily Browning) who, while in the hospital dealing with some emotional problems, starts writing songs as a way of helping her recovery. Penning tunes leads her out of the hospital and to Glasgow, Scotland where she meets James and Cassie, two musicians at a crossroads of their own. Kenneth Turan of the L.A. Times says "it's a film that believes in the nurturing centrality of friendship and insists that the writing and playing of pop songs can free people to be their best selves, that music can well and truly save your life."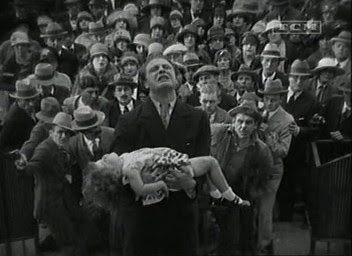 The Crowd (1928)
Sunday, Oct. 5th 2 p.m
Somerville Theatre, Davis Square, Somerville
King Vidor's intense drama deals with the trials and tribulations of an Everyman who aims high. Filled with iconic scenes that display the exhilarating eloquence of the art of silent film. Shown in 35mm on the big screen with live music and via the exacting projection work of the legendary David Kornfeld.
E-Team
October 6 at 7:30 p.m.
Brattle Theatre, Cambridge, MA
This documentary won the 2014 Sundance Film Festival Cinematography Award and is the first of this season's Doc Yard Screening Series. The E-Team follows a boots-on-the-ground division of a respected, international human rights group that uncovers, investigates, an documents evidence of human rights abuse. They help determine if further digging is warranted in order to arouse the world's attention and force decision makers to take responsibility and provide remedies. A cinema verite approach follows the E-Team investigators Anna, Ole, Fred, and Peter in the field as they examine the nuts and bolts of actual events that take place in various troubled spots around the globe. The quartet share a fearless spirit and a deep commitment to expose and and then stop human rights abuses around the world. Sadly, this was James Foley's last film as a cameraman. Filmmaker Ross Kauffman will attend in person for a Q&A that will be moderated by Robb Moss, filmmaker and Professor of Film and Visual Studies at Harvard University.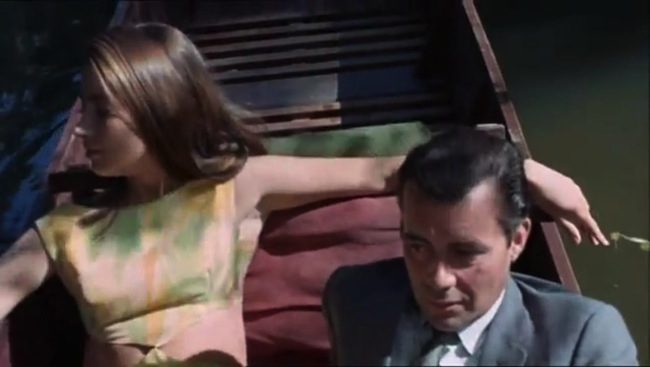 Accident
October 3 – October 16,
Museum of Fine Arts Boston, MA
Lies and desire bubble below the surface in this restored masterpiece of brusque enigma from director Joseph Losey. It boasts one of Harold Pinter's best screenplays. A student and two professors vie for the attention of a female student at Oxford University. The story unfolds in mysterious flashbacks to reveal a game in which the men are merely pawns. The classic '60's British film is a "lucid and chilling summary of Losey's pessimistic view of human relationships, a taut ensemble piece about simmering mid-life dissatisfaction and repression." (HFA) Who better to convey stiff-upper-lip angst than the great Dirk Bogarde? Michael York Jacqueline Sassard co-star.
— Tim Jackson
---
Dance
Poetry in Motion
Sept 28
Kresge Auditorium at MIT
Cambridge, MA
A special benefit to support the valuable work of all-volunteer presenter MITHAS, the MIT Heritage Arts of Southasia, includes Boston area musicians and dancers representing the complete range of classical Indian styles, including dancers such as Neena Gulati and Gretchen Hayden who lead their own schools.
Twist and Shout
October 4
Roxbury Community College Mainstage Theatre
Roxbury, MA
Celebrating its twentieth anniversary, OrigiNation is honoring Dwight Rhoden and Desmond Richardson of Complexions Contemporary Ballet with performances by Muadi, Musau and Shaumba-Yandje Dibinga, the Nia Dance Troupe and the Girlz of Imani.
Exhibiting the Art of Yoga
October 1
Remis Auditorium, Museum of Fine Arts
Boston, MA
Yoga is more than Lululemon pants. Smithsonian curator Debra Diamond is in town to describe the rich tradition of sculptures and paintings that have honored this ancient combination of body and spirit.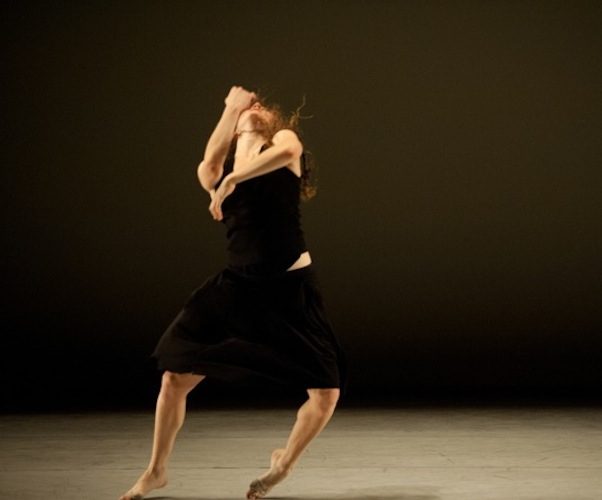 NYC/LA/Boston
Oct 3-4
Dance Complex
Cambridge, MA
Former Bostonian Emily Beattie, who is now teaching at Stony Brook and dancing with choreographers including David Rousseve, joins multimedia artist Brian Knoth, Kathleen Kelley, and Sara Rose Nordgren in what the team is calling Embodied Processing – an evening of processed presence.
Trajal Harrell and Sarah Sze's The Untitled Still Life Collection
October 4 -5
Institute of Contemporary Art
Boston, MA
ICA artists in residence Trajal Harrell, most noted for his work Twenty Looks or Paris is Burning at the Judson Church, dances with Christina Vasileiou in a collaboration with sculptor Sarah Sze that explores the way a line of thread can reshape the perception of the human body. Free with museum admission to check out the omnibus exhibition Fiber: Sculpture 1960–present.
and further afield
Malavika Sarukkai
September 27-28
Wesleyan University
Middleton, CT
Wesleyan's annual autumn Navaratri Festival concludes with a free screening of The Unseen Sequence, a film by Sumantra Ghosal documenting the art and philosophy of bharatanatyam dancer Malavika Sarukkai on September 27, followed by a conversation with the filmmaker, dancer and Wesleyan University Assistant Professor of Dance Hari Krishnan. On Sept 28, Sarukkai presents the New England premiere of her solo, Rasamanjari which translates to "A Bouquet of Delights" and is inspired by a medieval text classifying the attributes of women in love.
Sean Dorsey Dance
Sept 30
Smith College
Northampton, MA
Transgender artist Dorsey combed through oral histories of LGBTQ persons from the 1920s until today to create The Secret History of Love, which his Bay Area company presents at the John M. Green Auditorium at Smith on Sept 30, followed by a lecture "Dancing Transgender and Queer Histories" at Wright Hall Auditorium Oct 1.
— Debra Cash
---
Jazz
Snarky Puppy and Kneebody
September 28, 8 p.m.
Berklee Performance Center, Boston, MA,
Snarky Puppy and Kneebody follow up their appearance at yesterday's Berklee BeenTown Jazz Festival with this ticketed event at the BPC. The Texas-born jazz-R&B fusion collective Snarky Puppy (now based in New York) was a huge hit at this year's Newport Jazz Festival. Kneebody is a more rockist-leaning West Coast quintet.
Laszlo Gardony Sextet
September 29, 8 p.m.
Berklee Performance Center, Boston, MA.
Pianist and composer Laszlo Gardony, who most often performs in a trio format, here convenes a special all-star sextet: saxophonists Bill Pierce and Don Braden, bassist John Lockwood, drummer Yoron Israel, and Stan Strickland, who will sing as well as play one of his "doubles," bass clarinet, rather than his usual saxophones.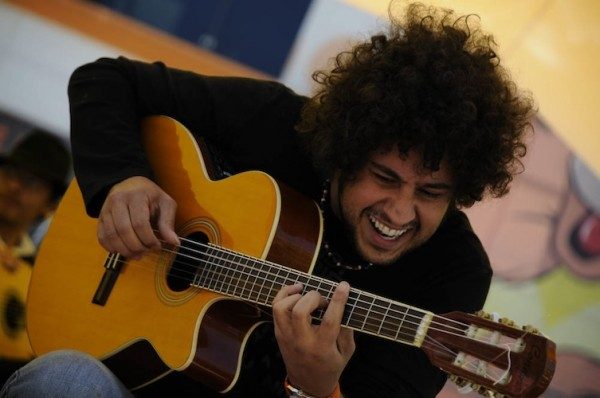 Diego Figueiredo
September 30, 8 p.m.
Johnny D's Uptown, Somerville, MA.
The 34-year-old Brazilian jazz guitarist Diego Figueiredo's credits include Gilberto Gil, Hermeto Pascoal, and most recently the French-born singer Cyrille Aimée. His playing exhibits the requisite virtuoso fire as well as bossa-like subtlety.
Ryan Keberle & Catharsis
October 1, 7:30 p.m.
Regattabar, Cambridge, MA.
Keberle is the go-to trombone guy for jazz orchestra composers Maria Schneider and Darcy James Argue as well as for indie singer-songwriter Sufjan Stevens. His debut disc, Into the Zone (on Dave Douglas's Greenleaf label), shows him writing sharp tunes for the twined frontline voices of himself, trumpeter Mike Rodriguez, and singer Camila Meza. Maybe it's sacreligious to say so, but in his big sound, free-wheeling lyricism, and even his use of vocals, I hear a bit of trombone demigod Roswell Rudd. The band at the Regattabar is filled out by bassist Jorge Roeder and drummer Eric Doob.
Mehmet Ali Sanikol & whatsnext?
October 1, 8 p.m.
Scullers Jazz Club, Boston, MA
The Berklee and New England Conservatory-trained composer and multi-instrumentalist Mehmet Ali Sanikol has woven a unique, personal fusion of traditional Ottoman forms and colors with expert big-band jazz writing. The crew at Scullers will include trumpeter Jerry Sabatini, reed players Mark Zaleski, Aaron Henry, and Jared Sims, guitarist Phil Sargent, bassist Fernando Huergo, and drummer Bertram Lehman.
Aardvark
October 2, 8 p.m.
Scullers Jazz Club, Boston, MA.
Boston's Aardvark Jazz Orchestra is opening its 42nd season with a new CD, Impressions, and a show at Scullers. Expect to hear music from the CD — trumpeter and Aardvark musical director Mark Harvey's school desegregation commemoration, "The Journey," and the likewise historically-minded "West End Rundown," plus Bob Brookmeyer's arrangement of Django Reinhardt's rarely performed "Manoir de mes Reves," Gerry Mulligan's "A Ballad," Dizzy Gillespie's "Manteca," and Mary Lou Williams's "Roll 'Em."
Esperanza Spalding
October 3, 8 p.m.
Berklee Performance Center, Boston, MA.
The singer, composer, and virtuoso bassist Esperanza Spalding in recent years has toured as a leader behind big-budget CD releases with large bands. Here she scales back, leading a trio, with longtime collaborator Leo Genovese on piano and drummer Lyndon Rochelle.
Kevin Harris and Steve Langone
October 4, 8 p.m.
Green Room, Somerville, MA.
Pianist Kevin Harris and drummer/percussionist Steve Langone have a combined vocabulary that extends from the Afro-Latin tradition to Monk, Bach, and southern gospel.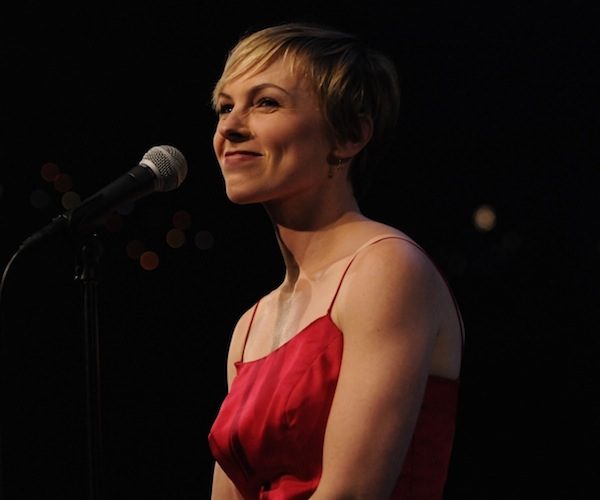 Kat Edmonson
October 8, 7:30 p.m.
Regattabar, Cambridge, MA.
Kat Edmonson's small-ish voice and gamine looks (she favors a Jean Seberg haircut) can be deceptive: the 31-year-old Texan (now living in New York) writes and sings with uncommon focus, vocal control, and wit. She's equally drawn to old movie musicals, Cole Porter, and Ennio Morricone. She celebrates the release of her Sony Masterworks debut, The Big Picture, with guitarist Steve Elliot (a regular collaborator), bassist Bob Hart, drummer Aaron Thurston, and keyboardist/vibraphonist Laura Scarborough.
Harold Lopez-Nussa
October 8, 8 p.m.
Scullers Jazz Club, Boston, MA.
The young Havana pianist Harold Lopez-Nusa, who has been making a name for himself in Europe (he won the 2005 Monteux Jazz Festival solo piano competition), has begun to make inroads in the States. He has the characteristic explosive virtuoso, well-schooled Cuban technique as well as a far reaching imagination. His last Boston show was a knockout. He comes to Scullers with his brother, Ruy Adrián López-Nussa, on drums, and bassist Jorge Sawa Pérez.
— Jon Garelick
---
World and Roots Music
Moira Craig & Carolyn Robson
September 29 at 7:30 p.m.
Killian Hall, MIT, Cambridge, MA
The word "academic" is not a complimentary term to use about traditional folk singers, but over the years many of the finest song preservationists in the world have appeared at events hosted by MIT's Folk Music of the British Isles & North America. The concerts, including Monday's session by these two Scottish ballad masters, are free and open to the public.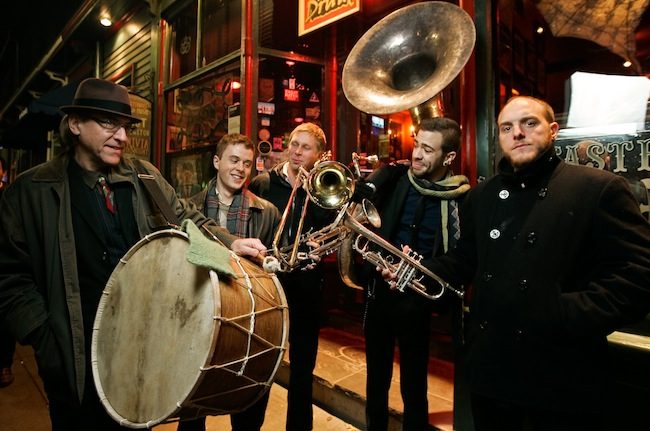 Cocek! Brass Band
October 2
Johnny D's, Somerville, MA
HONK! isn't for another week, so brass band junkies can get their fix by listening to this sharp Balkan aggregation led by trumpeter Sam Dechenne. The group is celebrating the release of its debut CD, Here Comes Shlomo.
Zakir Hussain, Kumaresh Rajagopalan, and Jayanthi Kumaresh
October 4
Tsai Performance Center, Boston University
Zakir Hussain, a very prominent ambassador of the tabla, often comes to town with concept ensembles featuring musicians from around the world. (For example, he'll be back in the spring with a cast of Celtic performers.) But tonight he digs into the traditional Indian classical repertoire.
Khumariyaan
October 4 and 5 (family matinee)
Jewett Arts Center, Wellesley College, Wellesley, MA
This energetic and highly textured Pakistani "instrumental hyper-folk jam quartet" comes to Wellesley for a pair of free concerts.
— Noah Schaffer
---
Theater
Traces
October 1 through 12
Arts Emerson/ the Cutler/Majestic Theatre, Boston, MA
"Boston favorites and circus icons" 7 Fingers (PSY, Sequence 8) return to present their signature work. This Time magazine Top Ten favorite "fuses storytelling, music, and acrobatics into a magical explosion that awes and delights at every turn."
Assassins, Music & lyrics by Stephen Sondheim, Book by John Weidman. Directed by Jim Petosa. Musical direction by Matthew Stern. Choreographed by Judith Chaffee.
October 4 through 26.
Staged by New Repertory Theatre at the Charles Mosesian Theater, the Arsenal Center for the Arts, Watertown, MA.
In 2012 at Boston University, New Rep artistic director Jim Petosa directed a fine production of this unusual musical (even for Stephen Sondheim), which focuses on the men and women who, over the past two centuries, have killed or tried to kill America's Commander-in-Chief. At the time, The Arts Fuse presented a Judicial Review (a round-up of critiques and conversations) on the staging: the judges included Hugo Burnham, drummer and a founding member of England's post-punk band Gang of Four, and Jeff Melnick, an associate professor of American Studies at UMass Boston, where he specializes in twentieth-century US history. Let's see what Petosa does with the piece this time around.
The Comedy of Errors by William Shakespeare. Directed by David R. Gammons.
Through October 19
Staged by the Actors' Shakespeare Project at the Brighton High School, Brighton, MA
An early laughfest from the Bard that aims for capers rather than complexity. The ASP cast includes stalwarts Richard Snee, Sarah Newhouse, and Jessie Hinton.
Reconsidering Hanna(h) by Deirdre Girard. Directed by Bridget Kathleen O'Leary.
Through October 19
Staged at the Boston Playwrights' Theatre, Boston, MA
An intriguing dramatic premise: "Hanna, a brutally blunt international journalist, is struggling to come to terms with her husband's violent death. After accepting a seemingly tame assignment, she becomes increasingly obsessed with uncovering the history of another Hannah: the infamous Hannah Dustin who was kidnapped by a Native American raiding party in 1697."
Knock! The Daniil Kharms Project Directed by Matthew Woods.
Through October 18.
Staged by imaginary beasts at the Plaza Black Box Theatre at the Boston Center for the Arts, Boston, MA.
The world premiere production of "a carefully curated evening" of work by early Soviet-era surrealist/absurdist writer Daniil Kharms via "new translations (by Irina Yakubovskaya) of his micro-prose, short plays, and poetry in new adaptations by the imaginary beasts ensemble." Kharms is a fascinating figure, a dreamer of marvelously anarchistic fantasies. American short story writer George Saunders, an avid admirer, has summed up his brilliance this way: "Reading Kharms makes us look askance at more traditional stories. We see more clearly what they are: beautiful reductions. They are more substantial, yes, more moving, more consoling. But his work constitutes a kind of noble boundary, the limit to which stories can go before succumbing to the necessary falsification — dozens of small crouching men, misshapen but dignified, refusing, forever, to jump." This evening promises to be a real treat. Knock! will be presented in rep with First of all, Second of All, "a play for children and their families adapted from a story by Kharms and performed by the Wee Beasties ensemble."
Bent by Martin Sherman. Directed by David J. Miller
Through October 11
Staged by Zeitgeist Stage Company in the Plaza Theatre at the Boston Center for the Arts, Boston, MA
Well, now I feel old. According to the Zeitgeist Stage Company press release this acclaimed play about "the often-overlooked persecution of gays in Nazi Germany" has not been produced professionally in Boston in nearly 30 years. I saw that staging, and look forward to seeing if the script retains its power after three decades.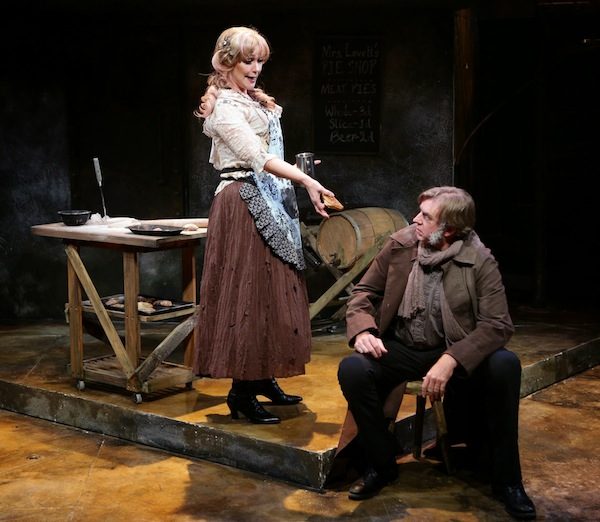 Sweeney Todd: The Demon Barber of Fleet Street. Music and Lyrics by Stephen Sondheim, Book by Hugh Wheeler. Directed by Spiro Veloudos.
Through October 11
Staged by the Lyric Stage Company of Boston, Boston, MA
I don't remember ever seeing a production of this show that didn't provide plenty of blood-curdling fun: "Stephen Sondheim's Tony-Award winning Sweeney Todd, a macabre musical thriller, blends Sondheim's characteristic wit with a sweeping and hauntingly beautiful score, grisly humor, and chilling drama." Arts Fuse review
Emilie: La Marquise du Châtelet Defends Her Life Tonight by Lauren Gunderson. Directed by Judy Braha.
Through October 5.
Staged by the Nora Theater Company at the Central Square Theater, Cambridge, MA.
A wild and wooly script that promises to give us the French Enlightenment from the point of view of a feisty female: "Emilie du Châtelet, leading physicist (before there was such a word), card shark, and all-around bad ass during the Age of Enlightenment returns searching for answers: Love or Philosophy? Head or Heart?" The production marks the Boston acting debut of Lee Mikeska Gardner in the title role. She was recently appointed Artistic Director of The Nora Theatre Company. Arts Fuse review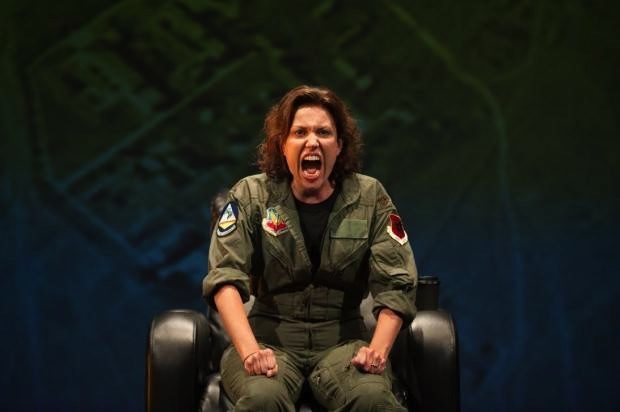 Grounded by George Brandt. Directed by Judith Swift.
Through October 3.
Staged by the Gamm Theatre, Pawtucket, Rhode Island
I am generally suspicious of one-person plays, but this New England premiere sounds very intriguing. And it has relevance going for it. The critically acclaimed script deals with "a hot-rod fighter pilot whose unexpected pregnancy ends her career in the sky. Reassigned to fly remote-controlled drones in Afghanistan from a windowless, air-conditioned trailer near Vegas, "The Pilot" hunts terrorists by day and goes home to her family at night." Liz Hayes stars in the kick off production of Gamm Theatre's 30th anniversary season. Ibsen's Hedda Gabler is next.
Guess Who's Coming to Dinner by Todd Kreidler. Directed by David Esbjornson.
Through October 5
Staged by the Huntington Theatre Company at the Boston University Theatre, Boston, MA.
Malcolm-Jamal (The Cosby Show) Warner makes his Huntington Theatre Company debut with this stage version of the 1967 Hollywood movie about race relations and the superannuated that starred Spencer Tracy and Katharine Hepburn. "Joanna surprises her liberal, white parents when she brings home John, her African-American fiancé, to meet them. Both sets of parents must confront their own unexpected reactions and concerns for their children as their beliefs are put to the test." Do we need a theatrical version of his old cinematic warhorse? Let's see if this antique can be air-brushed into relevance. Arts Fuse review
Ivanov by Anton Chekhov. Translated from the Russian by Curt Columbus. Directed by Brian McEleney.
Through October 5.
Presented by Trinity Repertory Company in the Dowling Theater, Providence, Rhode Island.
The world premiere translation of one of Chekhov's earliest seriocomic works — it is a tricky script to pull off, but if well staged this can be a powerful study of managing the fallout of failure. The script focuses on the lethargy that afflicts an idealistic man after his life goes sour.
Year Zero by Michael Golamco
Through October 5
At the Merrimack Repertory Theater, Lowell, MA
Well, not your typical youths-bonding-with-youths story: "All teenagers need someone to talk to. Vuthy has chosen a skull. He is a young Cambodian-American struggling to find his place – in a community that doesn't truly accept him and in a family that seems to be disappearing." MRT Artistic Director Charles Towers writes that "the specific ethnicity of this particular story makes it especially important to be produced in the city that has the second largest Cambodian-American population in the country."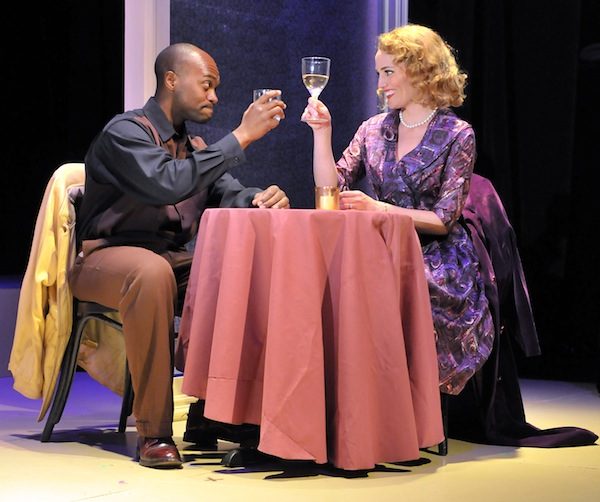 Far From Heaven: A New Musical — Book by Richard Greenburg, Music by Scott Frankel, Lyrics by Michael Korie. Based on the Focus Features/Vulcan Production Motion Picture written & directed by Todd Haynes. Directed by Scott Edmiston.
Through October 11.
Staged by SpeakEasy Stage Company, at the Roberts Studio Theatre, Boston Center for the Arts, Boston, MA.
The out-of-control fad of adapting films into musicals continues with "a lush musical adaptation of Todd Haynes' acclaimed romantic melodrama of private longings and social taboos. A 1950s Connecticut housewife's perfect life is shattered when she discovers her husband's shocking secret and then seeks comfort in a forbidden relationship that dramatically alters her view of herself and the world." Arts Fuse review
— Bill Marx
---
Classical Music
Haydn, Fine, and Chopin
Presented by the Longwood Symphony
September 28, 3 p.m.
Jordan Hall, Boston, MA
The Longwood Symphony's first program of the 2014-15 season features Haydn's Symphony no. 103 ("Drumroll") and Chopin's F minor Piano Concerto (no. 2). Vassily Primakov is the soloist in the latter work. In between comes Irving Fine's charming Diversions, most recently heard in a performance from the Boston Modern Orchestra Project last May.
— Jonathan Blumhofer
A Far Cry
October 1 at 8 p.m.
Isabella Stewart Gardner Museum, Boston, MA
The admired Far Cry Chamber Orchestra and special guest saxophonist Barry Allen perform a program entitled "Stir" — works for the evening: Night Rider, Bela Bartok's Divertimento for Strings, and Eddie Sauter's Focus.

Violinist Stefan Jackiw
October 5 at 1:30 p.m.
Isabella Stewart Gardner Museum, Boston, MA
Violinist Jackiw and the excellent pianist Anna Polonsky perform an all-Brahms program (the three sonatas).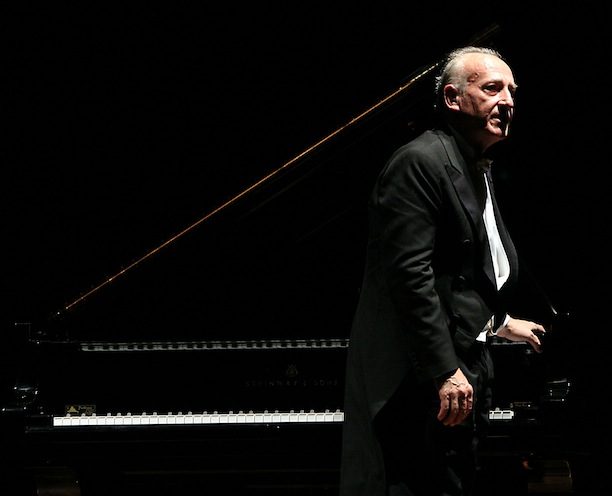 Pianist Maurizio Pollini
October 5 at 3 p.m.
Presented by the Celebrity Series at Symphony Hall, Boston, MA
Celebrity Series presents celebrated pianist Pollini performing works of Robert Schumann (Arabesque and Kreisleriana) and Chopin (Piano Sonata #2 in B flat minor; Berceuse in D flat major; and Polonaise # 6 in A flat major).
Pianist Gabriel Chodos
October 5 at 8 p.m.
NEC's Jordan Hall, Boston, MA
Free
New England Conservatory presents pianist Chodos, who chaired the NEC piano department for 25 years, performing Berg's Sonata for Piano, Op. 1, Brahms's Variations for Piano on an Original Theme, Op. 21, and Schubert's Four Impromptus.
— Susan Miron
---
Rock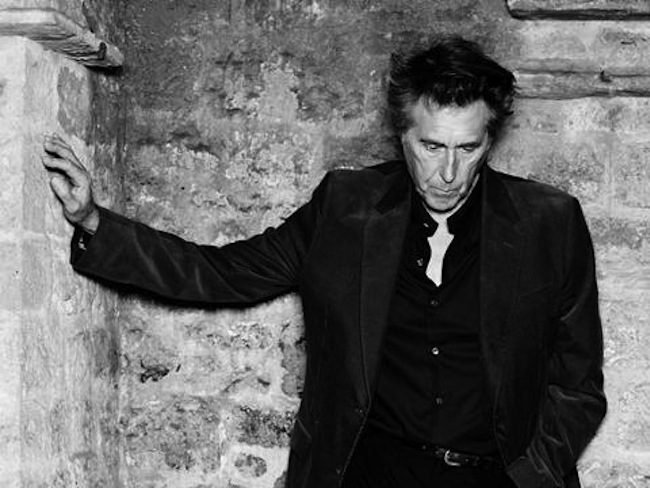 Bryan Ferry
October 2
Orpheum Theater, Boston, MA
Did you know that Bryan Ferry is a Commander of the Most Excellent Order of the British Empire? Granted, that's not quite a knighthood, but still, who saw that coming when he was wearing all those sparkly clothes and fronting Roxy Music in the '70s? I say he deserves it though. Anyone who writes a song as great as "Virginia Plain" is worthy of an order of chivalry.
In addition to his epic glam rock past, Ferry has a new album coming out in November, entitled Avonmore, so perhaps some new tunes will be snuck into his performance here.
Neil Young
October 5-6
Citi Performing Arts Center Wang Theater, Boston, MA
Less than two years ago, Shakey was in town with his ragged, trusty, and loud backing band Crazy Horse to support Psychedelic Pill. This time around he's solo for back-to-back nights at the Wang. Never one to rest on his laurels, he does have some new music in the form of the just released "Who's Gonna Stand Up? (and Save the Earth)." Neil being Neil, it's available in three different versions, which you can check out at his website.
Upcoming and On Sale…
The Orwells (10/9/2014, Brighton Music Hall); Remembering the Tam! With Terry Kitchen, Jay Feinstein, and the Memphis Rockabilly Band (10/9/2014, Brookline Library); Foxygen (10/11/2014, Paradise Rock Club); J Mascis (10/18/2014, The Sinclair); The Thurston Moore Band (10/22/2014, The Sinclair); Temples (10/24/2014, Paradise Rock Club); Drowners (10/29/2014, Great Scott); Chrissie Hynde (11/1/2014, Orpheum Theatre); Peter Hook & the Light (11/8/2014, Royale); Stevie Wonder (11/11/2014, TD Garden); Bob Dylan (11/14/2014, Orpheum Theatre); Bob Dylan (11/15/2014, Providence Performing Arts Center); Johnny Marr (11/16/2014, Paradise Rock Club); Randy Newman (11/19/2014, Wilbur Theatre); Film Screening: "Pulp: A Film About Life, Death & Supermarkets" (11/19/2014, Brattle Theatre); Daniel Lanois (11/22/2014, Brighton Music Hall); Greg Trooper (11/23/2014, Atwood's Tavern); Julian Casablancas + The Voidz (11/26/2014, House of Blues).
— Adam Ellsworth
---
Author Events
Lawrence Wright
Thirteen Days in September: Carter, Begin and Sadat at Camp David
September 29 at 6 p.m.
Harvard Book Store, Cambridge MA
$5 tickets on sale now
Given all the turmoil in the Middle East lately, it's more relevant than ever to revisit how we got to where we are mired now. The esteemed author and journalist will be signing and discussing his latest work of historical inquiry, in which he provides a gripping day-by-day account of the 1978 Camp David Peace conference, paying special attention to some of the mercurial figures who were also present and working feverishly behind the scenes: Moshe Dayan, Osama el-Baz, and Zbigniew Brzezinski among others.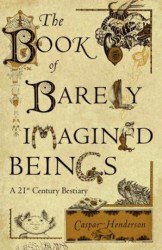 Caspar Henderson
The Book of Barely Imagined Beings
September 30 at 7 p.m.
Porter Square Books, Cambridge MA
Free
Taking its cue from Jorge Luis Borges's splendidly impish imagination as much as from biological realities, Henderson's book is rich with creatures large and small – from the axolotl to the zebrafish, the yeti crab to the tardigrade (a sturdy creature that could survive in outer space). Henderson's study celebrates nature's amazing diversity with the hope of helping to prolong its existence, which is under threat.
Jim Vrabel and Kenneth Mack
A People's History of the New Boston
and Representing the Race
October 1 at 7 p.m.
Porter Square Books, Cambridge MA
Free
Boston has long been a vibrant, world-class city, but in the post World War II years it found itself struggling. During the 1950s it lost more residents than any other major city in the country. Among scholars, the credit for the urban turnaround has long gone to middle-aged white males, but no longer. Activist and historian Jim Vrabel explains the story of Boston's resurgence through the perspectives of members of the working-class, activists, women, and people of color. He will discuss his view of the city's history with Kenneth Mack, whose work addresses the issues of African-American lawyers working during segregation.
Stephin Merritt
In conversation with Ethan Gilsdorf
101 Two-letter Words
October 1 at 6 p.m. (doors open at 5:30)
Harvard Book Store, Cambridge MA
$22 tickets on sale now, includes admission and one copy of the book
The brilliant singer-songwriter behind The Magnetic Fields comes to Cambridge to read from and sign his new book, which promises to be a Scrabble player's dream. He takes the 101 two-letter words deemed 'legitimate' by Scrabble and makes four-lined rhyming poems from them, using for poetic fodder words such as "no" and "up" as well as "ka" and "qi" and "xu." Each poem receives a full-page illustration from the wry cartoonist Roz Chast. The event is co-sponsored by 826 Boston.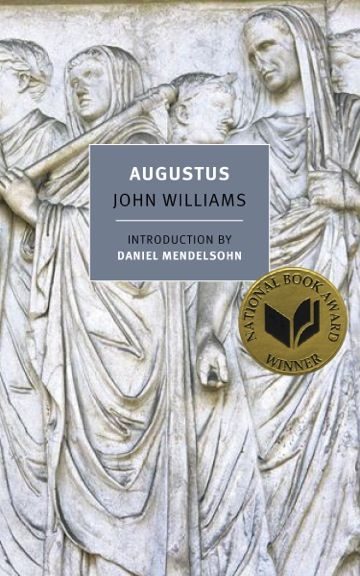 Daniel Mendelsohn and William Giraldi
Discussing Augustus by John Williams
October 2 at 7 p.m.
Porter Square Books, Cambridge MA
Free CANCELLED
The great John Williams (Stoner, Butcher's Crossing) was often overlooked by the critical establishment in his lifetime, but there's no reason why we can't make up for the neglect now. Eminent critic Mendelsohn (Waiting For The Barbarians) and Boston University's Giraldi come to Porter Square to explore the lasting interest in Williams's Augustus, his historical novel about the celebrated – and controversial – founder of the Roman Empire.
B.J. Novak
The Book With No Pictures
October 2 at 6 p.m. (Doors open at 5:30)
Harvard Book Store, Cambridge MA
$21 tickets on sale now, including admission and one copy of the book
$5 tickets for children 16 and under/ book not included
Tickets on sale at: http://www.eventbrite.com/e/bj-novak-presents-the-book-with-no-pictures-tickets-12746959499
The Newton-bred actor/writer/humorist B.J. Novak will read and sign copies of his new children's book. A book without pictures sounds like it will be no fun at all, especially for a child, but Novak adds a delightful little wrinkle: everything written on the pages must be read aloud, even if the words say things like BLORK or BLUURF or are about eating ants for breakfast.