When it comes to race relations, America has a lot on its plate — there is no good reason to serve leftovers.
Guess Who's Coming to Dinner, by Todd Kreidler. Based on the screenplay by William Rose. Directed by David Esbjornson. At the BU Theatre on the Avenue of the Arts, Boston, MA through October 5.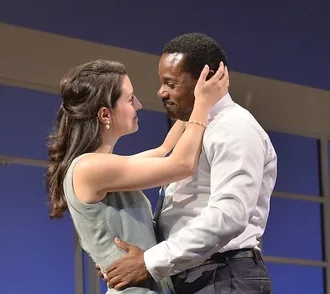 By Bill Marx
Is this meal really necessary? The Huntington Theatre Company's genially entertaining production of the resolutely moldy Guess Who's Coming to Dinner needed to answer that question — and it fails. In this day and age, why present a stage version of a Hollywood film that, when it was released in 1967, was generally dismissed as middlebrow piffle about race relations in America? (Other stages have some explaining to do as well, given that Todd Kreidler's adaptation of William Rose's teleplay has been at theaters in Washington D.C, New Orleans, and elsewhere, perhaps as rev up presentations before the script eventually lands on Broadway.) The original material, partly fashioned as a final vehicle for film stars Katharine Hepburn and Spencer Tracy, hasn't been updated or rethought; it has just been cut in come places and expanded in others. What we get is the typical liberal consciousness–raiser of the period, a product that, according to film critic Peter Rainer, customarily posited "a superblack (usually Sidney Poitier) against bigoted or uncomprehending whites, with the whites usually coming around to the realization that – hey – blacks were just the same as you and me."
Given Ferguson, MO and headlines of unarmed young black men being shot in the streets by the police, this is a disappointing, perhaps even insulting, piece of comfortable Americana for serious theaters to serve on stage. Is this the time to wallow in '60s nostalgia and self-congratulation about how far we have come? (The HTC production ends with an (ironic?) rendition of the wedding ceremony favorite "We've Only Just Begun"!) This retrograde programming move is particularly baffling given that just last season the HTC produced Smart People, a sharp play by Lydia Diamond that focused on complicated perceptions of race in this millennium. After that admirable effort comes this flaccid dinosaur, flecks of the La Brea Tar Pits on its mealy flanks, and later this season there will be a revival of George C Wolfe's 1986 sketch revue The Colored Museum. After three decades, will its once scathing political satire still have any bite? Has packaging a 'sure bet' at the box office for subscribers (star power and product name recognition) become all-powerful at our non-profit regional theaters? It is difficult to believe that there are no compelling scripts around that deal with what is going on today in the African American community. Why hit the snooze button after Diamond woke us up?
The 'superblack' here, (a stolid Malcolm-Jamal Warner of The Cosby Show) is a brilliant African-American doctor who falls in love with and then becomes engaged to a white socialite (an irritatingly smug Meredith Forlenza), who chooses a sadistically awkward way to break the news to her wealthy parents, a liberal newspaper publisher (a bedraggled, set-upon Will Lyman) and his wife (a patient-to-the-max Julia Duffy). The kumbahya moment is preordained, so Rose cooked up a contrivance (which Kreidler keeps) that not only dropped jaws in the '60s but blatantly contradicts the film's message of individual freedom. The good doctor tells his fiance's parents that they must bless their marriage or he will not marry their daughter — and he doesn't tell her about the arrangement. (Black Power bows to Great White Authority!) Cue lots of comic dithering, wide-eyed double takes, numerous one-liners about needing a stiff drink, the 'surprising' appearance of the doctor's belligerently disapproving parents (a blustering Lonnie Farmer and a diminutive Adriane Lenox), repeated high minded accusations of hypocrisy, and straight-faced charges of "not-being-the-man-I-thought-you-were." (Of course, at any moment, the doctor and his wife-to-be could flee this nest of befuddled liberals.)
The stage version adds elements of sit-comishness that are missing from the movie, which at least had the vibrant emotional connection of Hepburn and Tracy at its heart as well as a block-headed earnestness (everybody involved believed they were doing something really courageous). The stage version is content to recycle ancient good intentions, tries hard not to stumble into parody, and adds in plenty of kissing, which wasn't tolerated in the original film. The general jokiness is aided and abetted by a round-up of stereotypes, from the tough but loveable black maid (an appropriately waspish Lynda Gravatt) to the sozzled (but wise) Irish priest (a hammy Patrick Shea), and a cartoon bigot (a blatant Wendy Rich Stetson), the latter figure of hateful prejudice banished with the wave of a fat checkbook. Those were the days … but that fantasy must be part of the appeal of this resurrection of well-meaning liberalism of yore — decades of failure, bad faith, and forgotten promises are magically air-brushed away.
Because the film was steeped in the mystique of Hepburn and Tracy as the shell-shocked parents, the emotional payoff of the stage version is thin. Kreidler's tendency to go for easy laughs rather than stark conflict undercuts his heavy-handed attempts at dramatizing (sentimentally, of course) the deep affection of the two couples at the play's center. Unless it is treated with nuanced skill, farce is a machine that sucks the air out of love, and the latter is, in life-affirming exercises like this, what makes the world go round.
Diane Laffrey's set is strangely airy and antiseptic, so empty (a publisher with no books around?) and cavernous that the space swallows up some of the performers' lines. Director David Esbjornson paces the comedy well enough, and the performers' variations on the lineup of dead pan looks and shocked expressions are often well-timed. Overall, Guess Who's Coming to Dinner comes off as lightly likable, partly because of its comfort-food familiarity, its reassuring comic predictability. But that is the problem — when it comes to race, America has a lot on its plate — there is no good reason to serve decades-old leftovers.
---
Bill Marx is the Editor-in-Chief of The Arts Fuse. For over three decades, he has written about arts and culture for print, broadcast, and online. He has regularly reviewed theater for National Public Radio Station WBUR and The Boston Globe. He created and edited WBUR Online Arts, a cultural webzine that in 2004 won an Online Journalism Award for Specialty Journalism. In 2007 he created The Arts Fuse, an online magazine dedicated to covering arts and culture in Boston and throughout New England.