If you've still got your collegiate cynicism, Steely Dan is still the perfect band to feed it.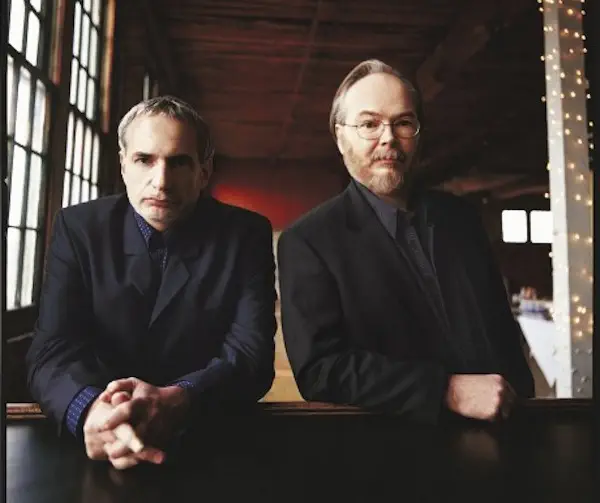 By Brett Milano
Early in Steely Dan's show on Saturday night at the Bank of America Pavilion, guitarist and co-leader Walter Becker interrupted "Hey Nineteen" to tell a goofy, rambling story; the song's lyric about "the Cuervo Gold, the fine Colombian" would have been the punchline. Only he cut himself off before he got there: "You know where I'm going with this. It's a hit song, you've heard it a million times." That's still Steely Dan in a nutshell, too cool to play the nostalgia card. Besides, how nostalgic can you get in a song about a washed-up hipster seducing a teenager?
Twenty years since the band's revival, it still boggles the mind that Steely Dan has become a regular on the concert circuit. This after all was a band that stopped touring early in its '70s heyday, then stopped existing altogether outside the studio. Long-estranged partners Becker and singer/keyboardist Donald Fagen revived Steely Dan as a touring band in 1993, releasing six albums (two each solo, and two by the band) since then. Saturday's show came entirely from the pre-reunion catalogue, but few of those songs were originally played live. And the long delay means that unlike most '70s bands now touring, Steely Dan aren't competing with their younger selves: You can't say the songs sounded better on the original Aja or Gaucho tours, because there weren't any.
Those two albums, the last of the original batch, wound up getting the most play on Saturday. Aja's two leadoff tracks, "Black Cow" and the title song, led off the set, and both showed the live band's approach: Stick to the original charts, but don't slavishly reproduce the solos. Saxophonist Walt Weiskopf didn't copy Wayne Shorter's original solo on the latter — that would have been folly — but came up with an alternate one that fit the song's climax just fine. And Fagen played his first solo on the melodica, not an instrument he ever used in the '70s, replacing the song's Chinese atmosphere with a Jamaican one. Originally the bassist, Becker now plays guitar and did spare, funky solos that balanced lead guitarist Jon Herrington's flashier ones. Fagen's voice is a bit rougher around the edges these days, but a trio of female singers filled in the high notes. Wearing shades and throwing his head back behind the keyboard, Fagen looked like he'd copped a bit of Ray Charles' stage presence.
Saturday's setlist was pretty much a straight greatest-hits, the only deep cut was the Countdown to Ecstasy track "Razor Boy" (which the three "Danettes" sang while Fagen took five). But it left you marveling at how these cerebral, sharp-humored songs became hits in the first place. The satire generally holds up well: "Show Biz Kids" ("…makin' movies of themselves/ You know they don't give a fuck about anybody else") is just as applicable to current Youtube culture as it was to Hollywood in 1972 And give them a few points for writing "Time Out of Mind" — a mock spiritual about cooking crystal meth — a quarter-century before TV's Breaking Bad.
The players were mostly jazz guys. The most famous being trombonist Jim Pugh, who played in both Woody Herman's Thundering Herd and Chick Corea's Return to Forever in the '70s, but shifted into rock-band mode for "My Old School," which was played toward the end of the regular set. It's another anti-nostalgia song, a kiss-off written when Becker and Fagen were just a few years out of Bard College in Annandale, NY. If you've still got your collegiate cynicism, Steely Dan is still the perfect band to feed it.
---
Brett Milano has been covering music in Boston for decades, and is the author of Vinyl Junkies: Adventures in Record Collecting (St. Martins, 2001) and The Sound of Our Town: A History of Boston Rock & Roll (Commonwealth Editions, 2007). He recently returned from New Orleans where he was editor of the music and culture magazine OffBeat.