Camerata Pacifica does right by John Harbison. And when it comes to Beethoven's music for cello and piano, Jean-Guihen Queyras and Alexander Melnikov have set a bar that may well not be topped anytime soon.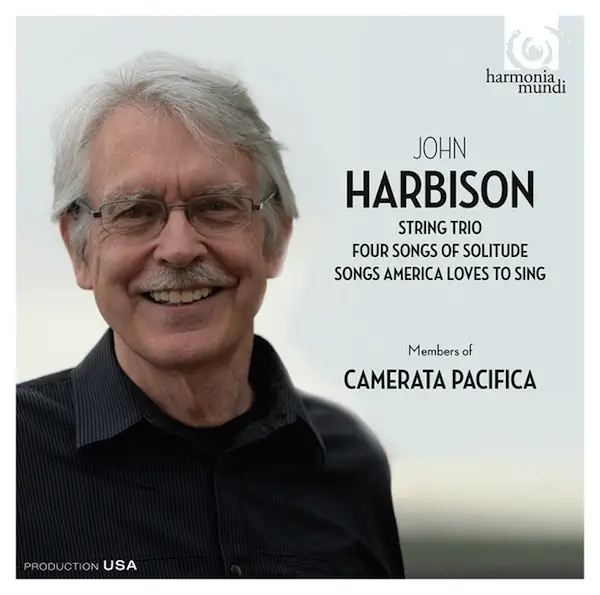 By Jonathan Blumhofer
Stylistically, John Harbison is a tricky composer to pin down. He's a "notes and rhythms" guy, to be sure, but that pithy self-description covers an awful lot of ground. The Camerata Pacifica's new all-Harbison recording (on Harmonia Mundi) easily demonstrates this and then some.
At just over half an hour, the Camerata-commissioned String Trio is the most substantial score on the disc. Like the Mozart E-flat major Divertimento that serves (at least partially) as its model, Harbison's Trio is cast in six movements that revel in all sorts of textures and techniques. Sometimes the music is warm and tuneful, at other junctures it's brooding and mysterious. In sum, it's a piece that comes across as a major, expressively all-embracing entry into Harbison's already formidable catalogue.
And it's hard to imagine a stronger, more involved performance than the one the Camerata gives here. Violinist Amy Schwartz Moretti, violist Richard O'Neill, and cellist Ani Aznavoorian shine throughout. Whether navigating the depths of the brooding second movement or flitting through the starkly humorous Intermezzos, they play with intensity, color, and strong rhythmic energy.
So, too, does violinist Paul Huang in his commanding performance of Harbison's Four Songs of Solitude, an austere, virtuosic set of miniatures originally written for the composer's wife, violinist Mary Rose Harbison.
And then there's Songs America Loves to Sing, a set of arrangements of American hymn tunes, and folk- and protest songs scored for Pierrot ensemble. In it, Harbison gamely channels any number of 20th-century composers handling familiar, popular material (Berio and Britten, especially), and lets his hair down a bit indulging his long love of jazz. It's a lovely piece, at times lots of fun (as in the folksy "Will, the Circle Be Unbroken" and the jazzy, Ivesian setting of "What a Friend We Have in Jesus"), if not terribly deep or original. I couldn't help but be charmed by it.
The Camerata again plays with energy and humor to spare. Warren Jones delivers a strongly characterized reading of the involved piano part, while flutist Adrian Spence and clarinetist Jose Franch-Ballester add warmth and color to the proceedings. Cellist Aznavoorian gives a particularly spirited account of "Ain't Goin' to Study War No More."
*****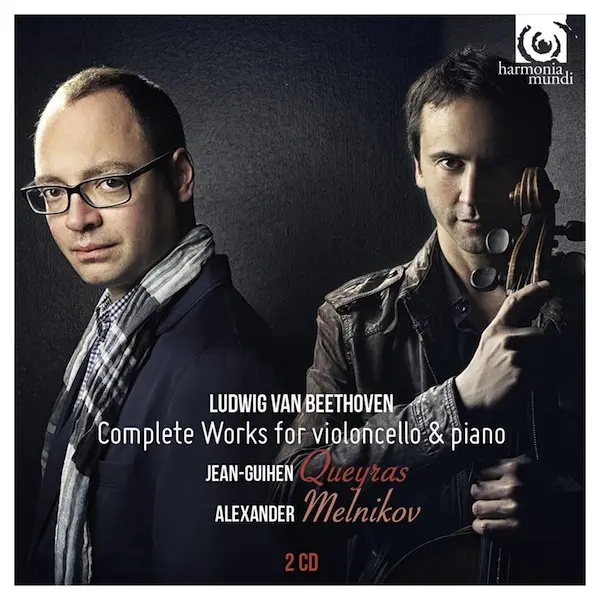 If you've spent any time searching for an excellent recording of Beethoven's music for cello and piano, look no further: Jean-Guihen Queyras and Alexander Melnikov have set a bar that may well not be topped anytime soon. Their new disc (on Harmonia Mundi) is marvelously played, filled with soaring lyricism, epic drama, and terrific recorded sound to boot.
It's ironic that Beethoven's cello sonatas should be so relatively little known. They're as important to the cello's repertoire as the piano or violin sonatas are to their respective genres, and they're plenty engaging and inventive: at no point in the first two cello sonatas, op. 5, do you get the feelings of self-consciousness that crop up from time to time in the op. 18 string quartets.
That said, the op. 5 set are pretty unwieldy: two big first movements (pushing fifteen to twenty minutes) followed by two considerably shorter ones. Therein, I'd argue, lies some of the charm. Not only did Beethoven toy with the cello sonata in the same way he did the violin and piano sonata, but, when they're well played, their formal oddness can be downright ingratiating. Such is the case here.
The Third Sonata, in A major, is the most famous of the set. Here, Queyras and Melnikov place its sunny lyricism front and center. Their playing is incisive, rhythmic, and colorful: listen to the subtle changes of tone color as the first movement heads towards its coda or the propulsive energy of the scherzo for essays in how to do these things right. The finale is a triumphant breeze, inevitable, heroic, and glorious.
Much the same can be said for their invigorating traversal of the last two sonatas, op. 105.
Filling out the collection are three sets of variations, two based on tunes from Mozart's Die Zauberflöte ("Ein Mädchen oder Weibchen" and "Bei Männern welche Liebe fühlen") and one on Handel's "See the Conquering Hero Comes." As in the sonatas, the Queyras and Melnikov deliver playing of impeccable energy and invention.
---
Jonathan Blumhofer is a composer and violist who has been active in the greater Boston area since 2004. His music has received numerous awards and been performed by various ensembles, including the American Composers Orchestra, Kiev Philharmonic, Camerata Chicago, Xanthos Ensemble, and Juventas New Music Group. Since receiving his doctorate from Boston University in 2010, Jon has taught at Clark University, Worcester Polytechnic Institute, and online for the University of Phoenix, in addition to writing music criticism for the Worcester Telegram & Gazette.