Worcester Chamber Music Society is a top-notch chamber ensemble based in central Massachusetts, a region not exactly overflowing with resident, headline-grabbing professional classical music groups.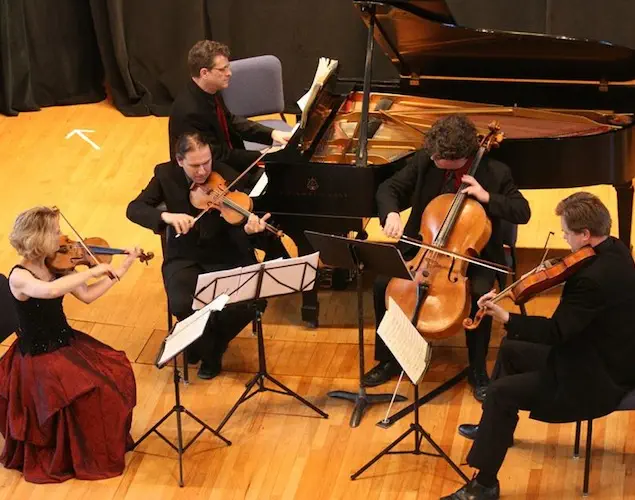 By Jonathan Blumhofer
The name Worcester Chamber Music Society (WCMS) is a bit misleading: though based in New England's second-largest city, the ensemble draws heavily from some of the Boston area's leading ensembles. The Handel and Haydn Society, Boston Modern Orchestra Project, Boston Musica Viva, and Lydian String Quartet, to name a few, all share members with the WCMS. In practice, what this means is a top-notch chamber ensemble based in central Massachusetts, a region not exactly overflowing with resident, headline-grabbing professional classical music groups. (In the interest of full disclosure, I've worked with the WCMS in a variety of ways over the last couple of years culminating, last October, in a concert of my music in Worcester. I can personally attest to the ensemble's musical curiosity, boundless energy, and engaging vitality in performance.)
Now entering its ninth season, the WCMS is as busy as ever on a number of fronts. In recent years, the ensemble has increased its community presence. Its regular (Main Stage) concert series offerings have been expanded to include a Café Concerts series (in which a performance at a local restaurant follows dinner), a few Very Open Rehearsals (which are what they sound like: dress rehearsals, or thereabout, held in a Central Massachusetts home), and an annual Family Concert. Additionally, the WCMS has recently embarked on a program it's billing as Neighborhood Strings: offering free music lessons to youths from Worcester's Main South neighborhood. In all, it makes for an ambitious concert season one that, thanks in large part to the contributions of WCMS violist and composer-in-residence Mark Berger, is filled with musical programs both creative and, occasionally, downright offbeat.
This year, there are three Main Stage concerts, beginning with "Wunderkind," which features quartets by Mozart and Mendelssohn, and guest violist Marcus Thompson performing in Alexander Glazunov's String Quintet in A. Performances are September 18th in Grafton and September 20th in Worcester.
In November comes "Water Games," a pair of concerts being performed in conjunction with an exhibition of paintings by Kat O'Connor called Luminous Will. George Crumb's Vox balanae and Henryk Górecki's Already it is Dusk are framed by two pieces by Maurice Ravel. Geoffrey Burleson, who's fast becoming a favorite WCMS guest, returns as pianist in this program, which can be heard on November 13th in Harvard and November 15th in Worcester.
Burleson is back for "Bach and Beyond," the season-closing series that frames a premiere by Berger and Heitor Villa-Lobos' Bachianas Brasileiras no. 5 with three pieces by J. S. Bach: the cantata BWV 209 ("Non sa che sia dolore"), the Sarabande from the C minor Cello Suite, and Dmitry Sitkoevsky's arrangement of the Goldberg Variations for string trio. Those concerts are April 9th in Harvard and April 12th at Mechanics Hall in Worcester.
The Ensemble's popular Café Concerts continue with two events at Nuovo Restaurant and a third at Eric's La Patisserie Café, all in Worcester. The first Nuovo event, on October 16th, is devoted entirely to the music of Mozart, while the second, on March 12th, surveys a healthy dose of Baroque repertoire. Michelle Graveline is the guest harpsichordist on the latter. In between, at Eric's La Patisserie Café on January 15th, comes "The Exotics," featuring pieces for strings by Zoltan Kodaly, Julian Carrillo, and Borodin.
Additional performances include the Ensemble's annual Family Concert, held this year on March 1st at Mechanics Hall in Worcester. There's also "A Village Yuletide" at Old Sturbridge Village on December 11th and "La Vorágine," a program of Latin American compositions presented in a free performance at Clark University's Razzo Hall on February 21st.
In all, it's a richly varied season from a group that isn't afraid to try new things. More information on the WCMS's concerts, as well as the growing Neighborhood Strings program, can be found on the group's website.
*****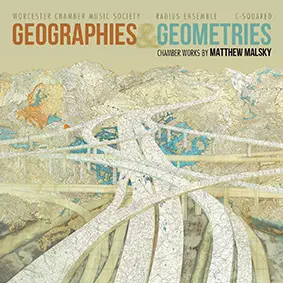 To help kick off the new season, there's a new recording of chamber music by composer Matthew Malsky called Geographies and Geometries (Ravello Records) that features several members of the WCMS, as well as the Radius Ensemble and the flute/cello duo C-Squared. Malsky teaches at Clark University in Worcester where I've gotten to know him over the last few years as a generous colleague and excellent teacher. This disc makes for a first-rate introduction to his music, which, while usually complex, is often invitingly personal.
The first piece, Archipelago of Regrets, is meant to evoke, in the composer's words, "a musical exploration of the emotional landscape of disenchantment." Cast loosely as a set of variations, the piece moves from a sense of resigned contemplation to abstract despair, before closing with a hint of ambiguous hopefulness. The performance here, which features WCMS members Geoffrey Burleson (piano), Krista Buckland Reiser (violin), and Joshua Gordon (cello), well captures many of music's emotional shadows. One might ask for a better balance between the ensemble (the piano seems too much in the foreground) to more strongly realize the music's dynamic contrasts, but, technically, there aren't any quibbles here.
Plenty of musical shadows are also to be had in Malsky's Elegy, a 2011 composition for two violas. As played by WCMS violists Peter Sulski and Mark Berger, the duo for whom it was written, the piece – which is written as a palindrome – comes across with tragic immediacy and haunting, emotional clarity.
Escaping the Delta, for flute and cello, performed here by C-Squared (flutist Lisa Cella and cellist Franklin Cox), is Malsky's tribute to the great bluesman Robert Johnson. There are moments that are strongly evocative of the blues and Johnson in particular: foot stomps, suggestive slides between pitches, little recurring riffs that start to form into recognizable patterns before breaking off, the persistent sense of musical dialogue, and so forth. Cella and Cox realize all with gutsy élan.
Like Delta, the wind quintet Same River Twice draws its inspiration from the past, here Heraclitus' observation that "you can't step into the same river twice." The piece is built around recurring musical gestures that reappear throughout its twelve-minute duration in constantly shifting contexts. The result is at once antiquated and fresh. Antiquated, because, formally, the piece often feels like a rondo. Fresh, because it couldn't have been written at any other time than the recent past. A quintet drawn from the Radius Ensemble gives a commanding run-through of the score, songful, witty, and inevitable.
Radius Ensemble is also featured on the closing track, Subtending the Right Angle, a substantial piece for a mixed octet. In it, Malsky offers his take on the chorale, one of the bedrocks of every composer's musical training. Interspersed among the chorale statements are a series of episodes for various instrumental combinations. Conductor Jeffrey Means presides over a performance that's focused and driven, featuring some brilliant playing from trumpeter Benjamin Wright and Michael Norsworthy's vivid realization of Malsky's involved clarinet writing.
---
Jonathan Blumhofer is a composer and violist who has been active in the greater Boston area since 2004. His music has received numerous awards and been performed by various ensembles, including the American Composers Orchestra, Kiev Philharmonic, Camerata Chicago, Xanthos Ensemble, and Juventas New Music Group. Since receiving his doctorate from Boston University in 2010, Jon has taught at Clark University, Worcester Polytechnic Institute, and online for the University of Phoenix, in addition to writing music criticism for the Worcester Telegram & Gazette.