It's important for there to be funds, curators, institutions, and audiences for art that can speak truth to power in unconstrained ways.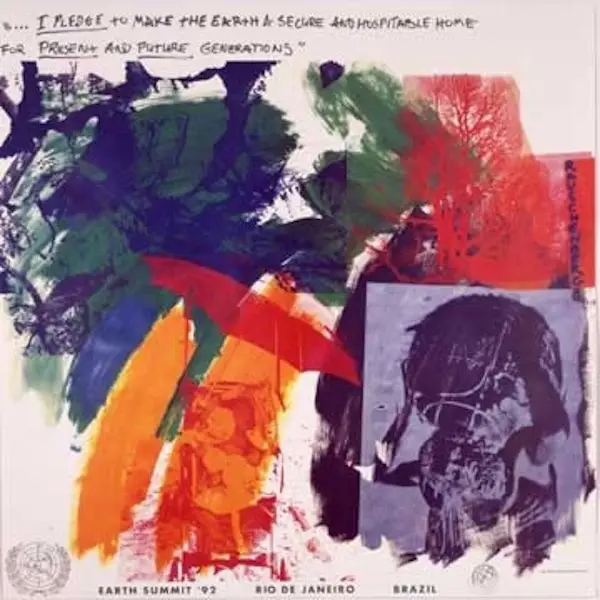 By Debra Cash
Taking it to the streets? The estate of artist Robert Rauschenberg just announced that it is rolling out a series of open calls for proposals to support two year fellowships for artists, designers, and other creative thinkers working to "move the needle" on social and political issues. The rich awards range from a high of $100,000 (expect these to go to people we have heard of before) to $2500 (presumably going to emerging artists and those working close-to-home).
This announcement, no doubt a significant time in the making, coincides with a trend in arts philanthropy towards supporting politically engaged and socially relevant work. It also comes at a time when artists are demanding to take a place at the table, and be heard through or from behind their work when serious public issues are discussed.
In August, a Facebook group called Artists Against Police Brutality/Cultures of Violence was established in the wake of the murder of Michael Brown in Ferguson, Missouri (full disclosure: I "liked" and joined). More problematically, an organization that calls itself the US Department of Arts & Culture sent out a post-Ferguson call for people to sign a "citizen artist's pledge" to demand an end to militarized police forces. They called for artists and creative activist to join "to bring justice to victims of publicly funded racism" (which is great, but why leave out the private stuff?).
I'm all for politically informed art-making, and have been very moved by, for instance, Fernando Botero's Abu Ghraib series, Stephen Hayes's Cash Crop installation about the slave trade, William Kentridge's searing animations at the edge of South African apartheid and the outpouring of work across genres that arose out of the fight against AIDS and has exposed the exploitation of women and children.
However, the folks behind the citizen artist's pledge were being profoundly disingenuous shading into duplicitous: the fine print on the call indicated that USDAC is (unsurprisingly) not a federal entity. Who were they speaking to? And who did they think would listen?
It's important for there to be funds, curators, institutions, and audiences for art that can speak truth to power in unconstrained ways, a constellation of groups that create solidarity and encouragement to the people working for social change. I'm pretty impressed that most contemporary visual art institutions — and some more omnibus collections — not only look for that work, but put their stamp of approval behind it.
However, when art is defined as fundamentally instrumental — that is, made expressly to create certain conditions in the external world — and when only art that takes on social change is deemed valuable, we are in a slide towards didacticism, not to mention a world that has no space for Mozart or Rothkos.
The artist who said "The artist's job is to be a witness to his time in history" and created the first Earth Day poster in 1970 knew better.
Robert Rauschenberg's example should set both a baseline and offer a guiding light.
---
Debra Cash has reported, taught and lectured on dance, performing arts, design and cultural policy for print, broadcast and internet media. She regularly presents pre-concert talks, writes program notes and moderates events sponsored by World Music/CRASHarts and cultural venues throughout New England. A former Boston Globe and WBUR dance critic, she is a two-time winner of the Creative Arts Award for poetry from the Hadassah-Brandeis Institute and will return to the 2014 Bates Dance Festival as Scholar in Residence.
© 2014 Debra Cash