Michael Nesmith's proto-Americana songs had aged the least—listen to the jangly guitar and stream-of-conscious lyric on "Tapioca Tundra" and you'd swear that was where R.E.M. got the idea.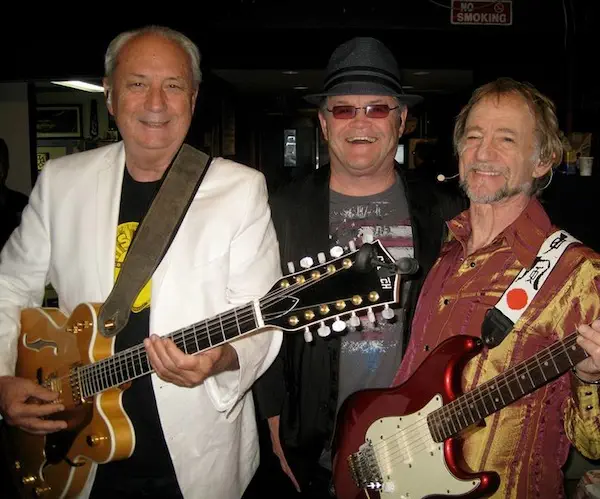 By Brett Milano
To understand the Monkees' place in pop culture, consider this: During the fabled summer of love in 1967, the Beatles were at Number One with Sgt. Pepper's Lonely Hearts Club Band; the Monkees were at Number Two with their third album Headquarters. The target audience for those two groups was separated in age by maybe three years. The Monkees may have offered a slightly sweeter, more kid-friendly version of the psychedelic counterculture, but they were definitely part of it—Just watch their old TV show and notice how much freakier it got as it went along, to the point where Frank Zappa and Tim Buckley were guests. And by the time they made that third album—their first after wrestling creative control from the unhip Don Kirshner—they 'd come into their own: Maybe not quite the Beatles, but not bubblegum either; just first-class pop music.
The Headquarters album plays a major part in the Monkees' current tour, which opened at Club Casino on Thursday. These are definitely strange days for the group, which lost co-lead singer and resident heartthrob Davy Jones to a heart attack in early 2012. Later that year, founding Monkee and cult artist extraordinaire Michael Nesmith—who hasn't returned often since leaving the group in 1969—announced he was rejoining remaining members Micky Dolenz and Peter Tork for a tour. (They were in fact planning the tour before Jones' death, and if he'd lived it would likely have involved all four). Putting Nesmith back into the Monkees is like putting Neil Young into CSN—The creativity level goes up and a bunch of great songs become available. The reunion tour wound up getting some of the first rave reviews of the band's career, and this year's set was basically a reprise.
Once again, the tour was strictly about the Monkees as a musical group, and you might even say they overcompensated: With vintage film clips linking the songs there was almost no stage patter, so their comedic talents never got put to use. But the songs, all cherrypicked from the group's original run, held up fine: The debut hit "Last Train to Clarksville" was the opener, still propelled by a killer guitar hook and still a more serious song than it first appeared (the singer is a draftee enroute to Vietnam). Nesmith's proto-Americana songs had aged the least—listen to the jangly guitar and stream-of-conscious lyric on "Tapioca Tundra" and you'd swear that was where R.E.M. got the idea—but the Dolenz-sung "I'm Not Your Steppin' Stone" proved a timeless blast of teen angst, not for nothing did the Sex Pistols cover it. If there was any doubt that the Monkees could play their own instruments Tork played everybody else's as well, handling lead guitar, bass, banjo and keyboards at different times.
The high points of the show came from the Monkees' creative, though not commercial peak: They played all six songs from their 1968 movie Head, a satirical and subversive film (largely written by one Jack Nicholson) that made the Monkees' own success one of its main targets. From that film came Carole King's soaringly trippy "Porpoise Song", Nesmith's jubilant "Circle Sky" and Tork's ode to reincarnation, "Do I Have To Do This All Over Again"—all songs that should have established them as pop heavyweights once and for all. Jones' big number, a song and dance to Harry Nilsson's "Daddy's Song" was shown on film, bridging into "Daydream Believer"—Jones' signature tune, with the three survivors doing their best to cover his vocal. A bittersweet moment? Sure. But an appropriate one from a group that's been going in and out of style, but is still guaranteed to raise a smile.
---
Brett Milano has been covering music in Boston for decades, and is the author of Vinyl Junkies: Adventures in Record Collecting (St. Martins, 2001) and The Sound of Our Town: A History of Boston Rock & Roll (Commonwealth Editions, 2007). He recently returned from New Orleans where he was editor of the music and culture magazine OffBeat.