Israel's Nalaga'at Theater Deaf-Blind Acting Ensemble, whose name translates to "Do Touch," is on a U.S. tour that included a side visit to the White House.
Not By Bread Alone, Nalaga'at Theater Deaf-Blind Acting Ensemble. Presented by Arts Emerson at the Paramount Center Mainstage, April 1 – 6. Performed in Hebrew with English surtitles. Cafe Kapish sign language demonstration 40 minutes before each performance in the Randall Lobby.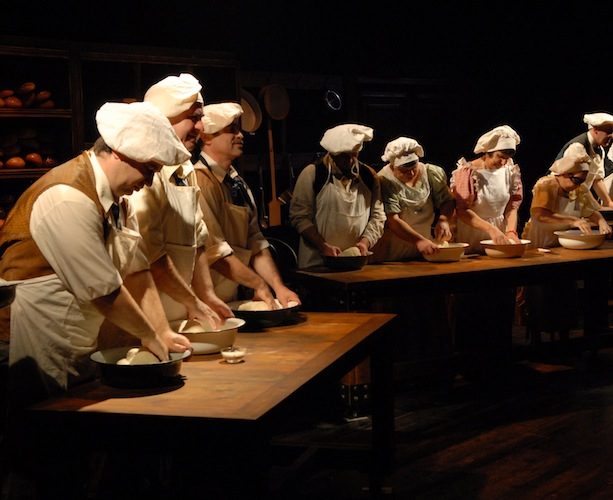 By Debra Cash
Sticky dough folds under the hands of bakers standing side by stand at a long table on a fully-lit stage. As the bread rises in the oven, they share their wishes and dreams: the fantasy of being a magician, the hope of experiencing a joyful wedding ceremony, the sensual delight of enjoying an ice cream cone on a sunny day. These men and women have followed different trajectories but what they share — and what distinguishes their experiences from those of most of the audience members who will be watching them at Arts Emerson this coming week — is that these eleven performers are deaf and blind.
Welcome to Nalaga'at Theater Deaf-Blind Acting Ensemble. This Israeli troupe, whose name translates to "Do Touch," is on a U.S. tour that included a side visit to the White House, where company members had a private meeting with President Obama's liaison to the community of people with disabilities.
Almost twenty years ago, Swiss-born Adina Tal, Nalaga'at's sighted/hearing artistic director, agreed to lead a theatre workshop for a group made up of deaf-blind adults. Most had Usher Syndrome, a genetic disorder characterized by deafness and gradual loss of vision; some had been born both deaf and blind. After demurring for a few months, she met with the group's members and found herself unable to communicate.
Tal was, it turned out, as disabled by her unfamiliarity with the capacities of these potential actors as they were. But through trial and error the group developed a working method. Tal conveyed her directions through hand-to-hand sign translation (akin to the strategy of The Miracle Worker's Annie Sullivan); the tactile sign language interpreters became part of the show, shadowing the actors. "The process is a very long one," Tal explained by telephone from Washington, D.C. "but it's never boring."
Tal regularly points out that the fact that her actors cannot hear or see offers a rich opportunity for theatrical exploration. A blind actor pantomiming eating a grape, for instance, can't copy how it looks when someone else eats a grape: each performance is completely idiosyncratic.
In 2002 Nalaga'at unveiled its first production Light is Heard in Zig-Zag. Five years later, taking over an abandoned warehouse previously owned by the Armenian church a block from the Jaffa seaport, Nalaga'at opened a center that includes a 330-seat theatre, space for training programs, the famous Blackout restaurant, where the seeing and hearing public are served by blind waiters in complete darkness, and Cafe Kapish, whose waiters are all deaf. Newer programs have included a children's theatre production of Prince Rooster based on a comic and mystical story by Rabbi Nachman of Bratzlav; a new ensemble of deaf-blind actors that includes Jews, Muslims and Samaritans; and in-the-dark wine tastings and clay workshops.
Not By Bread Alone occurs in real-time, the 90 minutes it takes for the actors to make and bake the bread that by the end of the performance they share with audience members. Shared time — and the sensual smell of baking bread — link performers and audience together.
"Everywhere we tour we try to meet the local deaf-blind community," Tal says. Boston feels a bit like a homecoming: Nalaga'at performed Light is Heard in Zig Zag at the Perkins School for the Blind in Watertown ten years ago, an experience that the actors still cherish. "They say 'thank you for making us visible' and it's the same thing in Israel," which lags in accessibility and other needed services for deaf, and deaf-blind people.
"But it goes beyond that," Tal says. "In a sense, our work is about making the audience visible to itself. Not by Bread Alone is not about deafness and blindness: it's about being imperfect. The deafness and the blindness of the performers is just a visible way of being imperfect, but we are all imperfect. By confessing to our imperfections we can make a dramatic change in society."
---
Debra Cash has reported, taught and lectured on dance, performing arts, design and cultural policy for print, broadcast and internet media. She regularly presents pre-concert talks, writes program notes and moderates events sponsored by World Music/CRASHarts and cultural venues throughout New England. A former Boston Globe and WBUR dance critic, she is a two-time winner of the Creative Arts Award for poetry from the Hadassah-Brandeis Institute and will return to the 2014 Bates Dance Festival as Scholar in Residence.
c 2014 Debra Cash