Adeptly directed by Roger Michell, "Le Week-End" soars because of the glorious leads, the matching of the always reliable Broadbent, veteran of Mike Leigh movies, and Duncan, little known in America but acclaimed on the British stage.
Le Week-End, directed by Roger Michell. At Kendall Square Cinema and other screens around New England.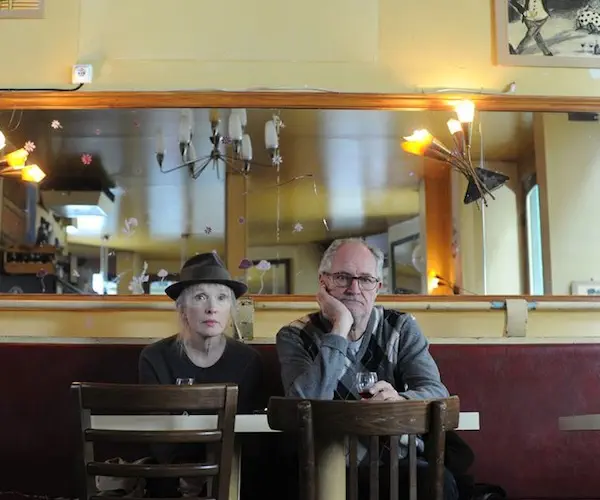 By Gerald Peary
Here's how Meg (Lindsay Duncan) summates her life in Roger Michell's brilliant, anguished new British film, Le Week-End: "Boredom. Dissatisfaction. Fury. And the clock ticking by." Her spouse matches her in quotidian misery. "Think of me as falling out a window forever," says Nick (Jim Broadbent). "For I am truly fucked."
This plagued wife and husband, three decades into a flat, tired marriage, reside in the unfashionable city of Birmingham. She's a secondary teacher exhausted of the grind — and of anonymity? A leftist activist in his youth, he's become a late-middle-aged nobody, toiling as a philosophy professor at a lowly polytechnic institute. And now he's being tossed from his lifer job, for making un-PC remark to a young black colleague.
Meg and Nick seek to escape their mutual distress with a fast train to Paris, and a weekend, long planned, of romance and renewal. It's their 30th anniversary! And what a setup for a heart-rending, softy art movie. But that's not where Le Week-End, obstinately pessimist, is going. The delightful old hotel where this couple once stayed has become squalid, and a host of charming restaurants prove, upon close inspection, to be "Too expensive… Too empty…Too touristy." Soon they are squabbling like Who's Afraid of Virginia Woolf's pugilist academic couple, George and Martha, and with a similar acerbic bite to their exchanges. Credit novelist Hanif Kureishi's harsh, smartly written screenplay, on a par with his classic scripts for My Beautiful Laundrette (1985) and Sammy and Rosie Get Laid (1987).
Actually, she's a lot harder on him than he is on her. He may be annoyingly passive and ineffectual, but Nick seems a kind man, and one still deeply in love with his wife. It's Meg who is sick of his touch, who pines for outsider romance, who threatens divorce. Meg is "hot…and cold," as Nick accurately describes her. Does that make the narrative slightly sexist, that he's warmer, that she's decidedly bitchier? Perhaps. But perhaps she's right to want more from her husband than a sweet temper, to wish for backbone and drive. On the other hand: perhaps she's being unfair, frustrated by her own non-achievement. As learned and articulate as she is, Meg has been shut down, and shut out, as a non-university teacher. "You look like an artist," someone tells her. She does, but there's no art.
So what do we see of Paris in Le Week-End? A non-springtime view. The Eiffel Tower, kept far away in the distance. A cemetery packed with dead literati, where Nick pays a visit to the grave of Samuel Beckett. The insides of one fancy restaurant and one five-star hotel, where our estranged couple eat and then stay, not having the money in the bank for either. Their meals are punctuated by fighting, then grim silence. Their swank hotel room isn't enough for them to melt into sex.
Adeptly directed by Michell, Le Week-End soars because of the glorious leads, the matching of the always reliable Broadbent, veteran of Mike Leigh movies, and Duncan, little known in America but acclaimed on the British stage. He's superbly melancholy, she switches on a dime from chilly to caring. And add in a third great performance: Jeff Goldberg as Morgan, whom, fortuitously, they meet in the Paris streets.
An American pal of Nick's from Marxist Cambridge days, Morgan's now far, far more successful than Nick with probably half the brains or real talent. And he knows it, even as he has a party to celebrate the publication of a new book, which smells of Malcolm Gladwell slickness and superficiality. Morgan is a rogue and probably a womanizer and with a fragile ego, but he's also self-deprecating and funny and a loyal friend. A complex character, somehow endearing.
What more could a discriminating film audience want, than these three superb actors planted in Paris, their Le Week-End words penned so skillfully by Hanif Kureishi? Well, stick to the end for a smile: a retro line dance, our swell trio getting down with The Madison.
---
Gerald Peary is a professor at Suffolk University, Boston, curator of the Boston University Cinematheque, and the general editor of the "Conversations with Filmmakers" series from the University Press of Mississippi. A critic for the late Boston Phoenix, he is the author of 9 books on cinema, writer-director of the documentary For the Love of Movies: the Story of American Film Criticism, and a featured actor in the 2013 independent narrative Computer Chess.