The point of the Spring Quartet, one assumes, is to showcase its four multi-talented members, particularly their talents as composers.
Jack DeJohnette's Spring Quartet, featuring Joe Lovano, Esperanza Spaulding, and Leo Genovese. Presented by the Celebrity Series of Boston at Sanders Theater, Cambridge, MA, on Thursday night.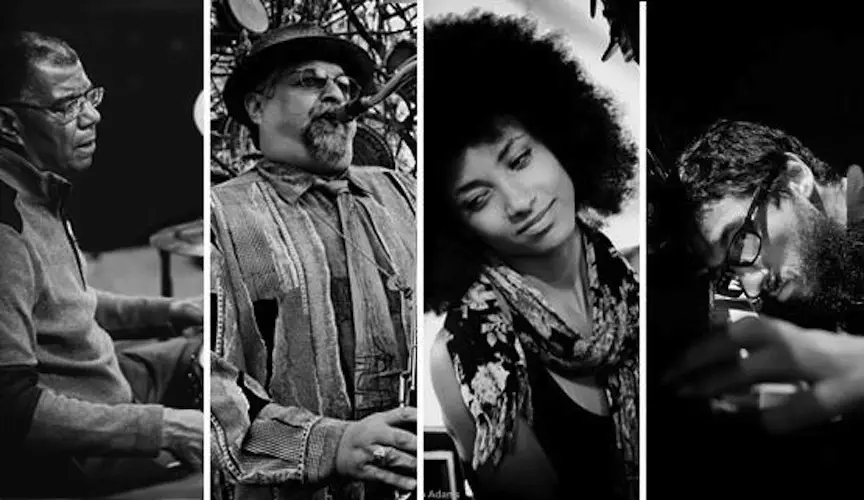 By Michael Ullman
Near the end of his quartet's long set at Sanders Theater Thursday night, drummer Jack DeJohnette announced the wrong tune. There was momentary confusion on stage as bassist Esperanza Spaulding and saxophonist Joe Lovano simultaneously put him right. Laughing, DeJohnette then said that it's hard to keep up with all the compositions he and his band are creating. Few bands have that problem, but DeJohnette's quartet is a group of composers as well as virtuosos.
For years, the drummer, whom most of us first heard with Miles Davis in the late '60s, used his recordings and appearances as a leader to showcase his own complex compositions, which ranged from the comical neo-swing of "Zoot Suite" (on Special Edition) to the aggressive tune he played at Sanders Theater entitled "Ahmad the Terrible." Dedicated to the pianist Ahmad Jamal, whose ultra-laid back recording Live at the Pershing influenced DeJohnette when he was a kid in Chicago, DeJohnette's homage alternates between an insistently accelerating section made up of a series of staccato sounds that run into a wall of drum thumps, and held chords that bolster a more relaxed, out-going line. (DeJohnette has recorded "Ahmad the Terrible" at least twice: on The Piano Album, which finds him playing the keyboard, and Album Album. The latter has also been collected on Special Edition, ECM 2296.)
The point of the piece in this concert, perhaps, was to give an inevitable shape to the improvisations that follow, to signal the wealth of contrasts to come. The point of the Spring Quartet, one assumes, is to showcase its four multi-talented members, particularly their talents as composers. Their instrumental achievements are obvious. On tenor, Lovano plays with an almost meaty tone and with a fluidity that takes in much of the range of the horn. At Sanders, he also played alto flute, soprano sax and an instrument that looked like one of Roland Kirk's dreams: two soprano saxes welded together and played through a single mouthpiece. As a bassist, Spalding can anchor a beat, enliven a repetitive riff (as she did momentarily on DeJohnette's "Herbie's Hands Cocked") and respond to free phrases from her bandmates with intense bursts of notes. She plays bop and she plays free, and she sings like an angel, with a kind of wistful virtuosity. Genovese is a member of Spaulding's group. Born in Argentina, he began a solo on Lovano's "La Petite Opportune" with a succession of wide-ranging scales that took the tune far out of its rhythm as well as its implied harmonic base. Then he gradually worked toward a walking pattern that included a few bars of near stride. There was humor as well as skill in his playing, which DeJohnette praised for its "atmosphere."
There were plenty of surprises in this set of music, which was consistently striking for its rhythmic and textural flexibility, not just in the playing of its legendary drummer, but throughout the band. For her composition "Shakey the Shark" (a cartoon character), Spaulding picked up an alto saxophone. With Lovano on tenor and Genovese abandoning his multi-keyboards for a soprano, she became part of a rhythm and blues sax section.
At other times, DeJohnette played a melodica, a hybrid instrument that you finger like a keyboard and blow into like a horn: it ends up sounding something like an electric piano. He also soloed during Genovese's "Ethiopian Blues" on tuned electronic drums. It hardly sounded like a blues. The piece began with DeJohnette providing a regular beat that morphed into a kind of tune on his electronic drum panel, while Genovese made eerie electronic sounds on his synthesizer that seemed to float or buzz over the beat. Meanwhile, Spaulding was cheerily offering handfuls of notes as Lovano waited it out. This preamble served to set up Lovano's soprano solo over Genovese's and DeJohnette's complex counter-rhythms. Later Lovano came back on his double soprano and Genovese played a tinkling piano solo over Spaulding's strong beat.
Despite its obvious versatility, this band dedicated itself to extroverted music. There were no ballads, few moments of introspection. There were also no awkward hesitations or moments of flagging inspiration. The band's music can't easily be summed up, but Lovano might have been trying when he named the last piece the quartet played "The Land of Emphasis."
---
Michael Ullman studied classical clarinet and was educated at Harvard, the University of Chicago, and the U. of Michigan, from which he received a PhD in English. The author or co-author of two books on jazz, he has written on jazz and classical music for The Atlantic Monthly, The New Republic, High Fidelity, Stereophile, The Boston Phoenix, The Boston Globe and other venues. His articles on Dickens, Joyce, Kipling, and others have appeared in academic journals. For over 20 years, he has written a bi-monthly jazz column for Fanfare Magazine, for which he also reviews classical music. At Tufts University, he teaches mostly modernist writers in the English Department and jazz and blues history in the Music Department. He plays piano badly.