The singing in the SpeakEasy Stage Company production is strong throughout; it's easy to get caught up in the sheer pleasure of such a variety of voices.
The Color Purple. Book By Marsha Norman. Music and lyrics by Brenda Russell, Allee Willis, and Stephen Bray. Directed by Paul Daigneault. Musical direction by Nicholas James Connell. Choreography by Christian Bufford. Produced by the SpeakEasy Stage Company, at the Boston Center for the Arts, 527 Tremont Street, Boston. Through February 8.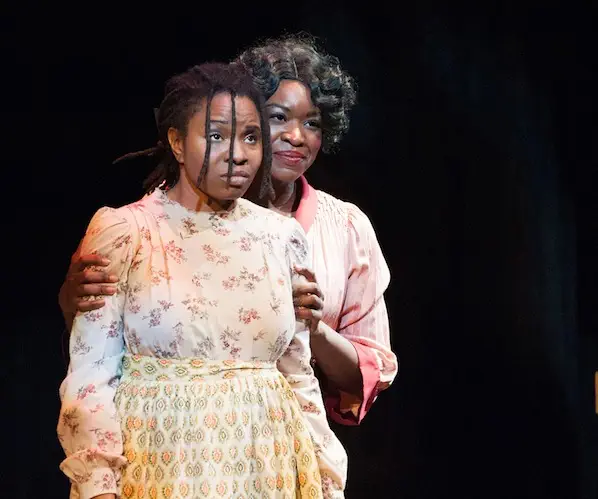 By Evelyn Rosenthal
Speakeasy Stage's artistic director Paul Daigneault must have a soft spot for big-themed musicals about the effects of change and struggle on ethnic American communities. Last spring's terrific In the Heights focused on a close-knit New York Latino neighborhood and the challenges facing today's immigrants, set to a Latin beat. Now, the company's vibrant new production of The Color Purple immerses Boston audiences in an early twentieth-century black community in rural Georgia for a tale of hardship and redemption, wrapped around a spirited gospel, r&b, jazz, and blues score.
This powerful story of a poor Southern black woman's journey to hard-earned selfhood is by turns heartbreaking and joyous. Based on Alice Walker's 1983 Pulitzer Prize-winning novel and the 1985 Oscar-nominated Steven Spielberg film, the musical has its own distinguished pedigree. The 2005 Broadway show was nominated for multiple Tony awards, including for its book by Pulitzer-winner Marsha Norman, and its music by Brenda Russell, Allee Willis, and Stephen Bray, three pop writing pros whose songs have been recorded by the likes of Madonna, Earth Wind and Fire, and Sting.
The action unfolds beneath – and sometimes on – the branches of a large, leafless tree, the dominant feature of the effective no frills set. Young Celie and her sister Nettie (played charmingly by Akiah Doyle and Jye'l Ancrum) perch on a branch, singing of their dreams to the rhythm of a hand-clapping game. The scene, like their childhood, doesn't last long, and they reappear at church with their father, where a very pregnant 14-year-old Celie (Lovely Hoffman) is the subject of a jumping, full-on gospel number ("Mysterious Ways," as in how the Lord works).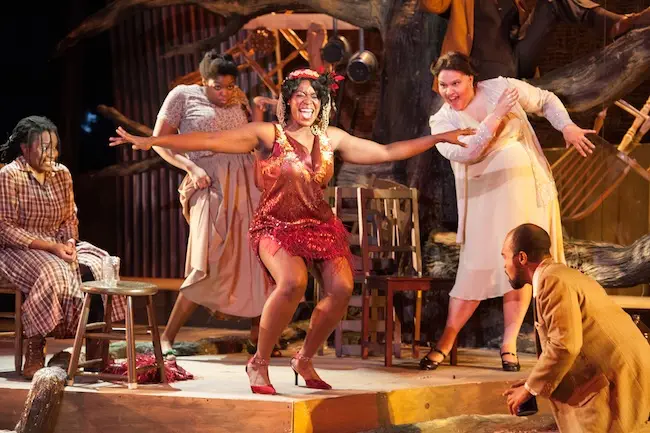 Of course, the Lord had nothing to do with it—Celie's child is her second by her father, who cruelly takes and mysteriously disposes of this baby, as he had her first. Celie's losses continue to pile up. Her father marries her off to the man she knows only as "Mister" (Maurice Emmanuel Parent), a mean widower with ornery children: he calls her "ugly" and treats her like a slave. When he unsuccessfully tries to rape Nettie (Aubin Wise), who has come to stay with them to evade her father's clutches, he kicks her out and tells Celie she'll never see or hear from her again. Mister forbids Celie from ever opening their mailbox, and she spends much of the play longing to be reunited with Nettie and with her children, who could well be dead.
Both the horrors and the delights of Celie's world are evoked, from terrifying domestic violence and racial brutality to the joyful release of the juke joint, and the company does a fine job of balancing and transitioning between them. Celie carries the weight of the world (and the show) in her beaten-down body and spirit, and Lovely Hoffman imbues the character's transformation from abject doormat to confident woman with pathos and humor. As Mister's (and eventually Celie's) lover Shug Avery, Crystin Gilmore embodies the sexy knowingness that draws both Mister and Celie to the free-spirited singer. As Sofia, the strong-willed wife of Mister's son Harpo who befriends and inspires Celie, Valerie Houston is a wonder, every inch the "amazon" Walker calls her in the novel.
The singing is strong throughout, and it's easy to get caught up in the sheer pleasure of such a variety of voices. The powerhouse Houston, with her deep sound (think Etta James), knocks us out with "Hell No," Sofia's declaration of her defiant take on life. Gilmore whips up the juke-joint crowd with the bluesy "Push Da Button," a double-entendre sex manual (which corresponds, in the novel, to Shug's teaching Celie about the pleasures of pushing her own "button"). The church-lady ensemble, led by the always winning Carolyn Saxon, perform their Greek chorus duties so well you look forward to their every appearance: they shine especially in the gospel-tinged songs and smoothly carry off the overlapping lines of the gossipy interludes. The only small hitch in the performance I saw was the big number "I'm Here," Celie's "I'm beautiful" moment at the end. It's a difficult song—not my favorite in the show—made up of what feels like a pastiche of styles in its multiple sections. Hoffman seemed to have a bit of trouble with it. (A couple of coughs during the performance made me wonder if she was singing through the nasty head cold that's been making the rounds.) Hoffman was wonderfully affecting, along with Aubin Wise, in "Our Prayer" and, especially, in her tender duet with Gilmore, "What About Love."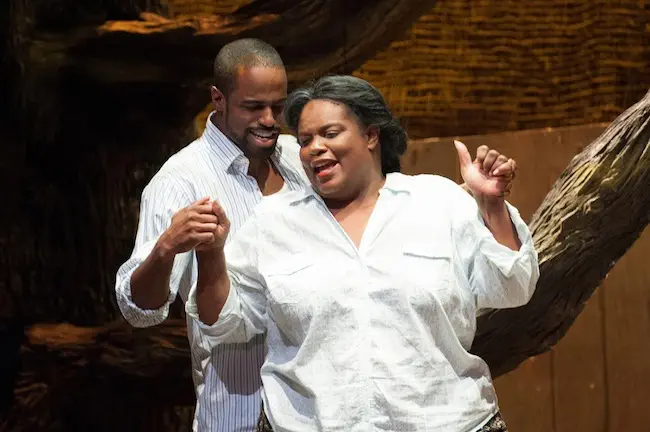 In the translation from novel to play, Norman wisely keeps the focus on Celie and her community, reducing the  hefty Africa subplot told in letters from Nettie, who spends decades as a missionary. One plot point in both versions – the whereabouts of Celie's children – requires quite a suspension of disbelief, and the passing of the novel's span of thirty years is not as obvious in the musical. Also, I could have done without a scene where Mister's father comes to visit, seemingly for the sole purpose of filling in Mister's back story (which was already pretty clear). Maybe Norman felt the need to assert more of a male presence in a show with so many vivid female characters. Maurice Emmanuel Parent's Mister is frightening in his domination and touching in his eventual (though oddly abrupt) transformation, and Jared Dixon makes the insecure, somewhat hapless Harpo sympathetic and believable. But it's the women who teach and learn the story's hard-won lessons of the importance of equality in love, and the need to find joy in this life, no matter what.
---
Evelyn Rosenthal is the former editor in chief and head of publications at the Harvard Art Museums. She is also a professional singer, specializing in jazz and Brazilian music, and has taught English and composition at Massachusetts community colleges. She writes about musical theater, books, and music for the Arts Fuse.