Like the great immigrant musicals, In the Heights touches on the tension between old and new cultures and generations, finding home, families and their expectations.
In the Heights. Music and lyrics by Lin-Manuel Miranda. Book by Quiara Alegría Hudes. Directed by Paul Daigneault. Music direction by Nicholas James Connell. Choreography by Larry Sousa. Set by Jenna McFarland Lord. Produced by SpeakEasy Stage Company. At the Boston Center for the Arts, 527 Tremont Street, Boston, MA. Run extended through June 30.
By Evelyn Rosenthal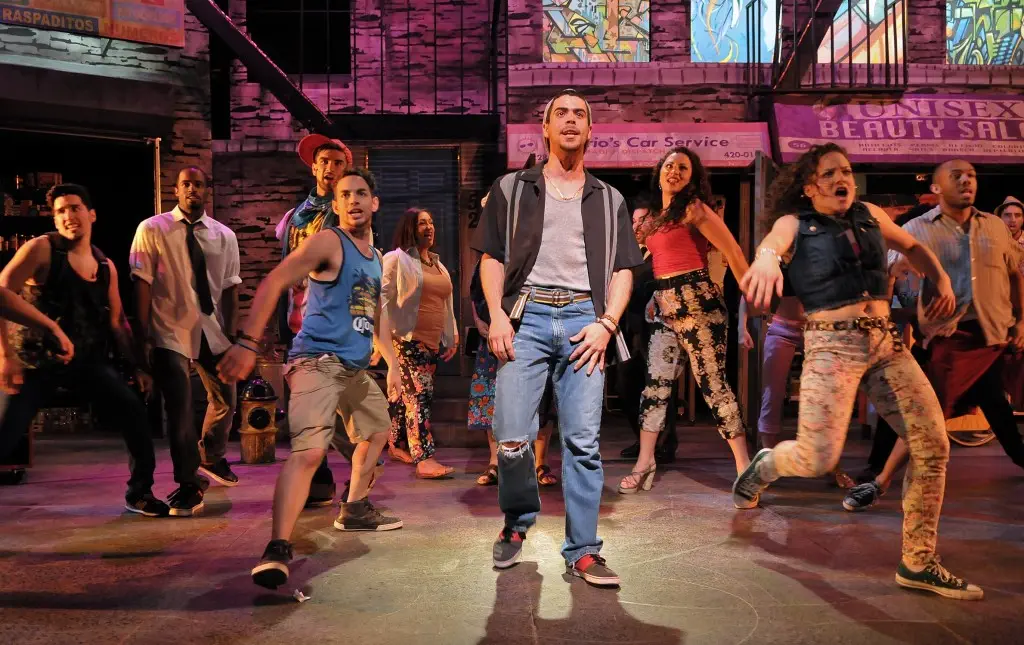 SpeakEasy Stage Company's production of In the Heights brings the 2008 Tony-winning musical into the Roberts Studio Theatre, an appropriately intimate setting for this story of a close-knit, Latino neighborhood in northern Manhattan. There, on a beautifully recreated block in Washington Heights, the lives and dreams of a dozen vibrant characters play out to the rhythms of salsa, Puerto Rican plena, Dominican merengue, Cuban rumba, and a mighty helping of hip-hop, rap, and R&B.
It's a hot 3rd of July, and Usnavi (Diego Klock-Perez), the young Dominican owner of the corner bodega, gives us the lowdown on his world and its hard-working but struggling denizens in the opening title number, a hip-hop/salsa mash-up that introduces the characters and themes in a funky—and funny—rapped overture. With each order of café con leche we meet another regular—the block's beloved matriarch Abuela Claudia (Carolyn Saxon), who raised Usnavi after his parents died; his younger cousin and employee Sonny (Jorge Barranco); his crush, barrio beauty Vanessa (Alessandra Valea), and her sassy salon boss Daniela (Merissa Haddad) and ditzy coworker Carla (Jasmine Knight); cab company owner Kevin (Tony Castellanos) and his wife Camila (Nicole Paloma Sarro), whose daughter Nina (Santina Umbach) has just come home after her first year at Stanford; and Usnavi's friend Benny (Jared Dixon), who works for Kevin and has his eye on Nina.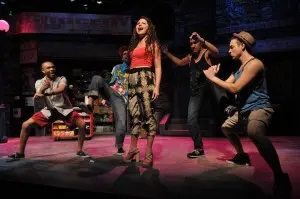 Although many of these types are familiar, with the help of the dazzling music and lyrics by Lin-Manuel Miranda and choreography by Larry Sousa, they become distinct, compelling characters, brought to life by the SpeakEasy cast. Director Paul Daigneault, who is on the faculty at Boston Conservatory, has put together a top-notch group of talented actors, singers, and dancers, many of them current or former Conservatory students, including Klock-Perez, who gives Usnavi just the right mix of street pride and tenderness. Haddad sizzles as the feisty Daniela, and Valea brings a sexy soulfulness to her role as the neighborhood hottie longing to escape her alcoholic mother and move downtown; both women are mesmerizing dancers and strong singers. Another standout is Anthony Alfaro as the Piragua Guy, who sells pyramid-shaped snow cones from his cart, cursing his nemesis, Mr. Softee; Alfaro has a future as a salsero, if he wants it. Truly, all the leads in this production shine and are affecting in their solo moments. But the real pulse of the show is the ensemble work; nearly every number features more than one player, and many that start out solo end up in full-fledged company mode with the addition of the lively six-member ensemble.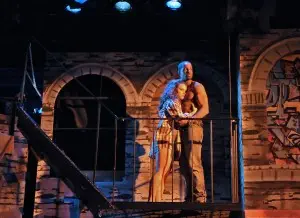 Like the great immigrant musicals West Side Story and Fiddler on the Roof, In the Heights touches on the tension between old and new cultures and generations, finding home, families and their expectations. There are echoes of Fiddler in the opening number, with Usnavi guiding us through his community as Tevye does in "Tradition"; later Kevin, like Tevye, forbids the relationship between his daughter and an ethnic outsider, the non-Latino Benny. And when the lovers appear on the fire escape after their first night together, it's hard not to be reminded of a similar scene with an earlier pair of star-crossed New York City lovers; Nina even gives Benny a Spanish lesson (the charming "Sunrise"), though it includes more than just the "Te adoro" Maria taught Tony. Miranda, in an interview, may not list West Side Story among the old-school musicals he grew up listening to (he mentions Fiddler, Man of La Mancha, and Camelot), but some of the musical numbers feel like new twists on scenes in the Bernstein/Sondheim classic: the couples dancing behind a spotlighted Abuela Claudia singing of her Cuban childhood and journey to America ("Paciencia y Fé"); Nina at the beauty salon, surrounded by Daniela, Carla, and Vanessa showering her with gossip and beauty treatments ("No Me Diga") in an update of "I Feel Pretty"; the "Dance at the Gym" now taking place in "The Club."
Not that there's anything wrong with building on the bones of some of Broadway's greatest shows, especially for a story about the tension between honoring your roots and moving forward. The stakes in In the Heights are not quite so dramatic—the underlying menace here is not gang violence or pogroms but rising prices and gentrification—and the plot line sometimes lurches a bit, but the characters are moving (in many senses of the word), and what will really stick with you is the pure energy and joy of the music and dancing in this marvelous production.