An annual gathering of superb new animation from around the world. This year's standouts include "Oh Willy…" from Belgium and "Virtuoso Virtual" from Germany.
The Best of the Ottawa International Animation Festival, at The Institute of Contemporary Art/Boston, January 9 at 7 p.m., January 18 at 3 p.m., January 19 at 3 p.m.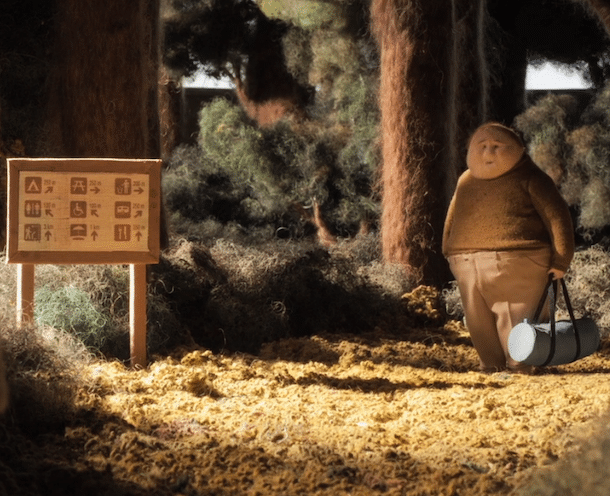 By Betsy Sherman
The ICA hosts The Best of the Ottawa International Animation Festival touring package for three Boston showings this month. This, folks, is a sampling from the top echelon of animation being made today, chosen for a festival that's nearing its fortieth anniversary. The approximately 80-minute long program, with eleven shorts, is a stimulating mix of moods, media, and narrative agendas. These short bursts of creativity succeed in pushing viewers' buttons, usually for pleasurable ends, but often with an intention to provoke or disturb (it's a program not really intended for kids because it contains some nudity).
My favorite from this very good bunch is "Oh Willy …" by Belgian animators Emma De Swaef and Marc James Roels. In a mere 16 minutes, and without dialogue, it creates a rich portrait of its emotionally wrung-out title character. Puppeteer De Swaef's material of choice for stop-motion animation is wool, which gives the whole project an intrinsic warmth as well as a weird irony, in that it takes place in a nudist colony. Willy, now clothed, returns to the colony in which he was raised to tend to his mother, who has collapsed. The return brings back memories both pleasant and painful, and his mother's death sends him on a journey in which fantastical elements help him find a way out of his despair. It's all incredibly moving, with this obese, balding, fuzzy man becoming something like a tragic hero. The filmmakers show remarkable sensitivity in the way they craft expressions in nearly featureless faces, as well as in the nature of the movement (Willy's shoulders shaking in grief is so life-like), the placement of the camera, and the precise timing of each shot. De Swaef got her inspiration for Willy's story from the Diane Arbus photos taken in nudist colonies.
Another standout—it gives me goosebumps—is the German "Virtuoso Virtual" by Thomas Stellmach and Maja Oschmann, in which hand-made, non-figurative ink drawings, the ink diluted and propelled by drops and streams of water, is set to the overture to the opera The Alchemist by Louis Spohr. That film explores the aesthetic of black and white, whereas "Plug and Play" by Michael Frei of Switzerland proffers a more cerebral pondering of all things binary: black/white, male/female, on/off, yes/no. Robert Loebel's "Wind," another German work, depicts a world in which a constant gale has forced its characters to find ways in which to adapt (for example, little children are sent up into the wind like kites, and appear to enjoy it). In French animator Jeremy Clapin's computer-generated "Palmipedes", the son of a duck hunter becomes the protector of a tall, goofy, flightless bird—this entry pretty much left me cold.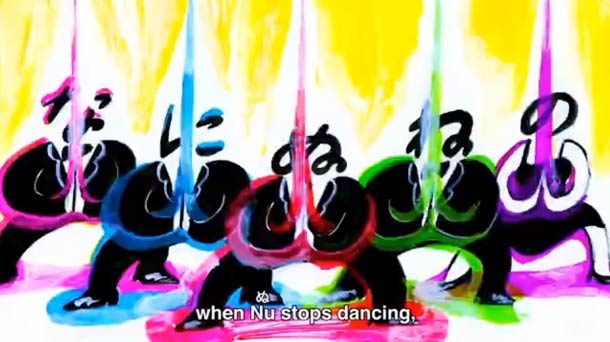 On the lighter side, there are some shorter works. I'll lump two from Japan together because they're both bright, tuneful and fun. "Na Ni Nu Ne No No" by Manabu Himeda has the zest of a PSY video: figures that have written characters for heads dance while a narrator engages in wordplay (the subtitles try to explain it, but it's OK to just enjoy the sight and sound). "Ohayo Carotene" by Saki Iyori is about the joy of matching line-movement, color, and happy, pop-y music. Its whimsical characters stretch and bend, with even the lively backgrounds sometimes joining the party. Font fans will love Canadian animator Judith Poirier's "Two Weeks – Two Minutes": she uses the tactile media of raw 35mm film, and prints directly onto it a series of typefaces and pictorial images that rhythmically whoosh by.
"Lonely Bones" by the Dutch animator and graphic novelist Rosto is a creepy tour-de-force, although it leaves you wanting to know more about just what the hell is going on (it's part of a series called Thee Wreckers). Mostly black-and-white, with '30s-ish looking credits and a Sin City feel of film noir time warp, it flows between live action (with actors in masks or heavy makeup) and animation. A protagonist with a huge forehead is on the run from who knows whom, and is thrown into a fountain that is, I guess, a portal to a swampy Underworld. A woozy soundtrack intensifies the macabre chill.
"Bless You," by Canadian David Barlow-Krelina, is set on a subway train car, with a voyage up the nose of a rider who's about to sneeze—a command center cannot control the uncontrollable. The program closer is the amusing stop-motion narrative "But Milk Is Important" by Norwegian animators Eirik Gronmo Bjornsen and Anna Mantzaris. A couple of individuals with social anxiety are helped out by big, friendly creatures that nudge them out of their shells. There're some nicely expressive sculptural touches in the faces, with the characters' fears located just under the eyes and in reddish noses. And, to tie together the woolen strands of the program, there's a credit for "sweater-knitter"!
==============================
Na Ni Nu Ne No No | Manabu Himeda | Japan
Oh Willy… | Emma De Swaef & Marc James Roels | Belgium, France, Netherlands, Luxembourg
Wind | Robert Loebel | Germany
Plug & Play | Michael Frei | Switzerland
Virtuoso Virtual | Thomas Stellmach & Maja Oschmann | Germany
Palmipédarium | Jérémy Clapin | France
Two Weeks – Two Minutes | Judith Poirier | Canada
Ohayo Carotene | Saki Iyori | Japan
Lonely Bones | Rosto | France, The Netherlands
Bless You | David Barlow-Krelina | Canada
But Milk is Important | Eirik Grønmo Bjørnsen & Anna Mantzaris | Norway
---
Betsy Sherman has written about movies, old and new, for The Boston Globe, The Boston Phoenix, and The Improper Bostonian, among others. She holds a degree in Archives Management from Simmons Graduate School of Library and Information Science. When she grows up, she wants to be Barbara Stanwyck.