It's possible to argue with several of Stephen Sondheim's selections. Are all of these his best achievements? Yet it hardly matters, because the composer's tales of his artistic life, culled from probably a dozen interviews, are completely fascinating.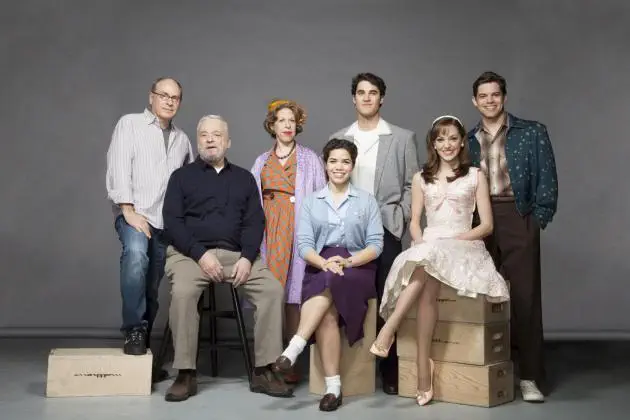 By Gerald Peary
You can't get classier original programming than this one, Six by Sondheim, scheduled on HBO through the month of December. It's conceived especially for television, and adeptly directed by James Lapine, Stephen Sondheim's favorite stage director and librettist for many decades, his creative partner on such gems as Sunday in the Park With George, Into the Woods, and Sondheim on Sondheim. Nobody knows Sondheim's work better, or Sondheim so intimately. This program is Lapine's heartfelt gift to his great musical theatre collaborator.
Six by Sondheim offers a showcase of a half-dozen of Sondheim's favorite musical numbers, chosen by him from his vast repertoire. The stories of their inspiration and creation are told, and then the numbers, formally and informally, are danced and sung. It's possible to argue with several of Sondheim's selections. Are all of these his best achievements? Yet it hardly matters, because the composer's tales of his artistic life, culled from probably a dozen interviews, are completely fascinating. He's so damned smart and witty, smashingly articulate, and, perhaps a surprise to those who see his work as cold and aloof, seemingly a sweet man. And very humorous about his failings, from his shortcomings as a pianist ("I have a very good right hand, flashy, and a very lumpy left hand") to his stooped posture from too many years of bending forward while writing music.
And he's refreshingly generous in discussing his mentor, Oscar Hammerstein II, who kind of adopted Sondheim when Steve's divorced parents had little interest in what happened in his teenage life. It's a story much akin to French filmmaker François Truffaut being rescued from the Paris streets by film critic, André Bazin, a similar tale of a sage of the greatest kindness. Sondheim said he became a writer of musicals because that's what Hammerstein did. If Hammerstein had had another occupation, that's what Sondheim would have pursued.
At 15, Sondheim managed his first musical, and he believed it was destined for Broadway. With unabashed hubris, he asked Hammerstein, the librettist of Oklahoma!, South Pacific, and The King and I, to offer a professional opinion. So Hammerstein obliged, telling young Steve that "This is the worst thing I've read in my life." For an afternoon, he took the boy through his musical play, pointing out the mistakes, including how derivative it was of Hammerstein's own work. Sondheim has detailed his time that day with Hammerstein in countless interviews, considering the advice offered the soundest he ever has received. Including, of course: be yourself. Be original.
Many would consider his ouevre as anti-Hammerstein, acerbic and urbane where Hammerstein is earnest and corny. Sondheim, however, is incapable of uttering a negative word about the person who gave him a calling. There's an interview, for instance, in which Sondheim lavishes praise on Hammerstein for the sunshine-soaked opening number of Oklahoma!, "Oh, what a beautiful morning." Without irony, he calls his out-of-fashion mentor "an experimental playwright."
The six songs of Sondheim? They take us through his career, starting with Tony's entry, "Something's Coming, " from West Side Story. Sondheim recalls his impatience then, as a young man, only being offered the position of librettist, because Leonard Bernstein was writing the music. The same occurred with Gypsy because star Ethel Merman demanded music by veteran Jule Styne. Would he be typed forever as someone only supplying the lyrics?
Well, Sondheim graduated to doing it all. Like for his abiding super hit from A Little Night Music. It happened this way: director Harold Prince one day needed a song for Glynis Johns, who was standing about doing nothing in a scene in the second act. Sondheim went home, and came in the next morning with a new composition: "Send in the Clowns." In an interview years after, Sondheim assures us he had no transcendent classic in mind when he wrote. His objective was pragmatic, a song with short phrases and "pause, pause" because Johns, no Merman, was "breathy and short-winded." Two years after, Judy Collins and Frank Sinatra covered it, and the rest is musical history. Six by Sondheim offers a collage of performers doing the iconic number, each a line or two, from Sinatra to Streisand, from Cher to Elizabeth Taylor (!) to a belting Judi Dench.
Sondheim ruminates: he gets piles of letters every year from people who adore the song but have no idea what it means. Sondheim jokes: Sinatra was asked the same question and replied, all common sense, that a guy and gal get together, it doesn't work. Send in the clowns.
I wasn't familiar with "Opening Doors," a tune from Merrily We Roll Along. Sondheim deems it his most autobiographical, about how he and others at age 25 struggled to break into the theatre business. Newly staged, it's pretty cool, overlapping solos by talented young singers and, at one point, Sondheim himself, as a producer, chiming in for several wry, bouncy choruses. But "Being Alive" from Company is, to me, cloying, on the edge of inspirational. It's shown here via a clipping from what must be D.A. Pennebaker's least-seen documentary short, Dean Jones. Pennebaker's 16mm camera shadows the mildly skilled live-action Disney star who was, at this point in rehearsals, Company's Broadway lead. (He quit soon after, before opening night.)
A really shaky, over-the-top song which Sondheim blindly loves? "I'm Still Here," written for a true no-talent, Hollywood's klunky Yvonne De Carlo, cast as the star of Follies. Sondheim based the song he said "on Joan Crawford and the history of the United States." The inspirations aren't enough to save this kitschy, hammy work.
But Six by Sondheim does recoup itself with the final song, "Sunday," the ambitious production number from Sunday in the Park with George, in which Seurat's most famous pointillist work comes lovingly alive. The song-and-dance is pulled from an eroding tape of the original off-Broadway production starring Mandy Patinkin. This Sondheim song is his all-time favorite composition.
What does Sondheim regret? That he never had children, he explains with genuine sorrow. And his love life? Six by Sondheim and James Lapine handle it beautifully, a short montage of photos and 16mm home movies of the composer and various unnamed men. Sondheim, perpetually funny, complements the homoerotic images with one sly, sexually nuanced sentence, implying some around-the-world cruising: "I went to the Forum, and a funny thing happened to me!" Wink, wink.
---
Gerald Peary is a professor at Suffolk University, Boston, curator of the Boston University Cinematheque, and the general editor of the "Conversations with Filmmakers" series from the University Press of Mississippi. A critic for the late Boston Phoenix, he is the author of 9 books on cinema, writer-director of the documentary For the Love of Movies: the Story of American Film Criticism, and a featured actor in the 2013 independent narrative Computer Chess.