So we've got a mixed bag. If you get this Lang Lang disc, it should be for the Bartók, but not the Prokofiev: as things stand, the competition there simply blows Lang out of the water.
Lang Lang plays Prokofiev and Bartók (Sony Classical)
Philadelphia Orchestra plays Stravinsky (Deutsche Grammophon)
By Jonathan Blumhofer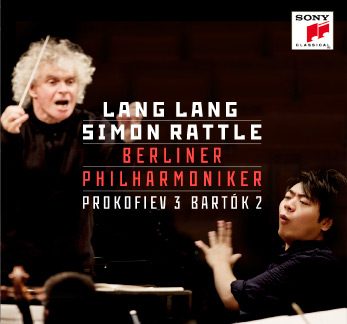 To his legion of fans, pianist Lang Lang can do no wrong. He has technique to burn, can be a very exciting performer to watch in concert, and, as he's moving through the second full decade of his professional career, he's been broadening his repertoire to include pieces that require as much musical intellect to pull off as showmanship. So, it's not surprising to find that his newest recording for Sony Classical, which pairs the Piano Concerto no. 3 of Sergei Prokofiev with the Second Piano Concerto of Belà Bartók, features some very good, energetic playing. Lang doesn't seem fazed by any of the technical demands of either piece (and the Bartók is infamously difficult) and he's assisted in both by a wonderfully colorful and supportive Berlin Philharmonic conducted by Simon Rattle: listen to the melting clarinet solo that opens the Prokofiev, or the magnificent snarling brass in the Bartók – orchestras rarely sound better in this repertoire than does the BPO here.
If only the same could be so consistently said of the pianist. Unfortunately, this disc demonstrates that Lang can still too often be thrown for a loss when it comes to musical ideas, at least in the Prokofiev. This is particularly troubling since he recounts (in a liner note) how long this music has been in his repertoire (the Prokofiev since 1998, the Bartók since 2004). Lang's is a reading that features lots of fast passagework played with glittering style, but little concept of the music's phrasing, character, and/or nuance. It's also too fast, especially at the opening of the first movement, which he just blows through. The idea seems to be that if Lang can bowl you over with his stunning technique (and it is amazing) you'll overlook his performance's interpretive weaknesses. Which might be good and fine if you've never heard this concerto before, and perhaps that's the case for the demographic this release is targeting. If so, that's a pity. I've listened to Martha Argerich play Prokofiev Three and I own Evgeny Kissin's phenomenal recording of it. Both pianists are also electrifying performers, and they bring musical ideas of much greater depth to this piece than does Lang. If you have the choice, go with either of them: this account may have miles of splashy playing but it only goes down about an inch beneath the surface of the piece and that just doesn't cut it.
Happily, Bartók Two fares better. I once heard Lang deliver a terrific performance of this concerto in Chicago and the outer movements on this disc, especially, echo my memories of that event. This is propulsive, rhythmic music and Lang really digs into its raw character, especially in the big, first movement cadenza. The middle movement gets a haunting reading (if a bit on the slow side) and the finale brims with manic energy. Again, this performance isn't going to dethrone any of the classic accounts by Anda or Kocsis, and, if you want a brilliant, brainy take on it, there still is Pierre Boulez's now ten-year old cycle of the three Bartók piano concertos (the Second is played by Leif Ove Andsnes). But it's hard not to appreciate the dynamism Lang brings to this concerto or his interpretive approach, which here is more musically astute than not.
So we've got a mixed bag. If you get this, it should be for the Bartók, but not the Prokofiev: as things stand, the competition there simply blows Lang out of the water.
---
It's been an interesting decade for the Philadelphia Orchestra. Since the tumultuous tenure and abrupt departure of Christoph Eschenbach as the orchestra's music director in 2008, the ensemble has weathered additional crises of leadership and finances (filing for bankruptcy in 2011 before reemerging nearly a year later with its fiscal house in order).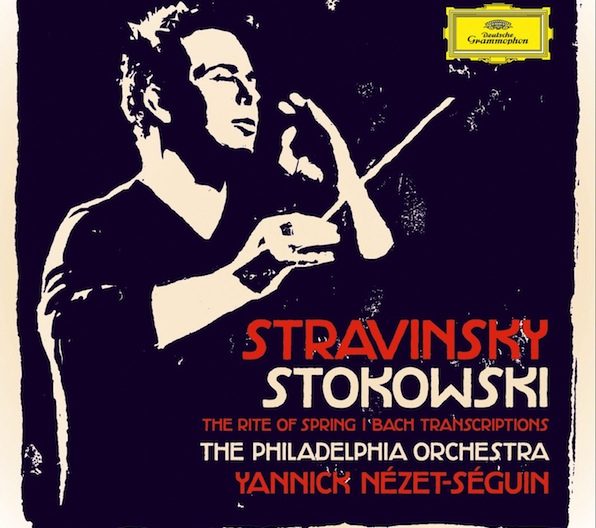 Today, things seem to be, if not fully resolved, at least much improved. The appointment in 2012 of Yannick Nézet-Séguin as the orchestra's music director seems to have revitalized the orchestra's morale and has been a hit with both audiences and critics (last month, when a strike by stagehands cancelled the Philadelphia Orchestra's opening night performance at Carnegie Hall, Nézet-Séguin and the orchestra presented the fully-rehearsed program, free, to a very enthusiastic, hometown audience at Verizon Hall). Also, it has made the Philadelphians one of the only American orchestras with a recording deal with one of the old major labels, in their case Deutsche Grammophon (Nézet-Séguin is an exclusive DG artist). Their first album on the Yellow Label features, appropriately, a collection of pieces with strong ties to the Philadelphia Orchestra.
The main draw on this new disc is a complete recording of Stravinsky's The Rite of Spring, which was given its U.S. premiere by the Philadelphians and Leopold Stokowski in 1922 (the same team also made the first American studio recording of it in 1929). There have been many recordings of the piece made since by, seemingly, every orchestra under the sun, but it's nice, in this anniversary year, to hear a new disc that features such a bold performance of this now old chestnut, one that's notable for its sparkling clarity and sonic depth. Indeed, that clarity is striking: even the Rite's busiest moments (such as the "Dance of the Earth") are rendered crystalline and the quiet sections can be chilling (check out the eerie harmonics in the "Introduction" to Part 2). But making this score too transparent can rob it of some of its raw power, and I missed a bit of the fire of Bernstein's classic recording (rereleased this spring on Sony Classical) and some of the wildness of Michael Tilson Thomas's late-'90s account with the San Francisco Symphony. Nevertheless, it's a performance that indicates some very exciting things brewing down I-95 these days.
For filler, Nézet-Séguin and company turn to arrangements by Stokowski of music by Bach and Stravinsky. While it might be possible to quibble about this choice of repertoire – it would have been nice, for instance, to have something really unique to wrap things up, say Stravinsky's J.S. Bach Chorale Variations – it's hard to argue with the Philadelphians' handsome performances here of the familiar D minor Toccata and Fugue, G minor Fugue, and Passacaglia and Fugue in C minor (all dubbed, perhaps apocryphally, by Stravinsky, "Bach's Stokowski"). The warm string tone, crisp wind articulation, and melting brass are hallmarks of the ensemble, and it's wonderful to hear them sounding so healthy and intact. The real musical treasure, though, is Stokowski's arrangement of Stravinsky's Pastorale, a charming miniature innocent on the surface but with a sardonic aftertaste.
---
Jonathan Blumhofer is a composer and violist who has been active in the greater Boston area since 2004. His music has received numerous awards and been performed by various ensembles, including the American Composers Orchestra, Kiev Philharmonic, Camerata Chicago, Xanthos Ensemble, and Juventas New Music Group. Since receiving his doctorate from Boston University in 2010, Jon has taught at Clark University, Worcester Polytechnic Institute, and online for the University of Phoenix, in addition to writing music criticism for the Worcester Telegram & Gazette.