Two discs released by Harmonia Mundi benefit from the dramatic flair of conductor René Jacobs.
St. Matthew Passion, featuring the RIAS-Kammerchor and Akademie für Alte Musik Berlin, conducted by René Jacobs. Harmonia Mundi
Che Puro Ciel, featuring Bejun Mehta and the Akademie fur Alte Musik Berlin conducted by René Jacobs. Harmonia Mundi
By Jonathan Blumhofer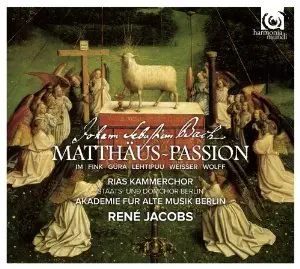 For many listeners, regardless of ecclesiastical affiliation, Bach's St. Matthew Passion marks the summit (or, if not the zenith, at least one of the two or three highest peaks) of Western music. It's a piece that's been both gifted and cursed to be the recipient of countless performances and recordings: approaching its 300th birthday in 2027, there's really not anything new for conductors or performers to uncover in this sprawling recreation of Christ's final hours.
But what René Jacobs has done in his new recording with the RIAS-Kammerchor and Akademie für Alte Musik Berlin has been to capture the inherent drama of this cornerstone of the repertoire and to bring it impressively to life. This is accomplished partly through tempo: Jacobs' direction emphasizes the lithe, dance-like quality of Bach's writing, and, as a result, this huge piece never feels really cumbersome. He's also mostly aided by opting to follow the layout of the Good Friday Vespers service of Bach's day, placing the choirs in front and back – not side by side – and, on disc, this choice brings out some wonderful details in the music (especially the textural layering between soloists and chorus in the duet "So ist mein Jesus nun gefangen"). The only real drawback to this set-up is one of balance when soloists are drawn from the choir in back: there's a distance between voices and orchestra (such as in the aria "Können Tränen meiner Wangen") that might be understood as some kind of theological illustration, but it isn't very satisfying from a listening perspective.
Overall, Jacobs' vocal soloists are strong. Werner Güra gives a memorable account of the demanding Evangelist role, clarion and precise throughout, and Johannes Weisser proves a sympathetic Jesus. In other roles, Bernarda Fink delivers a darkly beautiful "Erbarme dich" and "Sehet, Jesus hat die Hand," and bass Konstantin Wolff brings deep pathos to "Komm, süßes Kreuz."
Both the RIAS-Kammerchor and Akademie für Alte Musik Berlin acquit themselves well. Throughout, textures are bright and clear, and the big choral numbers that open and close the piece invitingly balance expressive weight with quick tempos. In short, if you're looking for a strong, historically informed account of the St. Matthew Passion, you won't be disappointed with this recording.
---
A similar command of style is also evident in Jacobs' Che Puro Ciel, an album with counter-tenor Bejun Mehta that focuses on the rise of Classical-era opera. There are some familiar names in this collection, notably Mozart and Christoph Willibald Gluck, as well as a substantial helping of lesser-known arias by Tomaso Traetta, Johann Adolf Hasse, and Johann Christian Bach.
The music of this era (roughly the middle fifty years of the 18th century) was one of great flux, transitioning, as Che Puro Ciel's liner notes observe, from the aesthetic of verisimilitude to the "quest for truth." What this meant in theatrical terms was a revolution in how drama was presented and, for composers of opera, a fresh approach to advancing drama, musically. Out, in the words of librettist Ranieri Canzalbigi, were "florid descriptions, unnatural paragons, and sententious, cold morality." In their place came a "heartfelt language [and] strong passions" – in a word, the stuff of modern opera.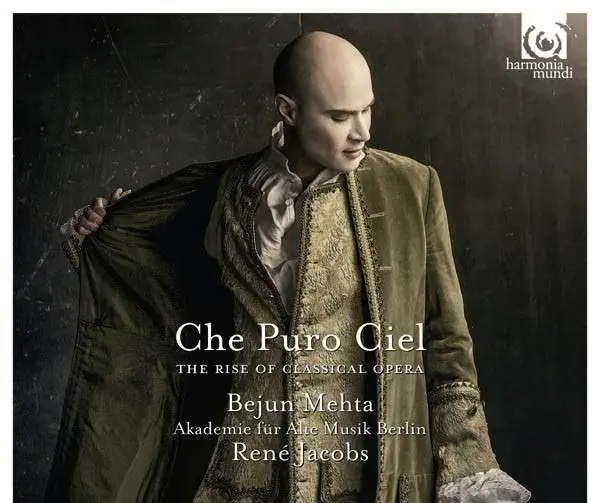 And there's much that feels familiar in this collection of eleven arias and choruses from Orfeo ed Euridice, Ascanio in Alba, Antigona, Artaserse, and other operas of the 1760s and '70s. This is music of taut, often direct drama and impressive energy. It also turns – sometimes quite spectacularly – its expressive face on a dime: "Dormi Oreste!" from Traetta's 1763 Ifegenia en Tauride leaps from choruses of frightening intensity to Oreste's pastorale of pitiful simplicity (and surprising dissonance) and back again with little preparation or warning.
Though it's not really the point of the album, it's also fascinating to hear the relatively familiar voice of Mozart in the context of his contemporaries, particularly J.C. Bach. You can hear some of the debt his music owed Bach, particularly the excerpts from Mitridate and Ascanio in Alba, through their pairing next to an aria from Johann Christian's Artaserse.
This is an album that vigorously serves up a compelling cross-section of 18th-century opera: it's music making at its most visceral and exciting (and, if you want just one example, check out track 11, Gluck's "Se il fulmine sospendi" – the reasons Gluck was the Classical era's first great opera composer remain convincingly intact). Mehta is fully in his element, no technical or expressive stone going unturned. And Jacobs draws playing from the Akademie für Alte Musik Berlin that brims with energy and nuance, while the RIAS Kammerchor makes the most of their two brief appearances. Highly recommended.
---
Jonathan Blumhofer is a composer and violist who has been active in the greater Boston area since 2004. His music has received numerous awards and been performed by various ensembles, including the American Composers Orchestra, Kiev Philharmonic, Camerata Chicago, Xanthos Ensemble, and Juventas New Music Group. Since receiving his doctorate from Boston University in 2010, Jon has taught at Clark University, Worcester Polytechnic Institute, and online for the University of Phoenix, in addition to writing music criticism for the Worcester Telegram & Gazette.