According to Chick Corea, this recording contains first impressions of the compositions that he'll be playing with his band on upcoming tours. It'll be interesting to hear how these tunes and this group develops.
The Vigil , Chick Corea, Concord.
By Michael Ullman.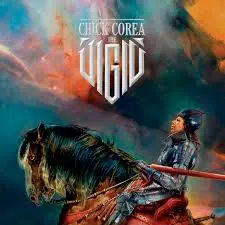 Chick Corea's first album as a leader, Tone for Joan's Bones, was made in 1966, when the pianist was 25. He was already experienced in the studio, having recorded with, among others, Willie Bobo, Mongo Santamaria, Sonny Stitt, Hubert Laws, Blue Mitchell, Cal Tjader, and repeatedly with the then wildly popular Herbie Mann. Other partners include vibist Dave Pike, whose goal on the now obscure Manhattan Latin LP was to blend "jazz with the musically important and commercially appealing Cuban sounds."
It sounds a lot like Corea's program today. Almost from the beginning, and certainly from the time of his more or less avant-garde band of the early 70s, Circle, Corea, who has won twenty Grammies, has been eager both to move forward and to move audiences. (He broke up Circle in order to reach a larger listenership.) Of his new group, which he calls for obscure reasons the Vigil, he says, "I love the process of trying various ways of putting the music across to our audiences . . . How far to push the audience's tolerance . . . how far to push my own and the band's tolerance . . . to stay in that wonder area of adventure without losing contact. That is the nightly challenge."
The Vigil, Corea's first CD of all new compositions in over a decade, is his latest attempt to connect with a broad swath of listeners. It is played mostly on electric instruments and exudes an extroverted, even grandiose style. His multi-talented band features reedman and Londoner Tim Garland, who won a Grammy for his orchestrations on Corea's The New Crystal Silence; guitarist Charles Altura, who was on a Grammy Award-winning Stanley Clarke album; bassist Hadrien Feraud, a Frenchman who has played with John McLaughlin; and drummer Marcus Gilmore, the grandson of the great drummer Roy Haynes. Gayle Moran Corea sings on "Outside of Space." On one number, "Pledge for Peace," Stanley Clarke and Ravi Coltrane are called for a tribute to Ravi's dad, John Coltrane.
There are two major themes on the disc: space and musical legacy. They are concepts, Corea suggests, that artists can feel free to play with imaginatively. The LP opens with a complicated, somewhat jagged theme, "Galaxy 32 Star 4," played mellifluously by guitar and electric piano doubled underneath by the electric bass. Subtitled "The stars are your plaything forever," the tune is played over Gilmore's chattering, active drumming. Its short, restated theme leads to an extended Corea solo that sounds like a conversation with hyper-active drums. "Planet Chia" begins with Corea on acoustic piano playing what sounds like a version of his introduction to "Spain." The actual theme is played swiftly by the band, which deftly alternates statements with Corea, or with the acoustic guitar. It's virtuoso playing of a particularly cheery kind. (There are no ballads on the album.)
"Royalty" is dedicated to Roy Haynes, "hero, mentor, friend," whereas "Pledge for Peace," which begins with a rapid-fire, swirling introduction by Corea on acoustic piano, pays homage to the music of John Coltrane. The track has something of the latter's meditative power, but Corea's restlessness is never far away. His solo here is particularly intense. According to Corea, this recording contains first impressions of the compositions that he'll be playing with the band on upcoming tours. It'll be interesting to hear how these tunes and this group develops.
---
Born and raised in Belmont, MA, Michael Ullman studied classical clarinet, and was educated at Harvard, the University of Chicago and the U. of Michigan, from which he received a PhD in English. The author or co-author of two books on jazz, he has written on jazz and classical music for the Atlantic Monthly, the New Republic, High Fidelity, Stereophile, the Boston Phoenix, Boston Globe and other venues. His articles on Dickens, Joyce, Kipling and others have appeared in academic journals. For over twenty years he has written a bi-monthly jazz column for Fanfare Magazine, for which he also reviews classical music. At Tufts University He teaches mostly modernist writers in the English Department and jazz and blues history in the Music Department. He plays piano badly.