Underneath the discouraging array of customary exhibitions there are some reassuring productions of the new this month, with a smattering of New England and world premieres.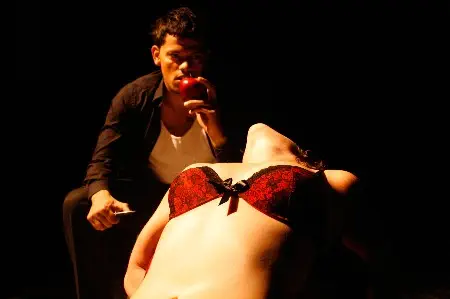 Culture Vulture thinks that Richard III will be a highlight at Shakespeare & Co; I am also intrigued by Company One drawing on local playwrights to revamp the tales of the Brothers Grimm, which are already pretty dark in their original versions. Also, it is pleasant to see a healthy number of plays by women receiving professional productions.
By Bill Marx
Richard III by William Shakespeare. Directed by Tony Simotes. Staged by Shakespeare & Company at the Founders' Theatre, Lenox, MA, July 2 through September 5. Expectations are high for this production of Shakespeare's early history play, which is carried on the glorious crookback of the Bard's first great villain. OBIE award-winning actor John Douglas Thompson stars. The cast also includes Tod Randolph, Nigel Gore, Annette Miller, and Jason Asprey.
Tender by Kelly Younger. Directed by Eric C. Engel. Presented by the Gloucester Stage Company, East Main Street, Gloucester, MA, July 8–25. Younger's drama touches on the impact of the economic doldrums: "On the verge of foreclosure, a working mom realtor and her stay-at-home husband must reappraise their assets, including her aging truck driver father and his new motor home; but when they take away his keys, they learn love is not a loan that can be repaid." The script was developed with the support of the New Repertory Theatre in Watertown, MA.
Cherry Smoke by James McManus. Directed by Brett Marks. Staged by the Gurnet Theatre Project at Boston Playwrights' Theatre, Boston, MA, July 9–July 24. "Winner of the Princess Grace Award for Playwriting and set among the abandoned steel mills on the outskirts of Pittsburgh, Cherry Smoke is the story of Fish, a club fighter and ticking time bomb and his girlfriend Cherry, a runaway fortune teller who has been on her own since the age of ten." The New England premiere of what is billed as "a poetic and potent new work."
The Storytelling Ability of a Boy by Carter W. Lewis. Directed by Robert Kropf. Presented by the Boston Art Theatre at the Harbor Stage, Wellfleet MA, July 11 through August 31. The New England premiere of a play that, according to the Miami Herald drama critic, "is the theatrical equivalent of a chamber piece, an intense exploration of three characters whose dreams, losses, and crises resonate because much of what they're going through—high school as a circle of hell, loving without being loved in return, crossing dangerous emotional lines—are things so many of us have lived."
Conni's Avant Garde Restaurant. Presented by the American Repertory Theater at Oberon, 2 Arrow Street, Cambridge, MA, July 11 through August 1. You knew it was coming—the ART/Oberon ("the new destination for theater, drinks, and nightlife on the fringe of Harvard Square") is going to fill its coffers by bringing in dinner theater. Of course, this parody (?) version comes with a critical pedigree: it is a Time Out New York favorite and Village Voice Choice that mixes "ingredients of fine food, wine, and ensemble theater together. The audience follows the story of the company's aging diva, Muffin Character Hanshake, played by Rachel Murdy, who created the roles of Mr. Oberon and Mia in The Donkey Show in New York. Eighty guests are treated to a five-course, locally-sourced, seasonal dining experience, with food carefully prepared by the performers themselves and served with charismatic flourish by self-proclaimed geniuses of the avant-garde theater." Perhaps the evening's gourmet chow will be served with a dollop of auteurism on the side?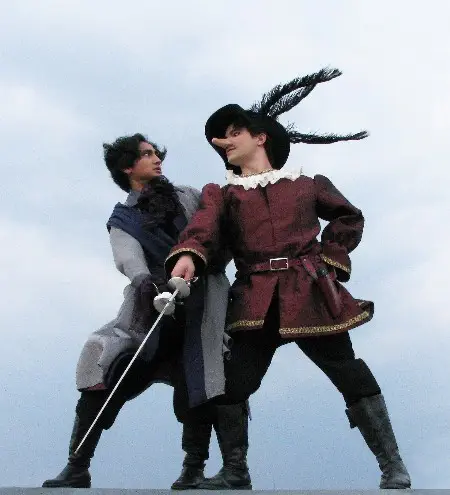 Pool Boy. Music and Lyrics by Nikos Tsakalakos. Book and Lyrics by Janet Allard. Musical Direction by Matt Castle. Choreography by Shonn Wiley. Directed by Daniella Topol. Staged by the Barrington Stage Company at Stage 2, Barrington, MA, July 13 through August 8. The world premiere of a musical about a rookie songwriter who, in an effort to jump-start his career, gets a job serving drinks to the bad and beautiful in L.A. He ends up, surprise, surprise, seduced by "glitz and glam and a sexy older woman."
Cyrano de Bergerac by Edmond Rostand. Staged by the Apollinaire Theatre Company at Mary O'Malley Park, Commandant's Way, on the Chelsea Waterfront (Admiral's Hill), Chelsea, MA, July 14—31. (English performances: Wednesday, Thursday, Saturday) (Spanish performances: Friday, Sunday). Free. An admirable cross-cultural project: a bi-lingual staging of the Rostand classic about a dashing man, a big nose, a deep love, and an unforgiving world. "Danny Bryck plays the iconic French role of Cyrano in both English and Spanish."
Fully Committed by Becky Mode. Directed by Steven Barkhimer. At the Outdoor Amphitheater at Christian Herter Park, Brighton, MA, July 15 through August 15. Gabriel Kuttner stars in this popular one-man comedy about one of the thorniest jobs in the world: taking reservations at a chi-chi restaurant. The script, according to the New York Times, is a "mocking dismantlement of megalomaniacal chefs, coked-up maitres d'hotel, food-averse V.I.P.'s, strung-out publicity agents, and customers with exploding bowels."
The Winter's Tale by William Shakespeare. Directed by Kevin G. Coleman. Staged by Shakespeare & Company at the Founders' Theater, Lenox, MA, July 15 through September 5. This production of Shakespeare's play about human irrationality and inhuman magic features a promising cast that includes Elizabeth Aspenlieder as Hermione and Jonathan Epstein as Leontes.
Grimm by Lydia R. Diamond, Marcus Gardley, Melinda Lopez, Kirsten Greenidge, John Kuntz, John ADEkoje and Gregory Maguire. Directed by Shawn LaCount & Summer L. Williams. Staged by Company One at the Roberts Theatre, Calderwood Pavilion, Boston, MA, July 16 through August 16. The world premiere production of a tantalizing-sounding smorgasbord of scripts by local playwrights: the pieces were inspired by their favorite Grimm's fairy tales. "Looking for a sweet, soothing tale to carry you away toward dreamland? Look somewhere else. These stories have been remixed, re-imagined and given a fresh Boston twist!"
After the Revolution by Amy Herzog. Directed by Carolyn Cantor. Presented by the Williamstown Theatre Festival at the Nikos Stage, Williamstown, MA, July 21 through August 1. The world premiere of a play that probes the traumatic intersection of ideology (in this case the American Left) and family dynamics: "A public revelation about her late grandfather, a victim of the blacklist, sends Emma reeling as the family begins to fracture. Shaken and betrayed, she must weigh her fierce politics and family loyalty to decide if the ends really justify the means."
See Rock City by Arlene Hutton. Staged by the Chester Theater Company, Chester, MA, July 28 through August 8. In the second play in Hutton's trilogy, "Raleigh and May have just returned from their honeymoon and now must navigate a tricky strait that includes in-laws from very different backgrounds, the hardships of World War II in rural Kentucky, the demands of their diverging livelihoods, and even the possibility that their future might not be together."