The last Chameleon Arts Ensemble performance of this season, mystic moons and dream music, promised much, with three famed masterpieces by Debussy, Stravinsky, and Schoenberg.
By Susan Miron.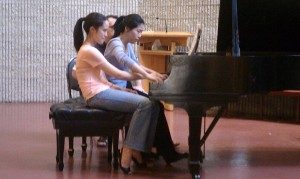 Of the many chamber music groups in town I've heard over the past three years as a music reviewer, Chameleon Arts Ensemble has become my favorite. Their artistic director and flutist Deborah Boldin has consistently devised clever programs combining pieces new and old that speak to each other in thought-provoking ways. The players are all first-rate and deliver excellent performances time after time.
The last of six programs this season, mystic moons and dream music, promised much, with three famed masterpieces by Debussy, Stravinsky, and Schoenberg. Each of these works represents a pivotal moment in music history. The three composers were "architects of modernism," as Gabriel Langfur's program notes explain, "building the foundation of which every composer since has worked . . . (sounding) as shockingly beautiful as they must have sounded to audiences hearing them for the first time one hundred years ago."
Debussy's "Prelude to L'Après-midi d'un Faune" came first on the program in an arrangement for chamber ensemble prepared for performance at Schoenberg's Society for Private Music Performances (Verein für Musickalische Privataufführungen) in Vienna in 1920 (Debussy composed the orchestral version between 1892 and 1894). I had heard this bare-bones version before and never really warmed up to it—Debussy was a hugely gifted orchestrator, and I missed the sound of the two harps—but pianist Elizabeth Jeanne Schumann somehow created her own magic and, with the other nine players, gave a performance filed with gentle colors, textures, and beauty.
For me, the program's highlight came before intermission: the four-hand version of Stravinsky's deftly barbaric, rhythmically propulsive "Rite of Spring," still infamous following the notorious musical riot, replete with fistfights and catcalls, that it inspired at its premiere almost exactly 100 years ago (May 29, 1913). Conducted by Pierre Monteux in Paris, the piece sent 200 people fleeing the concert hall. Asked later if he would consider a version with fewer instruments, Stravinsky said, "No! I would enlarge it with harps and saxophones!" Interestingly, the composer wrote the piano four-hands and orchestral version at the same time. Stravinsky and Debussy, good friends, played Part I together in June 1912 at a party. A guest recalled, "We were dumbfounded, overwhelmed by this hurricane which had come from the depths of the ages and which had taken life by the roots."
Gloria Chien and Elizabeth Jeanne Schumann teamed up for a performance I will never forget, capturing every nuance of the excitement and terror, brutality and beauty, of this piece. A spectacular, shattering rendition. I hope they are teamed more often in future Chameleon seasons.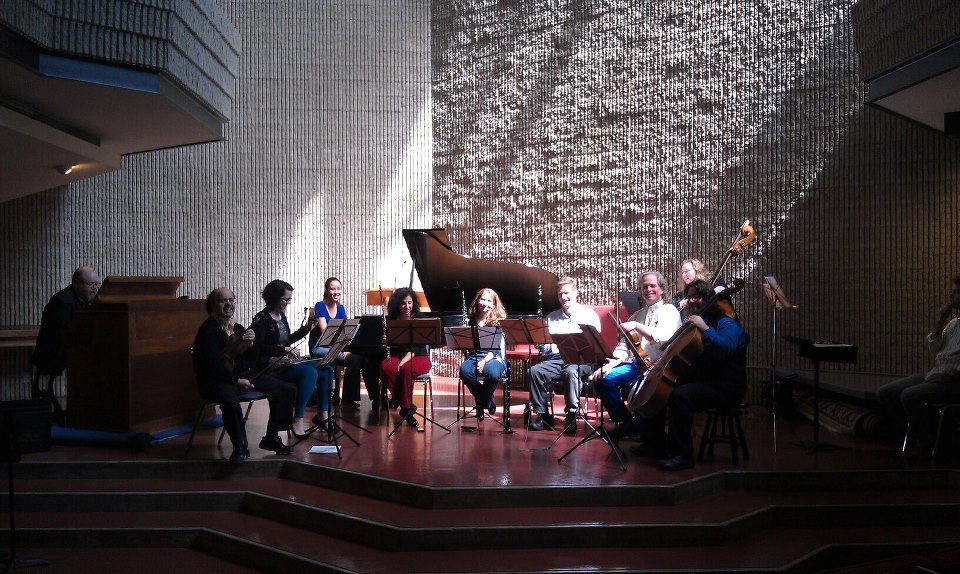 Finally, the year's Big Piece, which has gotten at least half a dozen local performances and which never sounds old – Schoenberg's "Pierrot Lunaire, Op. 21." Schoenberg referred to his masterpiece as "light, ironical, satirical." He picked out 21 poems out of 50 written by Albert Giraud and subtitled the composition "Melodrama on Three Times Seven Poems of Albert Giraud." Its hero is Pierrot, and the 21 poems depict his life, divided into three major parts that dramatize the well-known and well-loved Pierrot character, who is celebrated for his tragic melancholy, his attempt to portray himself as happy when he is, in fact, a sad, suffering artist. Schoenberg's "Pierrot" is his most important work of Expressionism. Langfur observes that the piece's "disturbingly grotesque images were used to evoke the deepest, most repressed aspects of humanity."
In a pre-concert lecture, Schoenberg scholar Joseph Auner, chair and professor of music at Tufts University, stated that each performance of the piece is always "a tense, different, strange experience. It's very hard to play and to play together." The ensemble—flute and piccolo (Deborah Boldin), clarinet and bass clarinet (Gary Gorczyca), violin (Gabriela Diaz), viola (Scott Woolweaver), cello (Rafael Popper-Keizer), and piano (Gloria Chien)—were each fabulous (they are all players I love) and took turns in various permutations for the 21 songs performed brilliantly in Sprechstimme, an expressive vocal technique (half-spoken, half-sung) by Janna Baty. (Sprechstimme challenges each singer who attempts it. Pitches are given, but singers are instructed to "go to the next pitch." Their use of lilt, rhythm, and a tone is lowered and raised in pitch as dictated by melodic contours. It is not for the faint of heart, or technique). The range and colors of Schoenberg's instrumental ensemble were so admired and successful that many others wrote for this kind of ensemble, including Stravinsky and Ravel.
Pierrot's journey is powerful, both musically and dramatically: it is hard to imagine a better performance than this one on Sunday. I am rarely disappointed by Chameleon Arts Ensemble concerts, and this triple hitter was a good a concert as any chamber concert I heard this year. Bravo to all, especially the fearless Janna Baty and the brilliant duo pianists Gloria Chien and Elizabeth Jeanne Schumann, who gave my favorite performance of the year.