In the wake of the horrors of last week, Jazz Week 2013 comes as almost an act of defiance, an insistence that life will go on in all sectors of the Boston community.
By J. R. Carroll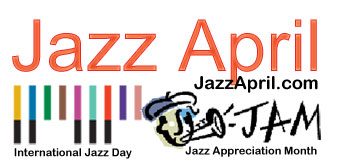 Boston, of course, celebrates Jazz Week every April, in D.C. the the Smithsonian Institution sponsors Jazz Appreciation Month, and April 30th is International Jazz Day. But this year there's something new: An initiative by the Jazz Journalists Association to take the focus on jazz to the national level and recognize the entire month as JazzApril. (The Arts Fuse is proud to be a part of the Jazz April Media Network.)
This seems an appropriate moment to reflect on a tumultuous year that, early on, featured a "jazz funeral" for weeknight jazz broadcasts in Boston, and ended grimly with the heart-wrenching funerals of the four victims of the Boston Marathon bombing.
At the end of June 2012, listeners in the Boston area were shocked to learn of the upending of WGBH's program schedule that resulted in Eric Jackson's weeknight program (and that of the syndicated Bob Parlocha in the overnight) moving to the weekend and Steve Schwartz's Friday show being cancelled outright. The aforementioned "jazz funeral" was a first public manifestation of the outrage at the loss of jazz on Monday through Thursday evenings, and at the end of July this was followed up by an open forum at the Boston Public Library that brought together a broad spectrum of the jazz community to ponder what had happened and to look for ways forward.
With the coordination of JazzBoston, teams of volunteers (including yours truly) were assembled with such areas of focus as jazz education (at all levels) and exploring alternative sources of jazz programming via both the traditional broadcast media and emerging technologies, most notably online streaming to home and mobile devices. At the beginning of the current month, a meetup hosted by the Scullers jazz club brought together representatives of college radio (and a few public and commercial stations) to hear a panel discussion by veteran local broadcasters (Eric Jackson, Steve Schwartz, Ron Della Chiesa and Tyra Penn, plus Scullers' Fred Taylor), and simply to begin interacting with one another in the greater cause of restoring some of what had been lost.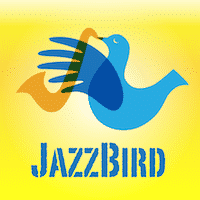 The gathering also marked the launch of a new app for mobile phones and tablets, JazzBird, that enables listeners to keep up with whatever jazz is being broadcast or webcast—locally and, when nothing local is available, nationally and internationally—at any given moment. The app will receive a more general release at the International Jazz Day listening party on Tuesday, April 30 from 6 to 9 p.m. at Darryl's Corner Bar; for that one 24-hour period the app will be temporarily programmed to play one-time live streams from International Jazz Day concerts wherever and whenever they're happening. (The event is open to all, but please RSVP to jazzweek@jazzboston.org.)
---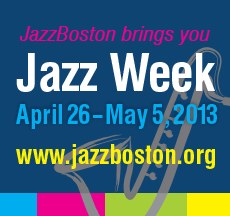 In the wake of the horrors of last week, Jazz Week 2013 comes as almost an act of defiance, an insistence that life will go on in all sectors of the Boston community. Returning for a seventh year, Jazz Week throws its arms around a diverse array of performances and other activities across the metro Boston area, ranging from those that take place weekly or monthly to special events that will occur only once.
One of the positive developments of the past year was the inauguration of a series of monthly live broadcasts from Scullers, hosted by Eric Jackson as part of his Friday night program on WGBH. This month, the featured artist is pianist Monty Alexander and his Harlem-Kingston Express, which fuses jazz and the reggae of his native Jamaica. Shows will be at 8 and 10 p.m. on Friday, April 26, with the latter performance being broadcast live.
---
Jazz Week has an ample history of spotlighting jazz educators and academic institutions that have given the music a home all through the ups and downs of the local scene. Earlier in the month, the Harvard Jazz Bands honored their founder and longtime leader, Tom Everett, with a tribute that brought back alumni Joshua Redman and Don Braden. This week, the focus shifts to MIT, celebrating the 50th anniversary of the prescient decision to give trumpeter and bandleader Herb Pomeroy the opportunity to create and direct a big band directly affiliated with the Institute. (Pomeroy's own band, of course, had recently dissolved following the untimely demise of The Stables—a story told in much greater detail in Richard Vacca's essential The Boston Jazz Chronicles.)
On Friday, April 26, MIT will host a pair of panel presentations concerning Pomeroy's legacy in the Kirsch Auditorium (room 32-123) in the Stata Center at 32 Vassar St. (readily recognizable by virtue of Frank Gehry's architecture–and, sadly also the backdrop for last week's brutal shooting of MIT police officer Sean Collier). The 4 p.m. forum on Jazz at MIT, moderated by Richard Orr, brings home former MIT Jazz Band members spanning a half century to reminisce about their experiences. At 5 p.m. a presentation by Richard Vacca on "Herb Pomeroy's Boston: Big Bands, Berklee, and the Bridge to MIT" will be followed by a discussion (moderated by Mark Harvey, who has also been deservedly honored this past year as his Aardvark Jazz Orchestra rolls into its fifth decade) by a panel consisting of pianist and longtime Berklee faculty member Ray Santisi, veteran Boston jazz writer Fred Bouchard, MIT alum David Bondelevitch, '85, and composer and Institute Professor John Harbison, whose operatic adaptation of The Great Gatsby—jazz-inflected via a series of "radio songs"—will receive a concert revival in at NEC's Jordan Hall on Sunday, May 12, at 3 p.m.
The next evening, the MIT Jazz Festival Ensemble (and several other groups) will premiere a new work by pianist Chick Corea, "From Forever, Suite for Big Band," written expressly for this occasion and dedicated to Pomeroy's memory. Regrettably—and astonishingly, given that Kresge Auditorium seats more than a thousand—the concert is sold out, but there's a chance a few seats will free up if you want to chance it and show up ahead of time.
---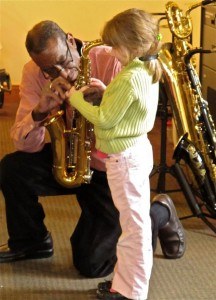 Every year the Jazz Journalists Association honors 25 "Jazz Heroes" from across the country for their impact on their local jazz communities, and this year's Boston Jazz Hero is saxophonist and educator (and photographer), Arni Cheatham. Well known through his long associations with the Boston Jazz Coalition, the Aardvark Jazz Orchestra, and the Makanda Project, Cheatham has also been tireless in his efforts to introduce jazz to younger generations, particularly through his programs at branches of the Boston Public Library.
Hosted by JazzBoston and the Walcott family (earlier Boston Jazz Heroes) on Sunday, April 28 from 3 to 6 p.m. at Wally's Café, members of the Greater Boston jazz community will gather to pay tribute to Cheatham; Eric Jackson will present the award on behalf of the JJA and Cheatham himself (with his Champs, including trombonist/tubist Bill Lowe) will perform. Please RSVP to friendsofarni@jazzboston.org.
---
Jazz Week is also an opportunity to explore jazz history, especially as it occurred here in Boston. On Monday, April 29, at 8 p.m., again at MIT (this time at Hayden Library, 160 Memorial Drive), another major figure on the local scene will be recalled and honored. Composer/conductor/pianist George Russell, who taught generations of students at the New England Conservatory, created what many consider his magnum opus, "The African Game," three decades ago; a panel including Alice Russell, George Garzone, Steve Elman, and Mark Harvey will provide recollections of and insight into the premiere of this remarkable work, which was subsequently recorded in 1984 and again in 2003. (Will–or can–"The African Game" ever be performed again without Russell himself at the helm? I leave this vexing question to the panelists and to those who worked closely Russell over the years.)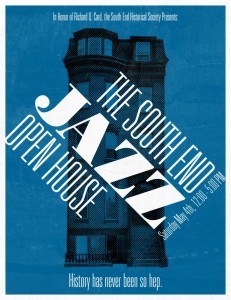 Boston's South End, although much different today (due to "urban removal") than it was in the first half of the last century,
played and continues to play a significant role in the city's jazz scene. Starting at noon on Saturday, May 4, the South End Historical Society will be the locus of the South End Jazz Open House. As the Society describes it, "Open house attendees will visit four sites in and around the intersection of Massachusetts and Columbus Avenues, the 'Jazz Corner of Boston.' Supplied with a guidebook and traveling at their own pace, attendees will visit an exhibit about jazz history, listen to live music from award-winning saxophonist and 2013 Boston Jazz Hero Arni Cheatham, enjoy a short presentation by Richard Vacca, the author of The Boston Jazz Chronicles, and speak to witnesses of the era. The open house will culminate with an after-party at Wally's Café, the only remaining South End jazz club from the mid-twentieth century."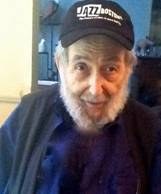 Writer Nat Hentoff cultivated his life-long interest in jazz and the musicians who create it during his early years hanging out in South End clubs. As part of this year's Independent Film Festival of Boston, the Somerville Theatre in Davis Square will be screening a new documentary entitled The Pleasures of Being Out of Step–"Boston Boy" Nat Hentoff at 5:15 p.m. on Sunday, April 28.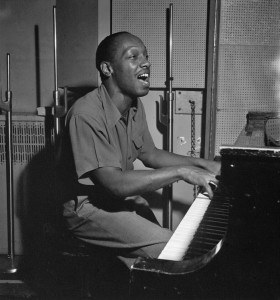 Boston has a tiny direct connection to composer/arranger Tadd Dameron, a fascinating 1944 recording of "Embraceable You" by vocalist Evelyn White, trumpeter Freddie Webster, and the Sabby Lewis Orchestra. Dameron, of course, spent most of his all-too-brief career in New York, but his influence can be felt right up to this day in the sound of many, many 8-to-10-piece ensembles (e.g., the New World Jazz Composers Octet and Greg Hopkins' nonet). In his recently published biography, "Dameronia: The Life and Music of Tadd Dameron," Combs has done a remarkable job of tracing Dameron's life and musicial evolution, unearthing never-recorded compositions and arrangements and shedding light on a discography that goes well beyond the all-too-few recordings issued under Dameron's own name. Fellow music writer Bob Blumenthal will dig into Dameron's story with biographer Combs in an event at 12:15 p.m. on Thursday, May 2, at the Boston Public Library's main branch in Copley Square.
---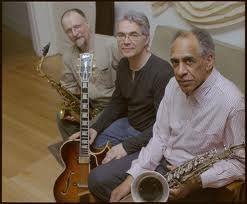 You may have noticed that Jazz Week 2013 has a subtitle, "Jazz is in the house!" House concerts aren't a new idea–from the earliest days of jazz, musicians held "rent parties" in order to keep a roof over their heads–but JazzBoston has given the idea a newly prominent place in this year's schedule of events. One of the most notable of these will be a memorial (and birthday) concert of music by the late saxophonist John Tchicai, which will take place at "Accurate World Headquarters" (a.k.a. chez Russ Gershon) on Sunday, April 28, at 6 p.m. Many of the performers–trumpeter Jerry Sabatini, saxophonists Charlie Kohlhase and Jason Robinson, guitarists Garrison Fewell and Eric Hofbauer, bassist Jef Charland and drummer Curt Newton–had personal connections with Tchicai; for more details, contact ckohlhase@aol.com.
---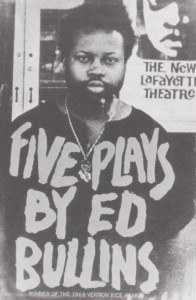 JazzWeek is also an occasion to explore the interaction of jazz and other art forms. This year, Arni Cheatham's frequent musical and educational partner, trombonist/tubist Bill Lowe, will bring together for three nights at Roxbury's Hibernian Hall dancers Mickey Davidson and Dexter Jones, actors Obehi Janice and Tory Bullock, vocalist/actor Fulani Haynes, and Lowe's quintet featuring saxophonist Jim Hobbs, vibraphonist/percussionist Warren Smith, bassist Ron Mahdi, and drummer Yoron Israel. "Street Sounds: Monologues with Black Existence" is an evolving adaptation and exploration of Harlem writer Ed Bullins' 1970 classic that adds the element of dance to this year's performances, which will take place on Friday through Sunday at 8 p.m.
---
This listing only scratches the surface of all the events taking place during Jazz Week 2013; for more details, consult this year's schedule. Jazz is Boston Strong, too.