If you think contemporary music is the domain of fusty academics and has no bearing on (or relationship to) the outside world, you really need to check out "Canzonas Americanas."
Winter's Tale by John Harbison. Performed by Boston Modern Orchestra Project. Conducted by Gil Rose.
Canzonas Americanas by Derek Bermel. Performed by Alarm Will Sound. Conducted by Alan Pierson. Cantaloupe Records.
By Jonathan Blumhofer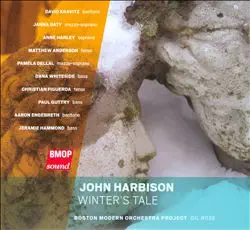 Two American composers born nearly 30 years apart have major releases this fall that add significantly to the discography of late twentieth and early twenty-first-century American music. John Harbison (b. 1938) is represented with the premiere recording of his first opera, Winter's Tale, on the BMOP Sound label, while Cantaloupe Records' Canzonas Americanas showcases works for large chamber ensemble by Derek Bermel (b. 1967).
Harbison's Winter's Tale was a labor of love, written between 1972 and 1974 without a commission or promise of performance. It was first heard in a workshop setting in San Francisco in 1979 and Act 2 received a concert performance conducted by Craig Smith a decade later, but that was it. Though Harbison revised the score in 1991, it wasn't played in full again until the Boston Modern Orchestra Project (BMOP) programmed Winter's Tale in 2009. Talk about a long time coming.
So, was it worth the wait? In many ways it was. There are passages that are strikingly fresh and invigorating, the music of a young composer exploring new sonic possibilities and viewing the past through a kind of refracted musical lens. This is especially true of the second act, for which Harbison wrote music with a vaguely Renaissance-ish tint that is positively haunting—listen to the first scene, in which Perdita and Florizel (the respective offspring of Kings Leontes and Polixenes) court, for perhaps the best examples of this.
Other passages, though, are less defined, particularly in the first act, which opens strongly with the first of six "Dumbshows" (mimed scenes with musical accompaniment) before turning to some of the more generic conventions of mid-twentieth-century, American opera: disjunct vocal writing, dissonant harmonies, and lots of instrumental activity that doesn't always add up to much. It's all very colorful (and engrossing for at least a little while), but none of it is nearly as compelling as the greatest operatic adaptations of Shakespeare: Verdi's Otello and Falstaff and Britten's A Midsummer Night's Dream.
Even if it's not a perfect opera, though, Winter's Tale is an important contribution to the genre, and it gets a knockout performance on this album. Conductor Gil Rose draws an energetic, prismatic performance from BMOP, and the singing is uniformly excellent. The cast, led by David Kravitz (as Leontes) and the magnificent Janna Baty (portraying his wife, Hermione) leave little to be desired; among the other important roles that stand out are Matthew Anderson (as Florizel), Aaron Engebreth (as Polixenes), and Dana Whiteside (in the allegorical role of Time).
Composer/clarinetist Derek Bermel is one of the most dizzyingly active musicians on the scene today, and he has a resume to prove it: how many musicians do you know who have collaborated with Wynton Marsalis, James Galway, Philip Glass, and Mos Def (among many others)? Canzonas Americanas is the follow-up to Derek Bermel: Voices (released on the BMOP Sound label in 2009) and features six pieces for large chamber ensemble. Alan Pierson conducts the ever-impressive new music group Alarm Will Sound.
Of the six scores, the most expansive (and recent) is the eponymous Canzonas Americanas, commissioned by the Los Angeles Philharmonic and music director Gustavo Dudamel and premiered by them in 2010. In it Bermel channels a host of North and South American musical idioms, from a rollicking, little fiddle tune to Brazilian chôros and Puerto Rican salsa, ending up with short song (sung by the marvelous Luciana Souza) he wrote while in Bahia. It's a piece that, in a short 20 minutes, brings the great, American eclectic tradition fully into the twenty-first century: Bermel's agility when moving between styles is fully reminiscent of Leonard Bernstein, William Bolcom, and John Corigliano, while his enthusiasm for juxtaposing seemingly incompatible elements (as in the atonal, third movement salsa) calls to mind—after a fashion—Charles Ives.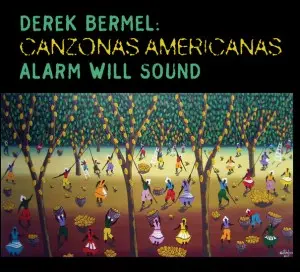 Indeed, Bermel's teachers include Bolcom, as well as the venerable Dutch master Louis Andriessen, and the latter's irreverent spirit hovers over the three (primarily) instrumental contributions on this disc: "Hot Zone," "Continental Divide," and "Three Rivers." The first reflects Bermel's studies of West African drumming, alternating vigorous rhythmic passages with flowing, melismatic sections, while "Three Rivers" absorbingly contrasts a range of opposite musical elements (controlled/uncontrolled, fused/pulled apart, etc.).
Two pieces for voice and ensemble round out the album, the brief "At the End of the World" and the song cycle "Natural Selection." Soprano Kiera Duffy gives a ravishing performance of the former, while baritone Timothy Jones fully inhabits the latter, a wry, shamelessly ingratiating setting of animal portraits by Wendy S. Walters and Naomi Shihab Nye.
Throughout, Alarm Will Sound plays with total commitment, intrepid virtuosity, and arresting attention to detail. If you think contemporary music is the domain of fusty academics and has no bearing on (or relationship to) the outside world, you really need to check out this album. Conversely, if you've already seen the light and know something of the rich variety of (good) new and unusual music being written by younger composers, this disc is a must: Bermel's is a fresh voice well worth hearing.