It's rather melancholy to think that this incarnation of the Tanglewood Music Center Orchestra will never perform again as an ensemble. Such is the nature, though, of Tanglewood and many summer music festivals.
By Jonathan Blumhofer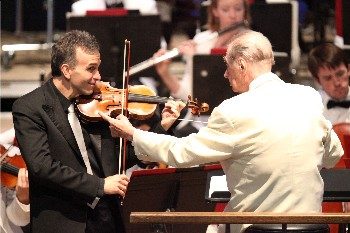 2012 has been a very busy year at Tanglewood, and it's been particularly demanding of the Tanglewood Music Center Orchestra (TMCO), an ensemble comprised primarily of college-aged instrumentalists from around the world who come to study with the leading musicians of the Tanglewood Music Center (TMC). Having presented substantial weekly programs through July and recently completed the annual Festival of Contemporary Music, the TMCO rounded out its summer duties on Sunday afternoon at the annual Leonard Bernstein Memorial Concert, playing music by Beethoven and Bartók. Boston Symphony (BSO) regular Rafael Frühbeck de Burgos conducted the first of his three scheduled Tanglewood concerts (he closes the season with two programs next weekend).
This summer's Memorial Concert happened to fall on the same weekday and date as Bernstein's final public appearance in the summer of 1990, and, though Bernstein wasn't particularly well known for conducting either Beethoven's Violin Concerto or Bartók's Concerto for Orchestra, one can be sure he would have been thrilled to work with this year's crop of excellent musicians. It was Bernstein's mentor, Serge Koussevitzky, who was strongly associated with the latter score (he commissioned it), and so, as Tanglewood wraps up its anniversary season, it was more than appropriate to find three of Koussevitzky's musical progeny (the TMCO playing the Concerto for Orchestra in the Shed) in combination, exuding health and vitality.
In the program's first half, Gil Shaham made a fine soloist in Beethoven's familiar Violin Concerto. Though the piece may turn up on programs with some regularity nowadays, there was nothing commonplace about Mr. Shaham's winning performance on Sunday: his sweet-toned playing conveyed the music's lyricism and drama in equal measure, and he can turn fiery on a dime. He enlivened the final movement with some embellishments of the repeated Rondeau theme, and his cadenzas, which drew on Fritz Kreisler's and Beethoven's (written for a piano arrangement of the piece) introduced further surprises to his performance of this well-known work.
More than anything, Mr. Shaham's interpretation demonstrated how a performer might successfully make an energetic, stimulating case for a staple of the standard repertoire by taking a fresh musical approach, rather than resorting to podium histrionics or distortions of musical character. But, of course, this is what he's best at, and I look forward to his upcoming appearance with the BSO (in November) in an inexplicably overlooked masterpiece: Benjamin Britten's grim, majestic Violin Concerto.
The TMCO and Mr. Frühbeck were equal partners with Mr. Shaham, in a piece which might well be dubbed a "symphony for violin and orchestra" rather than "concerto," owing to its symphonic scope and involved orchestral writing. Mr. Frühbeck is, if nothing else, a straightforward conductor with a strong sense of the musical line, and the TMCO's performance was marked by a sense of Apollonian restraint that loosened only a little bit in the dance-like finale. In fact, I would have liked the ensemble to relax a bit more as they reached the end of the piece—the movement's eighth-note pulse felt a bit sluggish on more than one occasion—but that's my only complaint: this was a captivating reading, in which all parties involved were on the same page from the downbeat. Principal bassoon Andrew Thompson deserves special praise for his delivery of his bucolic third movement solos.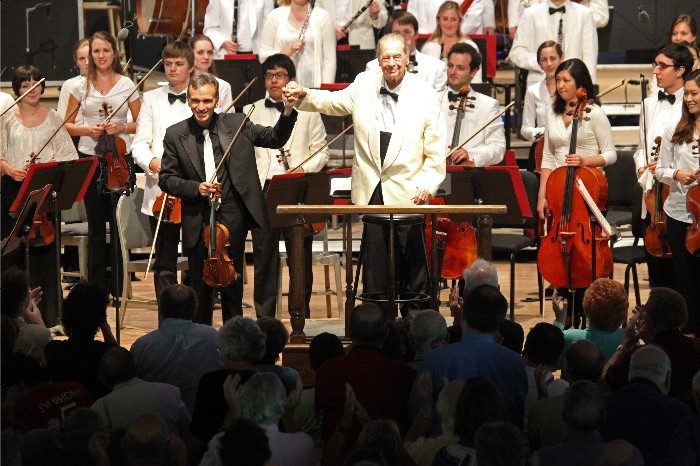 After intermission, the TMCO returned with the Concerto for Orchestra. This piece is, of course, a staple of the BSO's repertoire, and, with the TMCO coached and conducted by BSO members and regulars, it should come as no surprise that Sunday's performance was characterful and showed off the formidable technical prowess of this year's ensemble thrillingly. Bartók wrote that the Concerto displays a progression "from the sternness of the first movement and lugubrious death-song of the third . . . to the life-assertion of the last one." In Sunday's performance, this anabasis was strongly etched, even if parts of the finale might have benefited from a slightly more energetic approach.
No matter—there was much to admire, particularly the TMCO's ability to bring out the chamber music quality inherent in Bartók's writing. The wind and brass sections were particularly strong, with poetic contributions from principal flute Pamela Daniels, principal oboe Angela Limoncelli, and principal trumpet David Cohen standing out. Appropriately, perhaps the most memorable moments of the performance came during the jesting duets of the second movement, which moves from pairs of wind instruments to pairs of brasses and back, again: there was great personality in these dialogues, as though the individual members of the TMCO, after a summer of collaboration, were caught up in a musical conversation filled with inside jokes and allusions. Mr. Frühbeck emphasized the textural aspects of the outer movements clearly and brought out the harrowing character of the shadowy third movement particularly well.
It's rather melancholy to think that this incarnation of the TMCO will never perform again as an ensemble. Such is the nature, though, of Tanglewood and many summer music festivals. As their valedictory on Sunday, the TMCO gave us, perhaps better than any concert yet this summer, both a memorable tribute to Tanglewood's past and an exciting celebration of its present, one that, in this season of commemorations, stood out for its precise execution and satisfying musicality. It was a pleasure to take in.