Despite the high level of the players, there are things a professional quartet brings to a performance or recording—uniformity of sound and style—that cannot be matched by a group cobbled together and given limited rehearsal time.
Hamel Summer Series. Presented by The Boston Chamber Music Society. At the Charles Mosesian Theater, Arsenal Center for the Arts 321 Arsenal Street, Watertown, MA, through August 25.
By Susan Miron.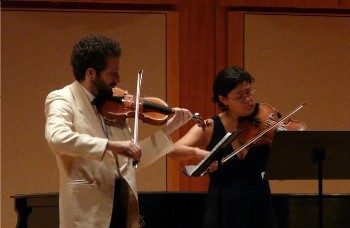 In a long article in the Sunday N.Y. Times, music critic Anthony Tommasini rued the absence of celebrations in New York of Claude Debussy's 150th birthday (August 22). This anniversary may have received little notice in New York, but in Boston the Boston Chamber Music Society is presenting a terrific, four week, four concert celebration in Watertown, MA. Each of the programs have been artfully conceived, and the third concert, which we heard on Saturday night, promised an extraordinary double pairing of the sole string quartets and violin sonatas of both Ravel and Debussy.
Ravel and Debussy form the backbone of the chamber music repertoire for harp (Debussy's Sonata for Flute, Viola and Harp and his glorious Sacred and Profane Dances are often paired with Ravel's Introduction and Allegro), so the two have been among my favorite composers for decades. The idea of hearing the two's quartets in one evening was too enticing to forgo. And the Ravel Violin Sonata is almost never performed, so it was much anticipated all summer.
A lot has been written about the bad acoustics (for music) of the Charles Mosesian Theater and of the poor quality of the piano. Seated in the second row center, I heard few signs of the alleged bad acoustics, except that this might have been responsible for the often-dry and deadened string tone. The piano had been tended to by the music director's (Marcus Thompson) own tuner, and sounded, on this occasion, just fine. BCMS's own pianist Mihae Lee worked her usual magic in both the Debussy and Ravel violin sonatas.
The program opened with Debussy's haunting neoclassical Sonata for Violin and Piano (1917), the third of six projected works of chamber music he envisioned writing before he died shortly after finishing this gorgeous work. (The other two are the Sonata for Cello and Piano, performed last week, and the Sonata for Flute, Viola, and Harp, originally intended for oboe instead of viola). The excellent violinist Jennifer Frautschi played with imaginative flair but with a sound that was, to my ears, faint at times—could this be the fault of the room's acoustics? She seemed to be playing intentionally under the sound of the piano. This said, it was well worth hearing a performance of this modal, harmonically ambiguous gem of which Debussy shrugged, "I wrote this sonata only to get rid of it . . . It will be interesting from a documentary point of view, as an example of what a sick man can write in time of war." Yet the composition has remained a vital part of the concert repertoire, and putting it on the same program as Ravel's Sonata for Violin and Piano provided listeners with a rare chance to contrast the differences in style and harmony of these two composers, who are often linked together.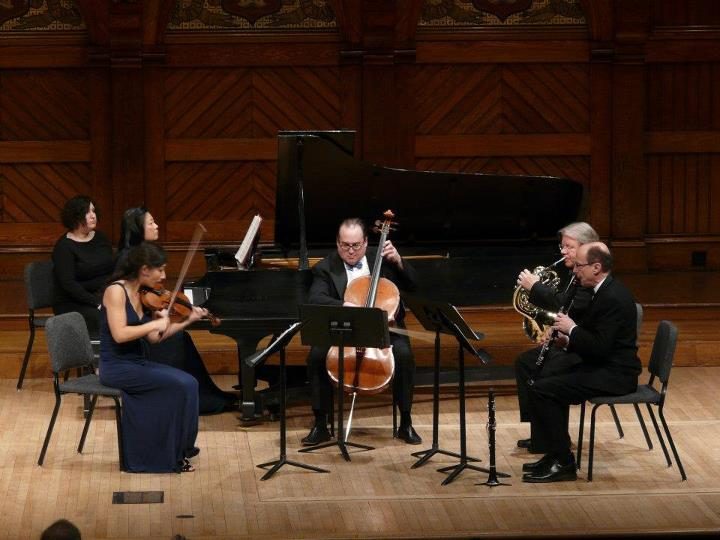 "At once an homage to and exorcism of Debussy's influence" is how Ravel's biographer Roger Nichols describes Ravel's String Quartet, composed at age 28.The players, Xiao-Dong Wang and Jennifer Frautschi, violins; Dmitri Murrath, viola; and Ronald Thomas, cello (co-founder and artistic director emeritus of the Boston Chamber Music Society) gave very good performances, as one has come to expect from this group (and its countless guest artists, three in this case). But despite the high level of the players, there are things a professional quartet brings to a performance or recording—uniformity of sound and style—that cannot be matched by a group cobbled together and given limited rehearsal time.
For starters, the sound of the two violinists didn't match. Mr. Wang used a wider vibrato and was generally louder. Ms. Frautschi was the more elegant player here. Ronald Thomas played with great sensitivity and beautiful sound in both quartets—his cello seem to be the only instrument whose sound was not gobbled up by the dryness of the acoustics. On a strange note, as we were leaving for the concert, the second movement, full of plucked strings, was on a commercial for genealogy.com. The piece's languid, sensuous third movement was the perfect music for a mid-summer night.
Ravel's last chamber work, Sonata for Violin and Piano (1923-1927), written shortly after Debussy's Sonata, has always struck me as odd duck of a piece, with a great middle movement. The first movement looks back to Debussy both rhythmically and harmonically. Ravel believed the piano and violin were essentially two incompatible instruments, but in this sonata he wasn't interested in "bringing their differences into equilibrium, [but] emphasizing their irreconcilability through their independence." The piece's centerpiece is the second bi-tonal, bluesy movement, with its grotesque glissandos, flattened harmonies, and syncopated rhythm. I could have used more of the grotesque in the glissandos. The helter-skelter perpetual motion of the third movement is not one of Ravel's most inspired creations. Still, it's good to hear this piece live, and Mr. Wang and Ms. Lee gave it a fine performance.
The dramatic Debussy String Quartet in G Minor, Op. 10 (1893), which ended the program, featured Mr. Wang as first violinist, and Ms. Frautschi as second violinist. He played noticeably louder than she did earlier in the evening, had a darker sound, and a wider vibrato. They are less than an ideal pair. His playing had more verve and extroversion, but it displayed less sophistication than Ms. Frautschi's performannce when she sat first in the Ravel quartet. The quartet is traditionally classical in form, unlike most of Debussy's later works. The performance was very professional, but several of the gorgeous solo lines might have been projected with greater character. The program notes by Barbara Leish describe this piece well.
"This constant rhythmic and modal recasting of the original theme propels the quartet, while sumptuous chords, unusual chord progressions, and unsettled harmonies contribute to its Impressionistic flavor. The antithesis of Teutonic heaviness, the quartet set a new standard for the genre. In freeing music from 'rigid structure, frozen rhetoric, and rigid aesthetics.' as Pierre Boulez later put it, Debussy opened the door the exciting possibilities for all those who followed.'"
All of these pieces can be heard on YouTube, including The Budapest Quartet's Debussy String Quartet, which set a standard which has rarely been met since. Have a listen.
I highly recommend the last concert of this series, which takes place on August 25 at 8 p.m. at The Arsenal Center for the Arts, Watertown, MA. The program features Fauré's Sonata for Violin and Piano, Op. 13, Ravel's fabulous Piano Trio in A minor and something I've never heard of and which should be fascinating to hear—a Piano Four Hands arrangement of Debussy's Ibéria (from Images for orchestra).