By Bill Marx
On this week's World Books podcast I talk to Ellen Elias-Bursac, who translates the work of two of my favorite writers from the former Yugoslavia: David Albahari and Dubravka Ugresic. Elias-Bursac is currently living in the Netherlands, but she recently visited Boston, so I got a chance to talk to her about working with Albahari and Ugresic, with whom she says she feels a special bond, as well as to ask her about how war has shaped the languages of the former Yugoslavia.
In an earlier podcast, I talked to Ugresic about her latest book, "Nobody's Home," which Elias-Bursac translated from the Croatian for Open Letter. Elias-Bursac's translation from the Serbian of Albahari's gauntly great novel "Götz and Meyer" won a 2006 American Literary Translators Association award. She has translated two other books by Albahari, the superb 1996 short story collection "Words Are Something Else" from Northwestern University Press and the novel "Snow Man," which I haven't read yet but will soon.
Both Albahari and Ugresic share a tart intellectuality as well as an Eastern European proclivity for acrobatic irony. Albahari is the more playfully self-conscious of the two, though his writing doesn't lack emotional resonance.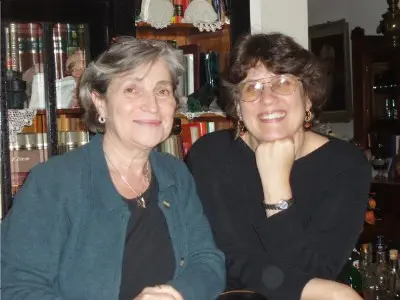 Translator Ellen Elias-Bursac (right)
with "a dear friend, a geographer from Zagreb, Valerija Pepeonik."
Elias-Bursac has worked as a freelance translator in Zagreb and for a number of years taught Bosnian/Croatian/Serbian at Harvard University. She also taught at Tufts University. She is currently translating a long novel by Albahari – the advance critical word from Europe is that it is a major work.