I keep being surprised by the brilliant productions and overall excellence of the concerts Boston Early Music Festival presents.
La Descente d'Orphée aux Enfers and La Couronne de Fleurs by Marc-Antoine Charpentier. Presented by the Boston Early Music Festival Chamber Opera Series at Jordan Hall, Boston, MA, November 26 and 27.
By Susan Miron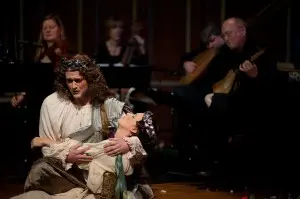 Now in its fourth year, Boston Early Music Festival's (BEMF's) post-Thanksgiving Chamber Opera Series has become a must-see event for those who love Baroque opera. This year's offering was a double bill of Marc-Antoine Charpentier's (1643–1704) La Descente de'Orphée (The Descent of Orpheus to the Underworld) and La Couronne de Fleurs (The Crown of Flowers). BEMF's regular stellar crew—BEMF Co-Directors Paul O'Dette and Stephen Stubbs, Director Gilbert Blin, Choreographer Melinda Sullivan, and Costume Designer Anna Watkins—have once again done each of their jobs brilliantly.
The two Charpentier operas are so rarely performed that it's a good bet that most of the audience (much smaller on Saturday night than usual) was hearing these for the first time. The first unusual thing one noticed was the 10 musicians clustered together in the middle of the stage surrounded on the floor by a garland of flowers. All of the action took place around them, instead of behind them, and it worked beautifully. The musicians of the BEMF Chamber Ensemble were all excellent. From the concertmaster Robert Mealy to local luminary Laura Jeppesen, Viola da gamba, to the Baroque guitar and theorbo team of O'Dette and Stubbs, Gonzalo X. Ruiz, oboe and recorder, and harpsichordist Avi Stein, this was a group who played with great energy, style, and musicianship. The moods created by the instrumentalists were enhanced by four dancers from the BEMF Dance Ensemble and beautiful, flowing costumes.
The decision to present the two operas in one evening presented some strange challenges, partly because La Descent D'Orphée aux Enfers, dating from 1686, appears to be an unfinished manuscript, with a crucial third act having, some scholars believe, disappeared. As it is, Orpheus is about to emerge from hell, followed by Eurydice. Then, abruptly, it stops, leaving some serious loose ends. No one has an idea how or why Charpentier might have finished it or what would have happened to the accursed Orpheus. Gilbert Blin definitely thought outside the box for this production, and his scheme of presenting the two operas together worked surprisingly well. In the program notes, he explains about creating a play within a play:
To highlight the facets they have in common . . . we reconstruct in our production an imaginary performance of La Couronne de Fleurs with La Descent d'Orphée aux Enfers inserted as an entry in the poetic context being depicted. The concept of 'theater within the theater' was widely employed during this period, notably by Molière and Thomas Corneille, to name only two writers who collaborated with Charpentier. Creating a play within a play is especially appropriate as especially La Couronne de Fleurs is already constructed to include successive telling of four stories. The tale of Orpheus is simply presented as another entry in the poetic contest.
La Couronne de Fleurs has a curious history as well. It began as a short collaboration between Charpentier and the French playwright Molière that became La Malade Imaginaire. The ancient, springtime divinity, Flore, the goddess of flowers (sung exquisitely by Mireille Asselin), is organizing a contest to honor the most poetic, eloquent singer. Flore declares the winner will get her crown of flowers.
Historically, the librettist of La Couronne de Fleurs describes a Maytime contest where men and women sung about the deeds of Louis XIV and received flowers as prizes. Sure enough, this being one of the era's pastoral operas, shepherds and shepherdesses who had sung of King Louis's exploits receive the prize of a single flower a piece. (Like so many competitions, there was no first prize winner.) In Act I, Eurydice was being attended by nymphs. She is soon to marry Orphée (the terrific actor and singer Aaron Sheehan) but a poisonous snake bites her, and she dies moments after Orphée arrives. The shepherds, Orphée, and everyone on stage sing heartbreaking laments. The god of music and poetry, Apollon, convinces Orphée not to die but to make the journey to hell and sing so beautifully that Pluton, the kind of the Underworld, will let Eurydice out.
This summary barely begins to express the beauty of the music and movement and the skill of the acting that took place when Eurydice dies. It was quite simply grief in motion and music, extraordinarily moving. It happened again, in a chilling way, when Orphée, told he cannot look back at his love, walks with her behind him very slowly up the Jordan Hall aisle toward the light. That doomed walk of theirs is what I will remember long after I recall the names of the operas. This again was drama and music and movement powerfully fused.
I keep being surprised by the brilliant productions and overall excellence of the concerts Boston Early Music Festival presents. There are scholarly discussions of the music—some more fun than scholarly—before the concerts, and I have yet to be less than happy with each of the concerts I've covered the past 18 months. If you haven't gone to one of their concerts, I'd heartily recommend them. They're full of good music and, more than likely, music you haven't heard before. You might even, like me, find yourself hooked.