By Sarah Osman
Quirky and heartfelt, Freeridge is sure to please fans of On My Block as well as to make new viewers aware of the multicultural merits of the inner-city of Los Angeles.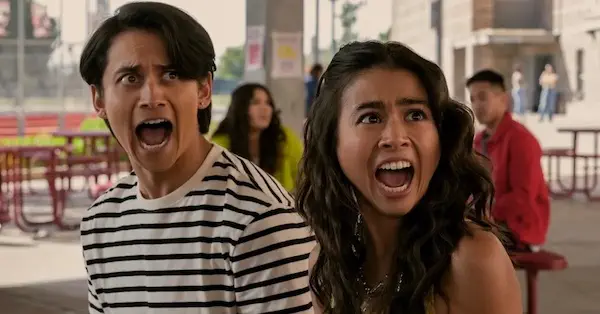 On My Block, which wrapped its fourth and final season on Netflix in 2021, stood out among the seemingly endless barrage of teen shows. The cast and characters were composed solely of people of color. The actors looked like actual teenagers. They didn't live in Beverly Hills; they lived in Freeridge, a fictional inner-city neighborhood in Los Angeles. While some of the plots felt a little far-fetched, others reflected a recognizable reality: one character became ensnared in gang activity, another was forced to relocate to L.A. after her parents were deported. The series also benefited from a touch of magic realism, a tradition in Latino storytelling.
When the creators of On My Block announced that there would be an On My Block spin-off I was skeptical. Would a new series have the same virtues as its predecessor? Well, to my delight, Freeridge takes a different tack but it is just as strong as On My Block. And, unlike many spin-offs, Freeridge stands entirely on its own (although there are plenty of fun On My Block Easter eggs sprinkled throughout).
Freeridge follows a new quartet of teens: Gloria (Keyla Monterroso Mejia), the assertive leader of the group; her free-spirit sister and the bane of Gloria's existence, Ines (Bryana Salaz); their witchy friend, Demi (Ciera Riley Wilson); and Cameron (Tenzing Norgay Traino), who can't get up the nerve to break up with his boyfriend, Andre (Zaire Adams). Their lives are turned upside down after Cameron buys a mysterious box and gives it to Andre in the hopes that he will dump him over "the worst gift ever." Andre doesn't, and the group is cursed by the offering.
Tonally, Freeridge differs from On My Block. The original series had plenty of humor, but in Freeridge jokes fly every minute. There are plenty of spot-on one-liners and running gags, such as the fact that Gloria's crush once starred on a children's show with a "manotaur." So this group's problems are far less serious than what the crew had to grapple with in On My Block. Gloria and Ines get into a nasty fight, but, based on their principal's reaction, this is an everyday occurrence. And despite all their bickering, the two sisters support one another when the chips are down — this is an endearing and closely observed depiction of sisterly love. Cameron has been attracted to Demi for a long time, but he hasn't forgiven her for saying she couldn't be with a bi guy (a comment she made when she was 12). And, of course, there is dealing with the curse: they go to extreme lengths to undo it. From visiting a stoned and bored bruja to unintentionally starting a fight between Ruby's (remember him?) parents, their attempts to end their bad luck inspires some of the funniest moments in the series.
Still, despite its light tone, Freeridge doesn't entirely shy away from the difficulties of life. Gloria and Ines both grieve for their mother in different ways; Ines breaks down at a Halloween party while Gloria visits her on Dia de los Muertos. Along with their uncle Tonio (J.R. Villareal, a scene stealer in his own right), the sisters struggle to come to terms with their father's cancer. Their reactions are visceral but not over-the-top, a welcome change from other series that navigate illness with far more melodrama.
Quirky and heartfelt, Freeridge is sure to please fans of On My Block as well as to make more viewers aware of the multicultural merits of the inner-city of Los Angeles. Sadly, On My Block never generated the ratings that other Netflix teen fare has. Hopefully, this admirable spin-off will succeed.
---
Sarah Mina Osman is a writer residing in Wilmington, NC. In addition to writing for the Arts Fuse, she has written for Watercooler HQ, Huffington Post, HelloGiggles, Young Hollywood, and Matador Network, among other sites. Her work was included in the anthology Fury: Women's Lived Experiences in the Trump Era. She is currently a first year fiction MFA candidate at the University of North Carolina Wilmington. When she's not writing, she's dancing, watching movies, traveling, or eating. She has a deep appreciation for sloths and tacos. You can keep up with her on Twitter and Instagram: @SarahMinaOsman