By Robert Israel
The domestic demolition in Kate Snodgrass's script is served au flambé.
The Art of Burning, by Kate Snodgrass. Directed by Melia Bensussen. Staged by the Huntington Theatre Company, in association with Hartford Stage, at the Calderwood Pavilion, Boston Center for Arts, 527 Tremont St., Boston, through February 12.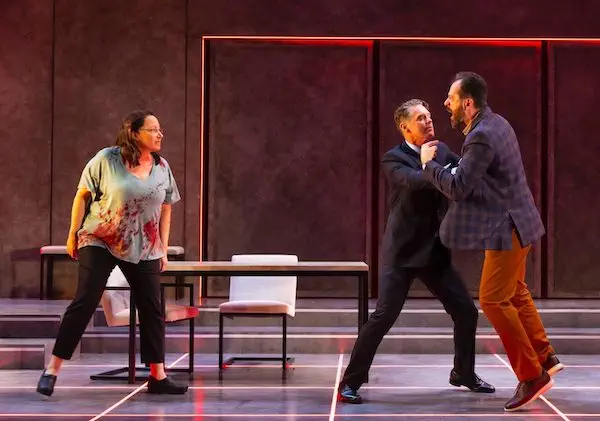 The title of Kate Snodgrass's long one-act drama of marital and familial conflagration refers to protagonist Patricia (Adrianne Krstansky), a painter, and her deranged act of arson against her soon-to-be divorced husband Jason (Rom Barkhordar). Revenge against her mate, in Patricia's case, is a dish best served red hot.
Unfortunately, Snodgrass has crafted her script about domestic blitzkrieg with far too heavy a hand. She is not content to stand back and let her characters duke it out, a la Strindberg, but has challenged herself (and us) to grapple with knotty themes that include infidelity, anguished artistic temperament, troubled parenting, and even a brief discussion of hormonal urges. Oh, and let's not ignore that she spices up her overheated Mulligan stew with lots of references to Greek tragedy and mythology. In homage, Eugene O'Neill is given some cred by the fireside (a number of his dramas borrowed liberally from Greek tragedy, including Mourning Becomes Electra, based on The Oresteia, and Desire Under the Elms, which tips its hat to Euripides' Medea and Hippolytus).
All of Snodgrass' domestic demolition is served au flambé. Patricia is already sharpening her claws at the opening curtain. She even takes a jab at divorce lawyer Mark (Michael Kaye), who claims he has a perfect marriage. Surprise: that's not really the case, as we learn later when we meet Mark's wife Charlene (Laura Latreille) who adds a papier-mâché log to the fire (you guessed it – her outburst maps back to the Greeks).
The elemental problem here is that the fire never dies down. Let me add my own literary reference: each character is the opposite of T. S. Eliot's J. Alfred Prufrock, a man who is ashamed of his weakness, his inability to "force the moment to its crisis." A little Prufrockian restraint might work wonders in The Art of Burning. This is a study of crisis, unleashed and unbridled. There is so much vitriol that — as the characters repeatedly spout their furies at one another — the audience is left out. What were they just screaming about? Don't worry — the next molten lava cascade will pour forth in a minute.
Snodgrass needs to cut back on the venom and invite the audience in. The Greeks made bitter passions into poetry. Edward Albee gave us an acidic evening filled with fun and games. Here we are stuck in the pugnacious prosaic: a character asks questions and the other answers, or demurs. The hooks are kept baited with the red meat of fresh accusations. Each scene is just a set up for the next bellicose outburst, the next round of (linguistic or physical, take your pick) fisticuffs. Eventually, the dramatist's overindulgent, overweening use of literary references becomes downright irritating. During one exchange, Mark confronts his daughter Beth (Clio Contogenis) and remarks that her haircut reminds him of Joan of Arc. (Lest you forgot: St. Joan was burned to death at the stake!). And yes, I heard the throwaway reference to a "burner phone." Groan. If Snodgrass insists on keeping all these allusions in the script, perhaps the ushers might pass out a handy-dandy lit-crit reference guide before the curtain rises. How about this? The playwright lets the actors show us what they are going through, without always having them tell us. Give audiences credit for understanding what intimacy – or the lack of it – looks and feels like.
The performances in the Huntington Theatre Company production are strong throughout. Yes, at times they are over-the-top, but that's the fault of the script. I have always admired the acting chops of Adrianne Krstansky, and she shines in a role that allows her to show both her angry and softer sides – but the latter isn't reached until we have walked over miles of hot coals. A newcomer to the HTC stage, Clio Contogenis, shines as the put-upon daughter trying to navigate a house that is always at the boiling point.
Dying embers burn cold. At play's end, there are glimmers of life under the ash heap. That might be the place where Snodgrass can look if she wishes to revise a script that wants to teach us why we are so eager to slash and burn, and why we so desperately need to learn how to heal and forgive.
---
Robert Israel, an Arts Fuse contributor since 2013, can be reached at risrael_97@yahoo.com.