By Peg Aloi
I'm going to try out a new format in 2023. Along with posting longer reviews of single series, I will also be experimenting with a new (weekly!) format where I include several features in one column.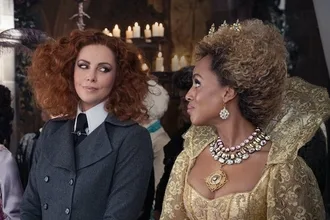 Hello readers, and thanks for sticking with my erstwhile column these last few years. Who'd have thought my first effort (a review of Aquarius) would have kicked off a regular critical exercise during an undeniably rich time for television story-telling. Not to mention there continue to be good reasons for folks to stay at home (including me): we're now entering the fourth year of an ongoing worldwide pandemic. (I devoted a column to related viewing on the topic and may do more). TV is not an escape from the world's troubles: it reflects them. Oftentimes that scrutiny, if we're lucky, supplies moments of humor and entertainment as well as sparking insights. So, go outside for breaths of fresh air, keep wearing those masks to the grocery store, and prepare for more excellent TV to watch this coming year.
This is the build up for some news. I'm going to try out a new format in 2023. Along with posting longer reviews of single series, I will also be experimenting with a new (weekly!) format where I include several features in one column. These might include:
"Peg's Pick of the Week" ~ This is a discovery of a new or older series that is my favorite thing at the moment.
"Run Don't Walk" ~ Short reviews of overlooked series that are excellent but not getting much viewer love.
"Gone Too Soon" ~ Series that get cancelled prematurely despite their excellence.
"How Did I Miss This?" ~ Streaming films or series that are out there just waiting for you to discover them.
"Eye Candy" ~ When you're in the mood for something beautiful.
"Own This" ~ Series or film available on DVD or BluRay that is well worth owning before it's no longer available streaming. This might cover new DVD releases also.
"No, Seriously" ~ Something you didn't think was worth your time but trust me, it is.
And, in honor of my first column, "Charlie Manson is My Boyfriend"), "_______ is My Boyfriend/Girlfriend/Special Friend" will, on occasion, wax rhapsodic about some actor or artist who is making my heart skip a beat this week.
Let's start this off with my first pick!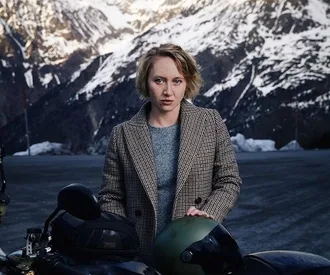 Peg's Pick of the Week: Woman of the Dead: A new European thriller (a genre I'm watching a lot of lately!) on Netflix contains a touch of the supernatural. Set in a mountainous region of Austria, the six-part series begins with a horrific car accident in which the husband of a mortician is killed by a hit and run driver right outside their home. Brünhilde Blum (Anna Maria Mühe), whose funerary business sits right next door, is not only devastated: she is suspicious that her husband was targeted. The drama offers flashbacks into Blum's life, her unusual childhood, and what led her to become a mortician. But perhaps most interesting is the suggestion that the dead bodies she works on (including her husband's) "talk" to her, coming up with answers to her many questions. While searching for clues to her husband's untimely death, she learns he was involved with an attempt to expose a human trafficking operation that involves some of the town's most respected and influential men. The closer Blum gets to the heart of the mystery, the more mercenary and desperate she grows, throwing caution and reputation to the wind. Woman of the Dead is more about suspense than horror, but the story's occasional supernatural aspects are intriguing and well-integrated into the mystery narrative.
Eye Candy: I was visiting a friend over the New Year's weekend and we came across the 2022 Netflix film The School for Good and Evil. It seemed to be an appropriate distraction. The opening scene depicts an epic psychic battle between two brothers, one good, one evil (the meanings are somewhat arbitrary), determining whose power will dominate their realm. Fast forward a few hundred years and the world is (apparently) still struggling with balancing good and evil. Two misfit girls (Sofie Wylie and Sofia Anne Caruso) from different backgrounds meet on the way to school, become friends. Both have to deal with the usual nightmarish bullying before finding their place.
At first, this frothy movie seemed like a rather silly fantasy epic that was way too heavy on the CGI effects and anachronistic teen speak dialogue. Indeed, an Arts Fuse reviewer who has good taste in TV thought this movie was a bit of a mess. But hear me out. I forgave its flaws very quickly because, as the film goes on, it becomes an absolutely stunning visual epic full of gorgeous scenery and costumes, just perfect for a bit of fantasy-style dark academia. The costume designs by BAFTA winner Renee Ehrlich Kalfus are visually mind-blowing: my friend and I kept pausing the movie to look at them more closely. Co-written and directed by Paul Feig (whose 2016 film A Simple Favor is worth checking out), it's based on the popular YA novel by Soman Chainani. The School for Good and Evil's fun cast includes juicy roles for Patti Lupone, Michelle Yeoh, Kerry Washington, and Charlize Theron. No doubt the "magical school" model has been played out since Harry Potter's Hogwarts came and went, but this trendified copycat is often funny, definitely heartwarming and, above all, deliciously beautiful to behold.
Gone Too Soon: Are you as upset as I am that Raised by Wolves has been cancelled? After two riveting seasons, this daring, gorgeously-produced sci-fi post-apocalyptic series was just getting going! This is one of a number of HBO series cancelled in 2022; the casualties included the very popular, long-running Westworld (why, HBO, why?) and Minx, which I enjoyed quite a lot and already had its second season ready to air! It's hard to see why HBO would cancel a series after producing an entire season and then refuse to air it. There's been some buzz about this on social media, and the reasons may at least partly to do with not having to pay residuals to artists. Grrrrr, I say. Thankfully, it is not too late to catch the first two seasons of Raised by Wolves. See for yourself how the series artfully weaves together narrative strands that touch on religious cults, survivalism, the raising of human children by androids who may or may not feel emotions, and how climate change causes displacement on planets besides Earth. Every element in this visionary show is first rate, from writing to acting to directing and design. I'm stunned it's not being renewed for a third season.
---
Peg Aloi is a former film critic for the Boston Phoenix and member of the Boston Society of Film Critics. She taught film studies in Boston for over a decade. She writes on film, TV, and culture for web publications like Time, Vice, Polygon, Bustle, Mic, Orlando Weekly, and Bloody Disgusting. Her blog "The Witching Hour" can be found on substack.